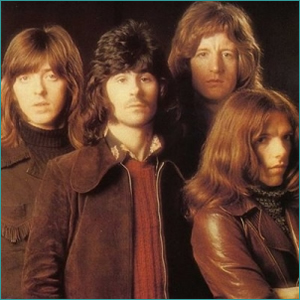 After the success of their 1970 album No Dice, Badfinger finished recording its third album with Geoff Emerick as producer. But the tapes were rejected by their label, Apple Records. So one of the founders of the label, George Harrison (Apple was founded by all four Beatles), took over as producer of the album. This continued the long relationship that Badfinger had with the Beatles, starting with being the first artists signed to the Apple label. Paul McCartney wrote "Come and Get It", which would become their first big hit. Members of Badfinger played on Harrison's album All Things Must Pass, Ringo Starr's hit single "It Don't Come Easy", as well as John Lennon's album Imagine (check out our review of that album). In fact, the band's name came from a working title of the Beatles hit "With a Little Help From My Friends" called "Bad Finger Boogie".
Harrison himself would not be able to finish the album, as he needed to steer his efforts towards his benefit Concert for Bangladesh (where Badfinger also performed), so he turned production over to Todd Rundgren. The resulting album, Straight Up, contains such good pop craftsmanship that it sometimes feels like your listening to AM radio in the early 70s, with the diverse styles of pop that jump from one to another. This could be a double-edged sword, as the varying production methods may disrupts the overall "flow" of the album. But on the flip side, there are no bad songs among the dozen on this album – no filler or sub-standard songs – so there is always something rewarding upon multiple listens.
Further, although Badfinger is alleged to have grown to hate the Beatles comparisons with their own sound, they sure did not shy away from that musical pathway enough times on Straight Up.

Straight Up

by

Badfinger
Released: December 13, 1971 (Apple)
Produced by: George Harrison & Todd Rundgren
Recorded: Abbey Road Studios & AIR Studios, London June-July, 1971
Side One
Side Two
Take It All
Baby Blue
Money
Flying
I'd Die Babe
The Name of the Game
Suitcase
Sweet Tuesday Morning
Day After Day
Sometimes
Perfection
It's Over
Band Musicians
Pete Ham – Guitar, Piano, Vocals
Tom Evans – Bass, Vocals
Joey Molland – Guitar, Vocals
Mike Gibbons – Drums
Straight Up may have marked the pinnacle of Badfinger's short but brilliant heyday. Tragedy would soon befall them in the years to come, especially after they left Apple for Warner Brothers in 1974, where they would make much more excellent music, most od which would get shelved due to legal problems originating from the manager, which ultimately led to the suicides of Ham (in 1975) and Evans (in 1983).
The album begins with a rather peculiar selection, the moody and melancholy "Take It All", which is a fine number by Pete Ham, but not the usual upbeat song you expect to kickoff a rock n roll album. That upbeat song is the second track, "Baby Blue", written by Ham and produced by Rundgren, with a complex yet catchy guitar riff and a simple, early-sixties-like drum beat performed by drummer Mike Gibbons.
Guitarist Joey Molland added a few of his own numbers with "Suitcase", "Sweet Tuesday Morning", and "Sometimes", written in his own unique style, edgy and not quite like anything contemporary. Bass player Tom Evans also penned multiple songs on the album in a style loosely associated with John Lennon.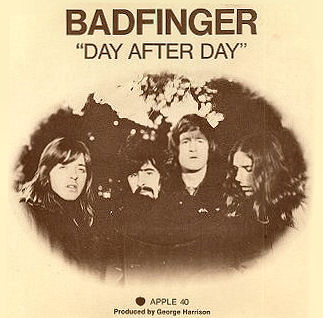 However, Pete Ham was the true genius within Badfinger. Beyond the album's first two songs, he wrote three other superb songs on Straight Up. Two of these – "Perfection" and "The Name of the Game" should have been big hits, while the third one, "Day After Day", was one, reaching #4 on the Billboard charts. The song was not only produced by Harrison but also featured the ex-Beatle on lead guitar as well as Leon Russell on piano.
Some rock historians contend that Badfinger would have had much more success had they had come around five years earlier or five years later, but the early seventies were not very receptive to their Beatle-esque pop songs. whether this is true or not, we can certainly appreciate them now from the vantage point of four decades in the future.
~

Part of Classic Rock Review's celebration of 1971 albums.