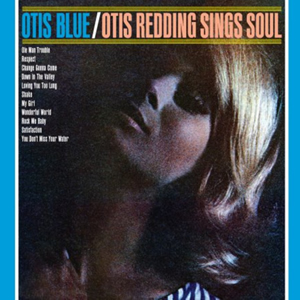 Otis Redding's third studio album, Otis Blue/Otis Redding Sings Soul, (most commonly known as simply, Otis Blue) was a commercial success and has been critically acclaimed for the half century since its 1965 release. Despite consisting mainly of covers of recently released songs from contemporary artists, the album features much musical innovation and originality to accompany Redding's distinct and emotive vocals and its influence rippled through rock, blues, and soul for decades to follow. The album also spawned three Top 40 singles for Redding, vastly boosting his notability.
Redding began his musical career as a member of Pat T. Cake and the Mighty Panthers, which toured mainly in the South (USA) during the early 1960s. One day in 1962, Redding drove group guitarist/keyboardist Jonny Jenkins to a session at Stax Records and, when the session ended early, Redding was granted time to perform two songs backed by the studio group Booker T. & the MG's. This impromptu session resulted in the single, "These Arms of Mine", which sold more than 800,000 copies and led to the recording of Redding's 1963 debut album, Pain in My Heart. After more than a year of touring America and the release of several more singles, Redding released his second studio album, The Great Otis Redding Sings Soul Ballads, in early 1965.
In July, Redding and the studio crew worked on writing and arranging songs for a third album, producing most of the material over a 24 hour period. The album was then recorded with the Booker T band, along with The Memphis Horns and pianist Isaac Hayes.

Otis Blue

by

Otis Redding
Released: September 15, 1965 (Atco)
Produced by: Jim Stewart, Isaac Hayes, & David Porter
Recorded: Stax Recording Studios, April-July, 1965
Side One
Side Two
Ole Man Trouble
Respect
Change Gonna Come
Down in the Valley
I've Been Loving You Too Long
Shake
My Girl
Wonderful World
Rock Me Baby
Satisfaction
You Don't Miss Your Water
Primary Musicians
Otis Redding – Lead Vocals
Booker T. Jones – Piano, Keyboards
Isaac Hayes – Piano, Keyboards
Steve Cropper – Guitars
Donald Dunn – Bass
Al Jackson, Jr. – Drums
Although predominated by cover songs, Otis Blue begins with two originals by Redding. "Ole Man Trouble" is exquisitely produced and performed, as Redding wails out a weeping lead vocal between the squeezed out guitar chords by Steve Cropper, with a few brass interludes between the vocal lines. The only real flaw here is that the song is too short, a reccurring issue throughout this all-too-short album. This is followed by the song "Respect", which reached #35 on the pop chart and #4 on the R&B chart. Reflecting back through the decades, it is clear why Aretha Franklin's version is the better known, as it is far superior in delivery and musical arrangement. That being said, this original version is a fantastic rendition, totally funky and groovy, just lacking the strong feminine perspective and advanced arrangement that the latter version so aptly possesses.
After the opening two originals, the album delves into the first of three covers by Sam Cooke, who had been shot to death in 1964. "Change Gonna Come" is a slow, soul classic and a timely anthem where Redding makes you feel every syllable of this classic anthem on struggle, while the musical arrangement offers a few caveats in intensity. Cooke wrote the song after he and his entourage were denied entry to a motel in Louisiana and both versions of the song became anthems for the Civil Rights movement. The cover "Down in the Valley" is a more upbeat track but not as potent as the opening two original tracks, with the best part being the intense outro section. The first side finishes with "I've Been Loving You Too Long", a collaboration between Redding and Jerry Butler that is a simple but effective refrain of desperation with ever-intense horns and piano to match the growing intensity of Redding's lead vocals. The song also became Redding's highest charting single to date.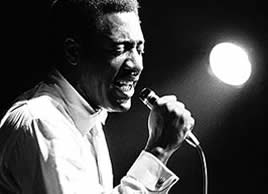 The second side is full of cover's, starting with Cooke's "Shake", one of the more upbeat tracks driven heavily by the bass and drums rhythm of Donald Dunn and Al Jackson, Jr.. The next two songs are similar in that they both lack the background vocals and countermelodies of their more famous versions, The Temptations' "My Girl" and Cooke's "Wonderful World". "Rock Me Baby" is a more effective cover, expertly converting a B.B. King blues classic into a brilliant soul arrangement while also featuring the first and only rock-style guitar solo by Cropper. Next comes a couragous attempt at converting the nearly brand new, "Satisfaction" by The Rolling Stones with a distinctive spin including original instrumental interludes. The album concludes with a rendition of William Bell's "You Don't Miss Your Water" as a moderate soul ballad, which starts to get pretty intense near the end, but fades out way too soon.
While Otis Blue did not chart well in the US, it reached number 6 on the UK Albums Chart, and topped the Billboard R&B chart. In the years that followed, Redding scored continued success with some of his most famous hits such as "Try a Little Tenderness" and "(Sittin' On) The Dock of the Bay", along with an indelible performance at the famed Monterey Pop Festival in 1967. Tragically, Redding lost his life in a plane crash in December 1967, cutting short a brilliant career on the rise.
~
Part of Classic Rock Review's celebration of 1965 albums.