Buy Having a Rave Up with The Yardbirds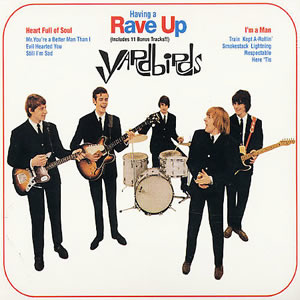 Having a Rave Up with The Yardbirds is an oddly constructed mish-mash of recent singles, new recordings, and live tracks recorded over 19 months prior to this album's release. Still, this late 1965 release captures the heart of The Yardbirds from many different angles and laid a firm foundation for the heavy blues rock which would dominate the music world for decades to come. The songs on this album straddled between live and studio tracks as well as the group's earlier pure blues and later psychedelic rock. Side one features (then) current lead guitarist Jeff Beck while Side Two features older live recordings with former guitarist Eric Clapton, songs which were previously released in England on the 1964 album, Five Live Yardbirds.
That live album failed to reach the charts and was subsequently not issued in the US or any other part of the world. Clapton soon departed as he considered himself a blues purist and didn't like the commercial approach being forged with tracks like the hit single, "For Your Love". Released in June 1965, the album For Your Love, was the group's first international release and featured songs with both Clapton and Beck on lead guitar. Later in the summer, The Yardbirds embarked on their first US tour and decidedly shifted their focus towards the American market.
Some of the studio tracks for Having a Rave Up were recorded during that first American tour at Sam Phillips Recording studio in Memphis and Chess Studios in Chicago. The album was co-produced by Giorgio Gomelsky and group bassist Paul Samwell-Smith. Smith also helped give the album its title as he forged many of the "rave up" arrangements during the middle instrumental sections of several songs, especially those on the "live" side of the album.

Having a Rave Up

by

The Yardbirds
Released: November 15, 1965 (Epic)
Produced by: Giorgio Gomelsky & Paul Samwell-Smith
Recorded: London, New York, Chicago, Memphis, March 1964–September 1965
Side One
Side Two
You're a Better Man Than I
Evil Hearted You
I'm a Man
Still I'm Sad
Heart Full of Soul
The Train Kept A-Rollin'
Smokestack Lightning
Respectable
I'm a Man
Here 'Tis
Group Musicians
Keith Relf – Lead Vocals, Guitars, Harmonica
Jeff Beck – Lead Guitars
Eric Clapton – Lead Guitars
Chis Dreja – Guitars
Paul Samwell-Smith – Bass, Vocals
Jim McCarty – Drums, Vocals
The understated but fantastic opener, "You're a Better Man Than I", launches things with advanced rock techniques and message. Production wise, there is a subtle play on amplitude to give a serious and somber effect and bring out the rolling bass and drums along with the catchy and hip melodies by vocalist Keith Relf. The song was written by brothers Brian and Mike Hugg and it features a sustain-heavy guitar lead by Beck. Group collaborator Graham Gouldman composed the guitar-driven "Evil Hearted You" which was a major hit for The Yardbirds in Britain. Here, Beck inventively uses Spanish scales and odd chords before the group launches into their first frantic, rave-up bridge.
Next comes a distinct and souped-up version of the Bo Diddley classic "I'm a Man". This studio recording of the song was recorded at Chess Studios and it packs much into its two and a half minute duration while still remaining a loose and fun jam. Relf's harmonica really shines as the main lead instrument here, with guitarists Beck and Chis Dreja contributing nicely to the frenzied end jam. On the second side is another fine but not quite as potent version led by Clapton's guitars. "Still I'm Sad" is the only fully original composition on the album, co-written by Smith and drummer Jim McCarty. This track takes a radical turn as a dark folk song with monk-like chanting persisting throughout to a steady, slow beat.
The heart of the album comes at the end of the first side, starting with Gouldman's "Heart Full of Soul". Starting with a slightly Indian-influenced guitar riff by Beck, the song features a good mixture of rock elements with superb production and a perfect mid-sixties vibe, "Heart Full of Soul" reached the Top 10 on both sides of the Atlantic. "The Train Kept A-Rollin'" would become the classic late sixties jam song with renditions by countless bands following this version by The Yardbirds. Relf recorded two lead vocals for an odd effect, which becomes more of a distraction, but this is counterbalanced by a couple of great jam sections with over-driven guitars and shuffling rhythms.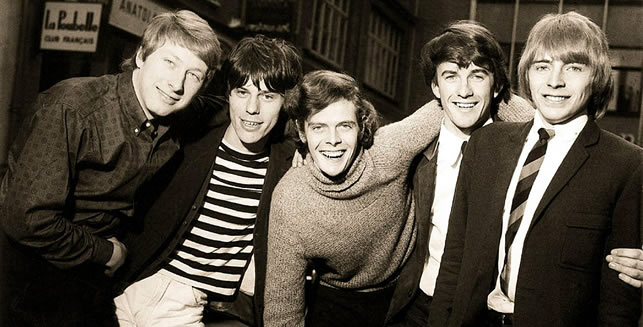 The four remaining songs were renditions of traditional blues classics recorded live with Eric Clapton in London in March 1964. While these are not the best recordings, as the bass and drums are too loud and the lead vocals are a bit too low in the mix, the energy of the performances nevertheless seeps through. Howlin' Wolf's "Smokestack Lightning" is the best of these as a sixties rock interpretation of a pure blues song. The Isley Brother's "Respectable" is fast and frantic, with early reflections of the latter ska genre, while the closing "Here 'Tis" features great bass with a scat, chanting vocal chorus in the background and wild, frenzied guitar picking along with rapid percussion.
Having a Rave Up with The Yardbirds was the Yardbirds' highest charting album in the US during their active career and a later re-issue was packaged with eleven additional bonus tracks. These include the popular single, "Shapes of Things", a group original which lies on the cutting edge of sonic evolution, and "New York City Blues", a true precursor to the Led Zeppelin blues sound several years later.
~
Part of Classic Rock Review's celebration of 1965 albums.