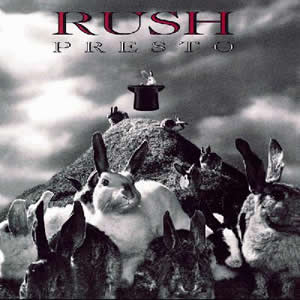 For all the musical complexity that Rush has shown over the years, it is absolutely amazing how much they can do with simplicity. On Presto, their thirteenth studio album released in late 1989, the classic rock trio showed such masterful efficiency like never before or since. As lead vocalist and bassist Geddy Lee stated, "We wanted Presto to be more of a singer's album, and I think you'll notice that the arrangements musically support the vocals." Produced by Rupert Hine, the album is also unique in some of its arrangement techniques, such as the inclusion of piano arpeggios (a first) and backing vocals by guitarist Alex Lifeson (a rarity).
In a way, it seemed like, for a good part of the 1980s, Rush was chasing the sound that they finally caught on Presto. It may be the point where the band started embracing their past and abandoned their silly technology-based notions of 1980s music. That being said, the group did pen an occasional gem during this three album (1984's Grace Under Pressure, 1985's Power Windows, and 1987's Hold Your Fire) foray into synth pop. The problem was the lack of vigor and consistency on those albums, which they were finally able accomplished on this album.
Presto was the band's first album with Atlantic Records, after their long association with Mercury Records. In kind, the album feels like a fresh start on many levels, including lyrically. Drummer and lyricist Neil Peart provided more experience-based lyrics which were given the ability stand out more than in most past Rush projects, due to the methodical arrangements. Peart also admitted that he took a looser approach to the lyrical content than on other Rush albums, with the songs "many threads" but with no "manifesto". Rush also chose to remain close to home when recording this album, mimicking their frequent practice from the early years.

Presto

by

Rush
Released: November 21, 1989 (Anthem)
Produced by: Rupert Hine & Rush
Recorded: Le Studio, Morin Heights, Quebec, June-August 1989
Track Listing
Group Musicians
Show Don't Tell
Chain Lightning
The Pass
War Paint
Scars
Presto
Superconductor
Anagram (for Mongo)
Red Tide
Hand Over Fist
Available Light
Geddy Lee – Lead Vocals, Bass, Keyboards
Alex Lifeson – Guitars, Vocals
Neil Peart – Drums, Percussion


While Presto is enjoyable throughout, there is no doubt that this album is a bit top-heavy with much of the finest material coming early on in the album's sequence. "Show Don't Tell" begins with a signature is the opening rudimental riff sequence, which harkens back to the groups excellent 1970s material. Lee plays a funky and bouncy bass throughout, including a mid-section jam with a short bass lead. The verses and chorus hook are less classic Rush than 1980s Rush on this song which reached #1 on the U.S. Mainstream Rock Tracks Chart, however the song overall reaches a nice balance between the two worlds. And from here, the album only gets stronger.
"Chain Lightning" employs a unique hipster riff with exciting motion, like moving through a superhero sequence through verse and pre-chorus. A short but potent guitar lead by Lifeson complements the fantastic bass throughout and the rich vocal effects actually work well during the choruses. "The Pass" is simply a masterpiece and lyrically, one of Peart's best ever efforts. Musically, the mood is captured with the pulse of simple, chorded bass notes that prove counterpart to the melody. There is a feeling of an emotional journey throughout as the second verse changes up the backing rhythm and Lifeson's slow brewing guitar lead in the mid-section is backed by Peart's drumming with expert efficiency and precision. Stated by the group on multiple occasions as one of their all-time favorites, the true highlight of "The Pass" is the potent lyric right from the top;
"Proud swagger out of the schoolyard, waiting for the world's applause / rebel without a conscience, martyr without a cause / static on your frequency, electric storms in your veins / raging at unreachable glory, straining at invisible chains…"
Rolling in like a hard rock song, "War Paint" soon becomes much more complex as it builds through the verses and choruses. The subtle musical passages are again masterful on this song, as this may well be Rush's perfect 80s-era pop song. Lyrically, Peart uses a military allegory to describe perceived beauty and romantic courting, almost like different take on "Cinema Show" by Genesis. The heavy and climatic third verse precedes Lifeson's best lead on the album, as the final lyrical turn calls for the "war paint" to "paint the mirror black".
From here, the album becomes a bit weaker, while still staying well beyond the threshold of listen-ability. "Scars" has an interesting synth/percussion intro but is really quite hollow beyond that, fueled almost entirely by Peart's lyrics and rhythms (both influenced by Africa). The album's title song, "Presto" is a bit frustrating in the sense that it never seems to deliver on it's own promise. A nice, driving acoustic throughout the verses is interrupted by a disjointed arrangement which tends to make the song lose momentum every time it feels like its about to hit its stride. "Superconductor" is built on simple rock riffs with lyrics that somewhat harken back to material on Signals and a very interesting, synth-fueled ballroom-waltz-like middle section, but falls into mediocrity beyond that.
The true highlight of the latter part of the album is "Anagram (for Mongo)". This sounds like the kind of song that Rush was supposed to write in their new, sophisticated 1980s form all along. The driving pad-topped intro gives way to pure rock verses with Lifeson's muted electric riffing, and then the chorus is lighter but beautifully melodic with Lee's vocals. But the true genius of the song is the incredibly profound wordplay by Peart, who fused together multiple word puzzles (in the form of anagrams) into a coherent and melodic rock song. This leads the listener from room to room of philosophical observances and absurd contradictions, all while playing with words in a most cleaver way. Modern Rock Review listed "Analog (for Mongo)" as the #1 Great Forgotten Rush song.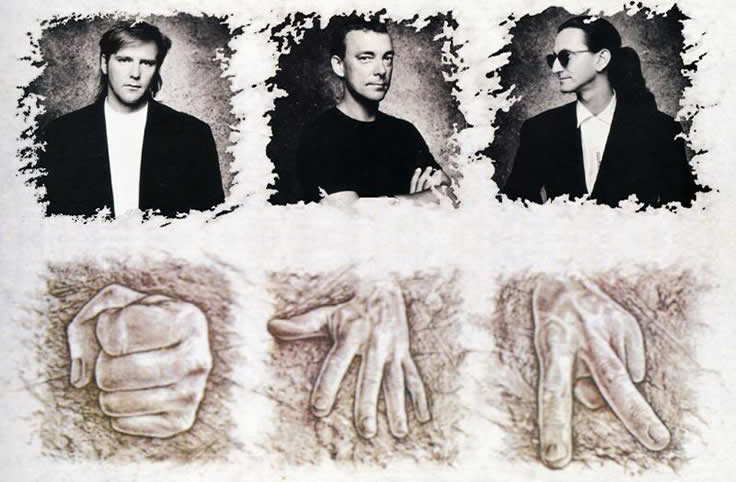 The final three songs on Presto are almost experiments in sound, each with a strong piano presence. The dystopian "Red Tide" starts with a piano arpeggio and synth motifs, which are a little over the top for Rush. The song does pick up pace a bit in third verse but then unwisely falls back opening riff. "Hand Over Fist" contains a light and funky guitar riff which is soon dissolved in more textured beats and lyrics. This song has a fun lyrical configuration and hook, but not too much musically. "Available Light" closes the album as a moody track with slow, deliberate beat and minimalist piano chords which build in intensity through the chorus progression. This is another track which shows much promise but never quite delivers, making for a somewhat anticlimactic end to this fine album.
Despite the fact that it is rarely listed in the upper echelon of Rush albums, Presto is still a fresh and excellent listen a quarter century after its release. While reaching the Top 20 on the album charts, it did not fare much better commercially than its predecessor Hold Your Fire, but it was a definite symbol, as Rush entered the 1990s, that their sound and direction of the 1980s was about to be left behind.
~

Part of Classic Rock Review's celebration of 1989 albums.