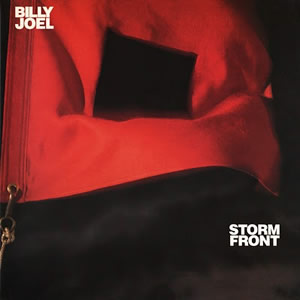 With Storm Front, his eleventh overall studio album, Billy Joel made a concerted effort to radically change his approach on several levels. First, he discharged a few members of the support band which had been with him since the mid 1970s. Next, Joel decided not to work with producer Phil Ramone (who had produced every Billy Joel album since The Stranger in 1977, and instead enlisted Foreigner's Mick Jones, who had brought his band to pop super-stardom earlier in the decade. The result of this pivotal effort at the sunset of the 1980s was a commercially successful album that received lukewarm critical feedback and, in many ways, began the decline of Joel's incredible pop career.
Following the release of Joel's previous album The Bridge three years earlier, he initiated an ambitious undertaking by becoming the first major American rock act to perform in the Soviet Union. The album КОНЦЕРТ (Russian for "Concert") was released shortly after the August 1987 performances in Tlbisi, Moscow and Lennigrad, in part to recover the estimated $1 million of his own money that Joel spent the trip and concerts. However, more financial troubles were to come as an audit revealed major discrepancies in the accounting of Joel's longtime manager in August 1989, subsequently costing the longtime pop star much of his fortune.
Guitarist Russell Javors and bassist Doug Stegmeyer, each of whom had been with Joel since the recording of Turnstiles in 1976, were fired prior to the recording of Storm Front and replaced by Joey Hunting and Schuyler Deale respectively. Joel also hired vocalist and multi-instrumentalist Crystal Taliefero while retaining three members of his regular band. In 1988, Joel made a cameo on Mick Jones' self-titled solo debut and was so impressed with his production abilities that he hired him to help forge the sonic tones and moods on Storm Front.

Storm Front

by

Billy Joel
Released: October 17, 1989 (Columbia)
Produced by: Mick Jones and Billy Joel
Recorded: The Hit Factory and Right Track Recording, New York, Spring-Summer 1989
Track Listing
Primary Musicians
That's Not Her Style
We Didn't Start the Fire
The Downeaster 'Alexa'
I Go to Extremes
Shameless
Storm Front
Leningrad
State of Grace
When in Rome
And So It Goes
Billy Joel – Lead Vocals, Piano, Clavinet, Accordion, Keyboards
David Brown – Guitars
Jeff Jacobs – Horns, Keyboards
Schuyler Deale – Bass
Liberty DeVitto – Drums, Percussion


The opening track, "That's Not Her Style" , has an underlying vibe of bluesy rock, especially during harmonica laden intro of Don Brooks, but is otherwise nothing more than topical sanitized pop. "We Didn't Start the Fire" follows as a history lesson through rap, cut by the chorus hook that has richly disguised vocal harmonies. The main keyboard riff sounds like it could have composed on xylophone, especially along side the tribal percussive sounds and bouncy synth bass during verses. The lyrics are exclusively composed of words, terms and names of historical significance, starting in 1949, the year Joel was born. The song was Joel's final #1 hit in the U.S.
The middle songs of this album are where you will find the top quality material. "The Downeaster Alexa" is the most indelible song on the album, led by Joel's great vocal melodies, and an almost Gordon Lightfoot approach in its composition. It contains extraordinary sonic arrangements from the ever-present accordion of Dominic Cortese to the deadened guitar riffs to the slow methodical drum march to the strategic organ and synths. There is also a fine violin lead credited only to "World Famous Incognito Violinist". Lyrically, "The Downeaster Alexa" tells of the plight of fisherman from Joel's native Long Island with some poetic phrases like;
"tell my wife I am trolling Atlantis and I still have my hands on the wheel"
"I Go to Extremes" is the the purest pop/rock song on the album with a great melody and beat along with a couple of decent piano leads later in the song. This song with a bipolar theme reached #6 on the Billboard pop charts. "Shameless" is soulful and pleasantly melodic throughout, almost with the tenor of a seventies light pop/rock hit (although it would be most associated with Garth Brooks in the early nineties). This song also contains the best guitar work on the album by the team of David Brown and Joey Hunting. The title song "Storm Front" is pure Motown through and through with good rhythm, slow riffs, and a rich horn arrangement by Jeff Jacobs.
"Lenningrad" is historical ballad which feels like it would have fit in well on the 1982 album The Nylon Curtain. Influenced by Joel's trip to the U.S.S.R. and has a great arrangement towards the end with the piano being almost classical to fit the mood. Joel compares his protagonist's life with his own, much like he did in a previous song, "Ballad of Billy Kid". The last really good track on Storm Front is "State of Grace", a real forgotten gem driven by Joel's high melodies and fantastic guitar work throughout by Jones, making it his best musical contribution on the album. "When In Rome" contains some Motown elements, especially in lead and backing vocals along a pretty good sax solo. "And So It Goes" closes the otherwise upbeat album with a sad ballad, almost tortured in its approach with vocals closely mimicking piano.
Storm Front reached the Top Ten on both sides of the Atlantic as the 1990s began. Billy Joel would release one more pop/rock album, The River of Dreams in 1993, before effectively retiring from this aspect of the music industry.
~

Part of Classic Rock Review's celebration of 1989 albums.