The second distinct phase of Aerosmith's fame hit full stride in 1989 with the release of Pump, the band's tenth overall studio album and their third release since reuniting in 1985. And much like their third overall release Toys In the Attack back in 1975, this album was a tremendous commercial success. Pump sold over seven million copies, is the only Aerosmith album to score three Top 10 singles on the Billboard pop chart, and became the fourth bestselling album overall for the year 1990. The album is also notable within the Aerosmith collection for its inclusion of a variety of instrumental interludes which precede several of the album tracks, adding a sense of diversity to the mix.
However, the overall musical quality of Pump is more mixed than its impressive commercial accolades may indicate. This was the second of three sequential studio albums with producer Bruce Fairbairn, which were all recorded in Vancouver, BC, Canada. All of these albums employed an overt attempt to further commercialize the band, with hook-heavy material trumping Aerosmith's strong tradition of more raw and improvised-style, heavy, blues rock. On the bright side, guitarist Brad Whitford explained that the album title was a celebration of how "pumped up" the group was to kick their various substance abuse habbits, and this was especially evident in lead vocalist Steven Tyler, who put forth his greatest effort of his long career.
The group spent of the bulk of the winter of 1988-89 working on this album, first getting together to rehearse in December 1988 near their homes in Massachusetts and then migrating across the continent to the studio in Vancouver in Early 1989. Nearly 20 songs were written, with Fairborn splitting these compositions into "A" and "B" lists as far as "single" consideration. A few of the tracks not included on Pump were the later 1997 hit "Hole In My Soul" and the country-flavored "Sedona Sunrise", which was later included on the 2006 compilation Devil's Got a New Disguise.

Pump

by

Aerosmith
Released: September 12, 1989 (Geffen)
Produced by: Bruce Fairbairn
Recorded: Little Mountain Sound Studio, Vancouver, BC, February–June 1989
Track Listing
Group Musicians
Young Lust
F.I.N.E.
Love In An Elevator
Monkey On My Back
Janie's Got a Gun
The Other Side
My Girl
Don't Get Mad, Get Even
Voodoo Medicine Man
What It Takes
Steven Tyler – Lead Vocals, Keyboards, Harmonica
Joe Perry – Guitars, Vocals
Brad Whitford – Guitars
Tom Hamilton – Bass, Vocals
Joey Kramer – Drums


Pump commences with a super-sexed triology of tunes filled with not-so-subtle innuendos, almost to the point of absurdity. Tyler later admitted this was almost over-compensation for all the years of fame they spent wasted and disinterested in sex. The Opener "Young Lust" is simple and cheap, yet not terribly trite. Co-written by lead guitarist Joe Perry and hired hand Jim Vallance, this is a strong and frenzied number that, if nothing else, proves the group was not going "adult contemporary" as the 1980s wound down. A fairly impressive drum solo by Joey Kramer bridges into the follow-up "F.I.N.E." This second song is much more melodic and original than the opener, closer to seventies-era Aerosmith in approach and dynamics. The expert use of both guitarists with distinct rock textures act as a canvas for Tyler's strong vocals. The song's title is an acronym for "Fucked Up, Insecure, Neurotic, and Emotional", coining a Hollywood catch-phrase for the nineties, with the only real drawback of "F.I.N.E." being a few lame attempts at comedic lines.
"Love In an Elevator" begins with a female spoken-word intro known as "Going Down" while the song proper is pure Tyler and Perry, following each other in riff and melody. The verses contain some anthemic chanting in the spirit of Def Leppard and Perry's mult-part lead is somewhat interesting with odd backing sound motifs thrown in during this extended mid section, including some backwards-masking and vocal harmonization this continues in the outtro with some trumpets by Fairbairn. Released as a single, the song peaked at number 5 on the Billboard pop chart. "Monkey on My Back" starts with Perry's slow but heavy, bluesy slide guitar. This song's overall feel is messy and distant, much like material from 1977's Draw the Line, which gives it a bit of nostalgic touch, while scorning the excess of those old days with it's telling of the consequences of heavy drug use.
Bass player Tom Hamilton, an oft-forgotten member of Aerosmith, co-wrote the classic "Janie's Got a Gun", which brought the group their first and only Grammy award. This masterpiece of arrangement and production is a true rock classic with beautiful sonic breezes coming from all directions – from the bouncy, high-pitched bass riff and slamming percussive effect of the verses, to the masterful use of keyboards and strings to the storybook passages of distinct song sections. The song tackles serious subject matter in a tackful and creative manner and it solidifies Aerosmith as a notch above most rock bands in their class. While there is little guitar presence (for such a guitar-centric group), "Janie's Got a Gun" is certainly in the top echelon of pieces through their multi-decade career.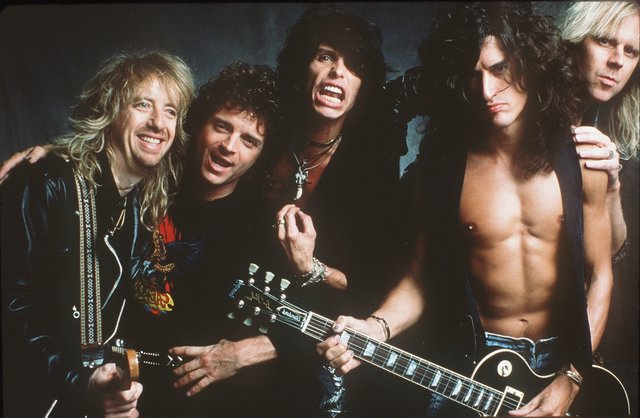 Many of the musical interludes on Pump were done by Randy Raine-Reusch, with his most impressive being the "Dulcimer Stomp" intro to "The Other Side". Another Top 40 single, the song proper contains a nice arrangement of horns, harmonized vocals and plenty of pop hooks, while economically using guitars, with just small and subtle bits of riffing. The real weak spot of the album follows in the next trio of songs. "My Girl" contains very little substance or soul, while "Don't Get Mad, Get Even" has a decent bluesy beginning before it abruptly screams into something totally uninteresting. co-written by Whitford, "Voodoo Medicine Man" seems to make an attempt at something dramatic and deep, but this ultimately doesn't amount to much beyond the opening verse and the somewhat interesting mid section.
"What It Takes" really salvages the latter part of this album, by returning to the group's mid seventies practice of performing a power ballad to conclude their albums. Co-wriiten by long time collaborator Desmond Child, Aerosmith perfects the song type they invented a decade and a half earlier, with their secret being more "power" than "ballad", exuding all the emotion without resorting to any lame, sappy maneuvers. Fairborn's generous use of accordion and Perry's interesting pre-bridge guitar lead is only trumped by the song's outro, the best moment on the album. True performance magic in the fantastic, improvised vocals by Tyler show the true heights of the singer's talent. While "Janie Got a Gun" is the creative masterpiece which ended the original side one, "What It Takes" is the performance masterpiece to end Pump on the highest of notes.
With the greatest commercial success of their career, Aerosmith found a whole new audience and used this as an opportunity to tour and release a couple compilation albums in the early nineties. Their next studio release would not come until 1993 with the album Get a Grip.
~

Part of Classic Rock Review's celebration of 1989 albums.