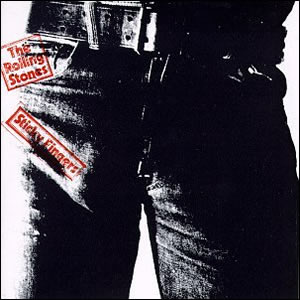 Sticky Fingers is the third of the trilogy of Rolling Stones albums that, in our opinion, comprise the heart of the band's prime. The first two were Beggars Banquet in 1968 and Let It Bleed in 1969, which collectively provided the sessions from which three of the songs on this album originated. However, Sticky Fingers stands out from the rest by being a distinctly transitional album. It is the band's first "independent" album on their own Rolling Stones label and it bridges the gap between their hit-making, English-sound of the 1960s and the more urban-American sounding Stones that would develop through the 1970s.
Further, this album is also one of the first that is a bit reflective of the sixties culture and attitudes, something that would be repeated by many others throughout the seventies. The large number of (mostly) negative references to drugs shows an awakening in response to the recent deaths of Hendrix, Joplin, and Morrison and morbid wondering if there may be some among this band that will be next to go to the grave. This is also the first studio release since the 1969 debacle at Altamont, a festival which was supposed to be a west coast counterpart to Woodstock but ended up in a riot which resulted in the death of an audience member.
But the main reason for this transition is due to a major shift in personal, away from the band's original leader Brian Jones, who was dismissed from the band in 1969 and then died mysteriously a few months later. Jones' replacement was 20-year-old guitarist Mick Taylor, who makes his mark on Sticky Fingers as a suitable counterpart to Keith Richards.

Sticky Fingers

by

Rolling Stones
Released: April 23, 1971 (Rolling Stones)
Produced by: Jimmy Miller
Recorded: Muscle Shoals Sound Studio, Alabama; Olympic Studios, London
March, 1969 – January, 1971
Side One
Side Two
Brown Sugar
Sway
Wild Horses
Can't You Hear Me Knocking
You Gotta Move
Bitch
I Got the Blues
Sister Morphine
Dead Flowers
Moonlight Mile
Band Musicians
Mick Jagger – Lead Vocals, Guitars
Keith Richards – Guitars, Vocals
Mick Taylor – Guitars
Bill Wyman – Bass, Piano
Charlie Watts – Drums
The song that elevates Sticky Fingers from a good album to a great album is "Wild Horses". Recorded at Muscle Shoals Sound Studio in Alabama in December 1969, this ode to heartbreak contains sweet excellent interplay between the electric and acoustics of Richards and Taylor, along with some of Mick Jaggar's finest lyrics ever;
"I've watched you suffer a dull aching pain
now you've decided to show me the same…"
The song was allegedly written about Marianne Faithfull, who played another large role on this album, as co-writer of the dark "Sister Morphine", the oldest song on the album, dating back to March 1969, when Jaggar and Richards backed up Faithfull on what was originally a song of her own.
"Sister Morphine" is the first of the three songs that close the album with similar drugs n doom lyrical themes. The next is "Dead Flowers" which, although just as dark lyrically, is a nice upbeat and light departure from its melodramatic predecessor, even though Jaggar's country voice is less than convincing. His voice is much more suited for the album's fine closer, "Moonlight Mile", a moody, melancholy, and slightly dark ballad that eases the listener out of the album. Like much of the album, it was recorded in March 1970 at Jaggar's home at Stargroves and is the product of an all-night session between the singer and guitarist Mick Taylor after Keith Richards mysteriously disappeared from the sessions.
Aside from the country feel of "Dead Flowers", the band experimented with a few other genres on Sticky Fingers. "You Gotta Move" is an attempt at 1930s Delta Blues, obviously in response to some of early work by Led Zeppelin. Another song, "I Got the Blues" is a better effort that tilts towards sixties soul and contains some excellent organ by guest Billy Preston.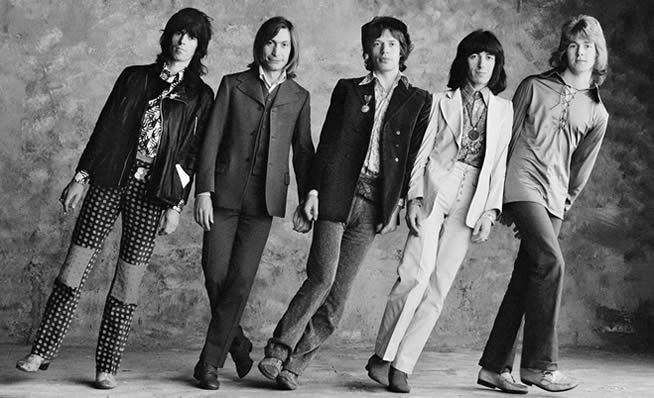 The glue that holds the album together is three solid rockers built around Richards' signature riffs. "Brown Sugar" and "Bitch" are quasi-twin songs that open each side to the upbeat, catchy vibe that made this band so popular in the first place. In fact, this was played out in real time as the opener actually hit #1 on the pop charts. And then there is the classic "Can't You Hear Me Knocking", a hybrid that goes from a rocker hitting on all cylinders that suddenly relents into a wild, five-minute instrumental section with guests Rocky Dijon on congas and Bobby Keys on saxophone, and a spacey, droning guitar section by Taylor.
Models of longevity, the Rolling Stones surely did some fine and interesting work over the years and decades that followed 1971. But they would never quite reach the level of Sticky Fingers again.
~

Part of Classic Rock Review's celebration of 1971 albums.