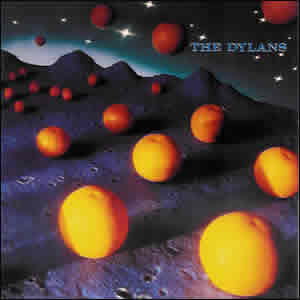 When determining which albums to review here at Modern Rock Review, we like to stay pretty much within the bounds of mainstream rock and usually only make exceptions for very important albums which just cannot be ignored. Once in a while, however, we'll find something odd, obscure, unknown, or all of the above that strikes a chord with us and lands a prestigious spot on our review board. The Dylans were a very short-lived band that came out of the "Madchester" scene in England. They really tapped into the retro-rock sound that would blossom in the early nineties and they did so early and well. So, for our second review of 1991, we've decided to review this band's self-titled debut album, The Dylans. This debut has been called "totally underrated" by those who are aware of it's existence (which are not a very great number). They combine fuzzy guitars, and effects-laden vocals with a more modern rhythm and back beat and their songs fluctuate between the psychedelic sounds of the sixties and the modern pop sounds of the eighties.
The band was formed by Colin Gregory, who had been with the sixties-retro band 1000 Violins through the late eighties as a guitarist. Gregory moved to bass and lead vocals to make way for the two rhythm guitarists Jim Rodger and Andy Curtis. Within months after their formation in 1990, the band was signed to an indie subsidiary of RCA Records. As the band started to write and record songs for their debut, Curtis was replaced by Andy Cook, who would become the chief songwriter for the album.

The Dylans

by

The Dylans
Released: November, 1991 (Situation Two)
Produced by: Stephen Street & John A. Rivers
Recorded: Black Barn Studios, Surrey, England, Summer 1991
Track Listing
Band Musicians
She Drops Bombs
Planet Love
I Hope the Weather Stays Fine
Sad Rush On Sunday
No Coming Down
Mine
Particle Ride
Ocean Wide
Godlike
Mary Quaint In Blue
Love To
Indian Sun
Colin Gregory – Guitar, Bass, Vocals
Jim Rodger – Guitars
Andy Cook – Guitars
Quentin Jennings – Keyboards
Gary Jones – Drums
The album has a great start and a strong finish, with a bit of repetitive lull in the middle. It is well-produced throughout with plenty of sonic ear candy along with solid melodies and song structures. Right from the start, with the song "She Drops Bombs", it is evident that the band wants to tap into sixties psychedelia, with some remnants of Revolver-era Beatles (especially the Harrison songs) and other, more obscure acts like Strawberry Alarm Clock, giving it all a very vibey, acid rock feel. This sound is scattered throughout the album, especially on "No Coming Down", "Indian Sun", the single "Godlike", and the album's only instrumental which is titled "Particle Ride".
The other predominant sound of the album is more influenced by 1980s British pop. "Planet Love" starts with a sixties-like effect which was gypped from the opening of Pink Floyd's "Astronomy Domine" but then settles into a U2-esque beat, behind the still heavily-layered top end. "I Hope the Weather Stays Fine" has some definite eighties club music influence, but still maintains that English top end and a Doors-like organ to give it a unique edge. It also contains an interesting second "voice" to deliver the catch phrase title of the song. "Love To" is an upbeat, feel-good, "life is good" song to change the pace a bit.
But perhaps the two most interesting songs on the album are the ones which do not sound too "sixties" or too "eighties" either way. "Sad Rush On Sunday" has an upbeat, three chord, very catchy riff and remains snappy throughout, accented by deeply wah-wahed guitars. "Mary Quant In Blue", the last single from the album and The Dylan's biggest "hit" ever, contains a definite dance beat, noted-riff, layered guitars, with a very melodic hook delivered by new wave-ish vocals.
This 1991 debut album would be the pinnacle for the band. In the following years, The Dylans would be plagued by several lineup changes which would delay the recording of their second album, Spirit Finger, until 1994. Then, when sales for that album were lethargic and lower than expected, the band decided to call it quits altogether.
~

Part of Classic Rock Review's celebration of 1991 albums.