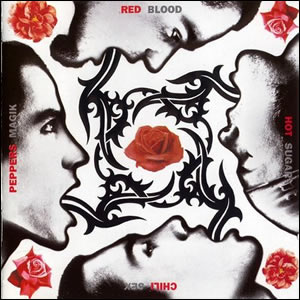 Just as the Red Hot Chili peppers were starting to break out in the late 1980s, two of the band's members were struggling mightily with drug abuse. One of them, lead singer Anthony Kiedis, decided to get clean and survived. Unfortunately the other, guitarist Hillel Slovak died of a heroin overdose in June 1988. The band's then drummer Jack Irons subsequently quit due to the substance problems in the band and went on to help form Pearl Jam. So Kiedis and bassist Flea were left to search for a new guitarist and drummer.
Guitarist John Frusciante was an avid fan of the band and auditioned along with former P-Funk guitarist DeWayne "Blackbyrd" McKnight. Frusciante was ultimately chosen to fill Slovak's place along with drummer Chad Smith, who joined just prior to production of the band's 1989 album Mother's Milk, which would be their last album with EMI. Courted by many labels, the band ultimately signed with Warner Brothers, at the urging of Kiedis and Rick Rubin was brought in to produce the Chili Peppers first album for the label.
At Rubin's suggestion, the band recorded the album in an old mansion once owned by magician Harry Houdini. In early summer 1991, equipment was moved in and the band decided that they would remain inside the mansion for the duration of recording. Frusciante, Kiedis, and Flea each had their own separate rooms at each end of the house and Kiedis ended up recording all his vocals in his room, as it was large enough to accommodate the recording equipment. For over thirty days, the Chili Peppers worked inside the house on the album that would become Blood Sugar Sex Magic.

Blood Sugar Sex Magik

by

Red Hot Chili Peppers
Released: September 24, 1991 (Warner Brothers)
Produced by: Rick Rubin
Recorded: The Mansion, Los Angeles, May-June 1991
Track Listing
Group Musicians
The Power of Equality
If You Have to Ask
Breaking the Girl
Funky Monks
Suck My Kiss
I Could Have Lied
Mellowship Slinky in B Major
The Righteous & the Wicked
Give It Away
Blood Sugar Sex Magik
Under the Bridge
Naked In the Rain
Apache Rose Peacock
The Greeting Song
My Lovely Man
Sir Psycho Sexy
They're Red Hot
Anthony Kiedis – Lead Vocals
John Frusciante – Guitar, Vocals
Flea – Bass, Vocals, Trumpet, Keyboards
Chad Smith – Drums, Percussion
The album would go on to be their blockbuster breakthrough, spawning several radio-friendly "hits" which were cherry-picked from a super-sized album loaded with funk/hip-hop fused, sexually-charged explicit material. The first of these hits was "Give It Away", a very simple and catchy rap which first brought the album some mainstream attention in the Fall of 1991. This paved the way for the follow-up single which would put the band over the top for the first time in their career.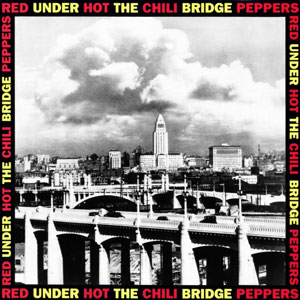 "Under the Bridge" was at first considered one of those songs that did "not fit the style" of the band. It was written by Kiedis as he reflected on his heroin and cocaine addictions about a moment that he came to believe was his lowest point. It started as a poem which Rubin stumbled upon and suggested Kiedis show it to the rest of the band. After some convincing, he sang the verse to Frusciante, they began structuring the song. After the song was recorded, Rubin felt the grand and epic outtro would benefit from a large group of singers. Frusciante invited his mother, Gail and her friends, all of whom sang in a choir, to perform the outtro.
Blood Sugar Sex Magik begins with a couple of rap songs with funk backing – "The Power OF Equality" and "If You Have to Ask", each a bit trite and mundane compared to the album's stronger material. The album then suddenly takes a sharp turn with "Breaking the Girl", one of its more melodic tracks and a complete departure from the hip-hop/funk canvas. Acoustic and dreamy with pulsating bass, long strings and a tribalistic drum beat, the song shows that Kleidis can sing when he wants to.
Here the album starts to get much more interesting. Following "Breaking the Girl" is Flea's slap-bass fueled "Funky Monks", complete with high-pitched chorus vocals and a more interesting arrangement. This is followed by the heavier "Suck My Kiss", an excellent song of pure energy that employs the higher tactic of innuendo in contrast to the more explicit songs. A softer, almost love song follows called "I Could Have Lied". Driven by melodic bass, acoustic, steady drums, and a toned down, soft vocal, Kiedis supposedly wrote this about his brief relationship he had with Irish singer Sinéad O'Connor.
"Mellowship Slinky in B Major" is a funk sandwich wrapped in the bread of pure rock riffs, while "The Righteous and the Wicked" is another enjoyable listen, being bass groove driven, with a funky guitar, melodic vocals, and a good hook. It is essential Red Hot Chili Peppers in its diversity and even contains a nice riff in the middle which has a definitive Led Zeppelin quality
Unfortunately, as the 17-song album goes along much of the later material tends to be repetitive and overdone. One exception may be the eight minute mini-suite, "Sir Psycho Sexy", which has a bit of a Frank Zappa quality to it musically accompanying porno-level explicitly sexual lyrics.
Despite some of the shortcomings, the album is a must have for any serious rock collector, especially those interested in unique sound and fusion. With Blood Sugar Sex Magik, the Chili Peppers set out to make their best possible album, which would be long remembered, and they definitely accomplished that goal.
~

Part of Classic Rock Review's celebration of 1991 albums.