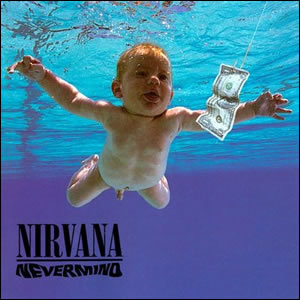 I was born on the same day in February 1991 that Kurt Cobain, the lead singer, guitarist, and principle songwriter for Nirvana, celebrated his twenty fifth birthday. Later that same year, Nirvana released their breakthrough album Nevermind, an album which many reviewers consider a classic and some even consider "all time" material. But, even though I'm virtually the same age as the naked baby on the album's cover (although, I assure you, it is not me), I couldn't disagree more with this "classic" and "all time" jibberish.
In all honesty, it was not until my freshmen year of college that I started to allow myself to like Nirvana. My pre-college hatred of the band was due entirely to their popularity, especially among a very fickle group of emo, "misunderstood" high school teens who seemed to love the band just because Kurt Cobain committed suicide. The way the man and the band is idolized because he was "brave" enough to kill himself really irks me to this day, especially when it seeps into the realm of mainstream music journalism. All of that said, when I went off to college I was able to accept the music without being confronted with teenage Goths sporting his face on their purses.
But I still contend that Nevermind is NOT a classic. It certainly has some good tracks, and maybe even one or two great ones, but as a true album it falls short of being anything beyond mediocre to OK. In the early nineties this album's new grunge sound may have been cutting edge but that hasn't stopped it from sounding dated and trashy today. Of course, it will always be a famous album for simply being a Nirvana album since they had such a short run before Cobain's death. In a way this may be understandable, as the "shooting star" phenomenon has always been romanticized in rock n' roll. But I will try to give this album as fair and honest review as any other.

Nevermind

by

Nirvana
Released: September 24, 1991 (Geffen)
Produced by: Butch Vig
Recorded: Sound City Studios, Hollywood, May-June 1991
Track Listing
Group Musicians
Smells Like Teen Spirit
In Bloom
Come As You Are
Breed
Lithium
Polly
Territorial Pissings
Drain You
Lounge Act
Stay Away
On a Plain
Something In the Way
Kurt Cobain – Guitars, Lead Vocals
Krist Novoselic – Bass, Vocals
Dave Grohl – Drums, Vocals
The album opens fairly strong with "Smells Like Teen Spirit". In the past I had always viewed this song as an overplayed cliché tune, but it really is the best of that album. Further it is one of only two songs that wasn't written completely by Kurt Cobain, as bassist Krist Novoselic and drummer Dave Grohl share the credit (maybe that means something). Stranger still the song would be vastly improved if the lyrics weren't completely nonsensical and hard to understand. That said Cobain provided awesome reverb sounds from his guitar, and the drums sound straight out of a garage which really works for this song. Combine those elements with the continuing changes in the songs melodies and you've got a hit.
The following two tracks, "In Bloom" and "Come As You Are", contain more of the same – the guitar is crisp and fun on both, the lyrics stay nonsensical, but Cobain's voice no longer hurts one's ear. Novoselic's opening bass rift of "Come As You Are" is of particular note, but it unfortunately stays mostly the same throughout the song. The guitar solo of this song is also quite fun. The song following these three solid opening tracks is "Breed". There is little to nothing good about it. It is fast, it is furious, it is boring.
With "Lithium" the album returns to the sound most people define as Nirvana. The lyrics are actually discussing being on lithium pills and this lends the song a bit of lyrical meaning. Cobain's vocals are both understandable and emotional throughout the songs various changes in pace. I especially appreciate the lyrics "I'm not gonna crack," when placed with the various other lyrics like "I killed you". You can really hear someone emotionally cracking and trying to pretend they aren't. Unfortunately from Lithium the album pretty much drops into the gutter.
"Polly" and "Territorial Pissings" are both entirely forgettable. The only thing of value the songs lend to the album are an acoustic break from the fast pace in "Polly" and a bizarre intro featuring the lyrics from The Youngbloods "Get Together" on "Territorial Pissings". The screaming on this latter song is particularly terrible.
By the time "Drain You" comes you are breathing a sigh of relief. Grohl's drums in this song are admirable, and the crescendo within is fun, but it's special. This is followed by the decently solid "Lounge Act", a song with not much to it, but nothing terrible either. It is a good mid-album filler song with the exception of Cobain's banshee vocals in the middle of the song which do nothing but make you want to skip to the next track.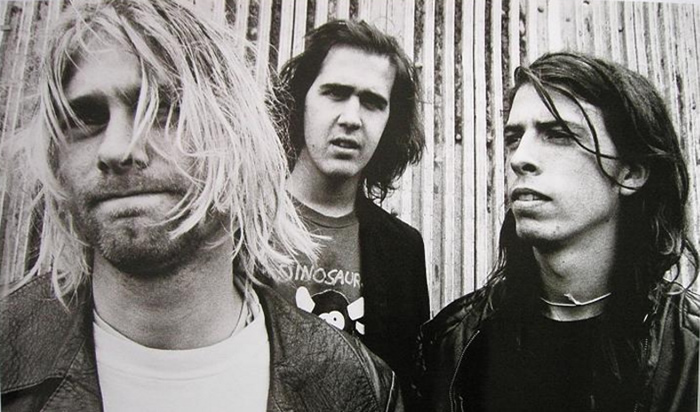 After "Lounge Act" the album sticks to being mediocre – "Stay Away", "On a Plain", and "Something In the Way" are all fairly forgettable. "Stay Away" has a boring and simple drum into that leads into a decent song with an interesting dueling-voices dynamic, "On a Plain" is simply boring, and "Something In the Way" would have been a good ending had it not been so monotonous. But wait the album is not over! After waiting though ten minutes of silence there is a secret track called "Endless, Nameless". I will simply say I was so enraged by its sheer horrid nature that it harmed my ears.
Nevermind was Nirvana's breakthrough album and it certainly has been successful commercially. By the end of the decade, it was certified diamond (double platinum) and has continued to sell very well since. Unfortunately it just seems like Nirvana's success is due to their folklore as much as their musical capabilities and philosophical lyrics. I guess sometimes your first impression of a band, that they were only popular because of Cobain's suicide, is right. Nevermind isn't a terrible album – there are some really good tracks – but much of the album is entirely forgettable.
~

Part of Classic Rock Review's celebration of 1991 albums.