Buy The Psychedelic Sounds of the 13th Floor Elevators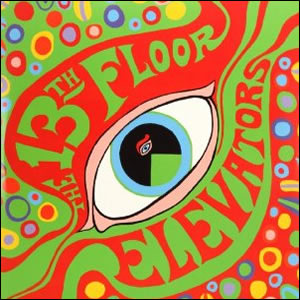 Emerging from Austin, Texas in the mid-sixties was the band which many consider to be the pioneers of psychedelic rock, The 13th Floor Elevators. The band was led by guitarist and vocalist Roky Erickson and lyricist Tommy Hall who added a very special and unique element to the band's sound with the "electric jug". This was a crock-jug with a microphone held up to it while it was being blown into. However, in contrast to traditional musical jug technique, Hall vocalized musical runs into the mouth of the jug, using the jug to create echo and distortion of his voice.
The band's debut album, The Psychedelic Sounds of The 13th Floor Elevators was recorded in Texas and released in late 1966. The band found some commercial and artistic success in 1966-67, before dissolving amid legal troubles due to heavy drug use and unabashed vocal advocacy for the practice. In fact, in the album's liner notes Hall wrote a manifesto detailing the history of mind-altering substances and advocating for societal acceptance of LSD, mescaline, and marijuana as a gateway to a higher, 'non-Aristotelian' state of consciousness". At Hall's urging, the band played most of their live shows and recorded their albums while under the influence of LSD, which was not yet illegal in 1966. At the peak of their success, the band appeared on Dick Clark's American Bandstand, where the host innocently asked, "who's the head of the band?" To which Hall replied, "we're all heads".
Despite their very short time in the limelight, The 13th Floor Elevators are credited with being major influences for many future artists including Big Brother and the Holding Company, the Allman Brothers, and fellow Texans ZZ Top, whose guitarist Billy Gibbons credits Elevators' axe man Stacy Sutherland with shaping his band's earliest sound. Further, Erickson's wild, banshee-like screams and high-pitched notes have been credited by some as a major influence on Robert Plant of Led Zeppelin. The band was also credited by many as being a major influence on the punk rock genre, which wouldn't fully emerge until a decade later.

The Psychedelic Sounds of The 13th Floor Elevators
Released: November, 1966 (International Artists)
Produced by: Lelan Rogers & Gordon Bynum
Recorded: Sumet Sound, Dallas TX, January-October 1966
Side One
Side Two
You're Gonna Miss Me
Roller Coaster
Splash 1 (Now I'm Home)
Reverberation (Doubt)
Don't Fall Down
Fire Engine
Thru the Rhythm
You Don't Know (How Young You Are)
Kingdom of Heaven
Monkey Island
Tried to Hide
Band Musicians
Roky Erikson – Lead Vocals, Rhythm Guitars
Stacy Sutherland – Lead Guitars
Benny Turman – Bass, Violin
John Ike Walton – Drums, Percussion
Tommy Hall – Amplified Jug
The 13th Floor Elevators were formed in late 1965, when Erickson left his band the Spades to complete the lineup. In January 1966, the band went to Houston to record two songs for producer Gordon Bynum to be released as a 45 single. The songs were Erickson's "You're Gonna Miss Me", which he had previously recorded with the Spades, and Hall-Sutherland's "Tried to Hide". These songs would eventually bookmark the Psychedelic Sounds… album. "You're Gonna Miss Me" eventually became popular outside Texas, and by October it peaked at #55 on the Billboard charts, the band's one and only "hit" single. The song sounds like it was influenced by a mixture of Van Morrison and Them and California surf music. It is quite edgy for the time, with the electric jug going wild and powered by Erickson's feral vocals and Sutherland's concise but agile guitar work. "Tried to Hide" finishes the album ends on a "high" note (no pun intended) with some high-pitched percussion up front and all the intensity of Hall's electric jug and Erickson's voice.
The album's body contains a mixture of adequate, sixties-style rock and ballads cut with this new "acid rock" sound the band was forging. "Roller Coaster" is a song with sharp, echoed, electric notes that was likely a heavy influence on Pink Floyd's "Lucifer Sam" on their own psychedelic debut a year later. "Splash 1 (Now I'm Home)" is a pleasant little ballad with a dreamy, nicely picked guitar and the noted absence of the electric jug (which appears on just about every other song). "Reverberation (Doubt)" is a song which was clearly years ahead of its time, a true hippie creed in 1966, while "Fire Engine", with its wild, freaky siren effects (which may be laughable using today's technology), may be one of the earliest examples of punk. Although there are some throw-away, forgettable songs on the album, most of it is interesting, innovative, and unique, probably due to the very mind-altering substance that would lead to the band's quick demise.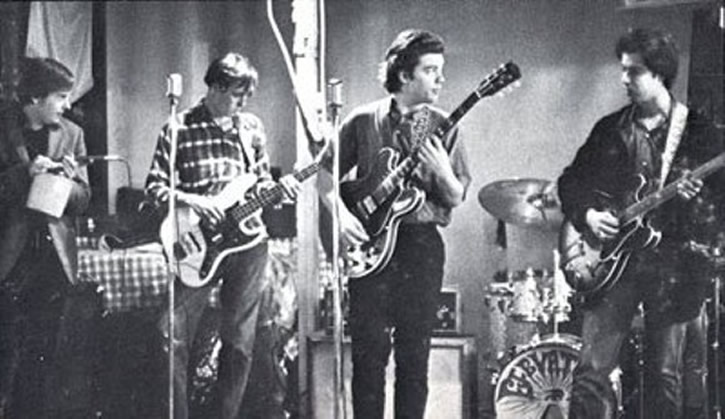 By 1968, four of the five members of the 13th Floor Elevators were facing pending drug possession charges and Erickson was eventually sentenced to 10 years for marijuana possession (but pleaded insanity and spent much of the coming decades in and out of mental institutions). To this day, there is much debate over whether the band members were the single originators of "psychedelic rock" or just part of a select movement spearheaded by lesser known artists. In either case, there is no doubt that the 13th Floor Elevators were rock pioneers.
~

Part of Classic Rock Review's celebration of 1966 albums.