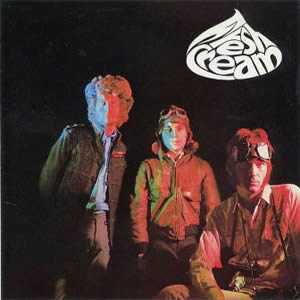 The British blues-rock trio Cream was, perhaps, the first to be deemed a "super group". Their 1966 debut, Fresh Cream was produced by Robert Stigwood and includes a true fusion of genres brought together by the already vast experience of three young musicians. These genres ranged from a hybrid of blues to hard rock with just a tad of psychedelic rock, and were often combined with lyrics drawn from a variety of contemporary and historic subjects and figures. Although the group would not have a long career together, the music they produced in the late 1960s would cast a net of influence which would reverberate for decades.
Drummer Ginger Baker employed a strong jazz style and improvisation he honed when he frequently performed lengthy drum solos in various groups during the early 1960s. He is also noted for using a variety of other percussion instruments and for his application of African rhythms. Bassist and lead vocalist Jack Bruce got his start in London with Blues Incorporated, in which he played the double bass. The band, (which later also included Baker) played an eclectic mix of bebop and blues. Bruce eventually switched from double bass to electric bass as the band morphed into The Graham Bond Organization, a more dedicated rhythm and blues group, which released two studio albums and a few singles in the early sixties. Guitarist Eric Clapton got his major start with the Yardbirds, where his reputation as a blues-influenced guitar legend grew quickly. In fact, after the band took a more commercial turn in 1964 and began to get a measure of international success, Clapton left the Yardbirds to join the far less commercial John Mayell and the Bluesbreakers.
In July 1966 Baker, Bruce, and Clapton founded Cream and began playing a live set which would provide the material for Fresh Cream later that year. While grounded heavily in blues, the album touches on all of the member's collective experiences along with a dab of the newly formed genre of psychedelia. In the process, the album opened the door to all kinds of serious and experimental rock music that was to come.

Fresh Cream

by

Cream
Released: December 9, 1966 (Reaction)
Produced by: Robert Stigwood
Recorded: London, July-October 1966
Side One
Side Two
I Feel Free
N.S.U.
Sleepy Time Time
Dreaming
Sweet Wine
Spoonful
Cat's Squirrel
Four Until Late
Rollin' and Tumblin'
I'm So Glad
Toad
Band Musicians
Jack Bruce – Lead Vocals, Bass, Harmonica, Piano
Eric Clapton – Guitars, Vocals
Ginger Baker – Drums, Percussion, Vocals
"I Feel Free" was Cream's breakthrough single as a band. It marked a multi-genre confluence, led by a capella vocals in the verse before breaking into a full-out rock tune with melodic lead vocals by Bruce. The song was only included on the American version of the LP, replacing "Spoonful" from the British version. This cover of Willie Dixon's classic "Spoonful" is a gem of a blues jam on Fresh Cream with dueling guitar and harmonica leads on top of an ever-intensive rhythm in the song's mid-section. Bruce's vocals are at their height here as are Clapton's guitar licks.
The odd and intense "N.S.U." (which allegedly stands for the venereal disease "non-specific urethritis") is complete with driving guitar and drums and a whining, wailing vocal line. "Dreaming" is a ballad with a psychedelic twist, featuring a vocal duet by Bruce and Clapton. The calm, strummed guitar chords are right out of the late fifties, giving the song a nice nostalgic mood.
"Sleepy Time Time" is the album's first hint at the updated, traditional blues which they return to time and again. The song was co-written by Bruce and his wife Janet Godfrey who also co-wrote "Sweet Wine" with Ginger Baker. This latter song has a much more pop-rock feel, almost bubblegum pop with its nonsensical vocal signature line.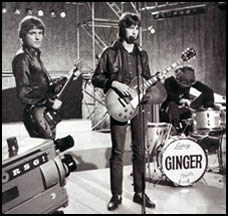 The second side begins with a signature rendition of the traditional instrumental "Cat's Squirrel", with Bruce again pulling double duty of bass and harmonica (along with some ad-libbed scat vocals in the middle). "Four Until Late" is lighter arrangement of a Robert Johnson song, with Clapton taking lead vocals, while the much more intense blues of McKinley Morganfield's "Rollin' and Tumblin'" is surely more satisfying to the connoisseurs of that great genre.
The remake Skip James' early 1930s spiritual "I'm So Glad" is perhaps the band at their best on this debut album, combining complex rhythm guitar riffs along with a funky bass line, intense, jazzy drums and a fast-based bluesy guitar lead, all topped by an excellent hook and well delivered, melodic vocals and harmonies. The album completes with "Toad", an instrumental featuring a long drum solo by Ginger Baker. This was well ahead of its time, replicated years later by John Bonham and countless other drum "Superstars" of the 1970s.
By the end of Fresh Cream, the critical listener is left wanting more, a true testament to the album's quality. Further, although less than half the tracks on the album were totally original, the album as a whole was tremendously original. It set a strong template for the legendary "classic rock" genre which was to come in subsequent years.
~

Part of Classic Rock Review's celebration of 1966 albums.