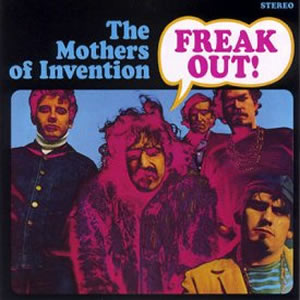 In one of his last interviews, Frank Zappa said, "sounds are for people to listen to," while summing up all the different types of instruments and objects he used to make sounds over the years. This is certainly a true motto for the musician who spent three decades creating the most avant garde art rock. His body of work was incredibly vast with 62 albums of original work released during his lifetime and about 30 more since his death in 1993. The first of these was an ambitious effort done by his band, The Mothers of Invention, in 1966. It was a debut double LP called Freak Out!.
Perhaps one of the most ambitious debut efforts ever, Freak Out!'s two original LPs each contained a different approach. The first two sides consist of short, pop-oriented songs with edgy lyrics and musical flourishes while the final two sides are dedicated to longer art pieces, more in line with later psychedelia. This was all masterminded by Zappa who possessed incredible musical composition and arrangement talents and was able to replicate the pop music that he actually despised in order to make the highly satirical first half of the album. He then employed many innovative techniques such as shifting time signatures and disparate arrangement for the second part of the album.
The Mothers of Invention were formed in the early 1960s, when Zappa met vocalist Ray Collins. By 1965 the band was playing clubs along the Sunset Strip and were offered a recording contract basedupon the strength of one song, which happened to be the sole pop song to be recorded for the album. The entire album was recorded in four days in a Hollywood studio in March 1966 and produced by Tom Wilson, who had previously produced several albums by Bob Dylan and Simon and Garfunkel. Wilson was unaware of the band's unique musical approach, thinking the Mothers were a blues band when they entered the studio.

Freak Out!

by

The Mothers of Invention
Released: June 27, 1966 (Verve)
Produced by: Tom Wilson
Recorded: Sunset Highland Studios, Hollywood, CA, March 1966
Side One
Side Two
Hungry Freaks, Daddy
I Ain't Got No Heart
Who Are the Brain Police?
Go Cry On Somebody Else's Shoulder
Motherly Love
How Could I Be Such a Fool?
Wowie Zowie
You Didn't Try to Call Me
Any Way the Wind Blows
I'm Not Satisfied
Probably Wondering Why I'm Here
Side Three
Side Four
Trouble Every Day
Help, I'm a Rock
The Return of the Son
of Monster Magnet
Primary Musicians
Frank Zappa – Guitars, Vocals
Ray Collins – Vocals, Harmonica, Effects
Elliot Ingber – Guitars
Roy Estrada – Bass, Vocals
Jimmy Carl Black – Drums, Percussion, Vocals
The album begins with the fuzz-guitar driven "Hungry Freaks, Daddy", a song with a 1966 beat and music along with 1977 lyrics and tone and contains the first hints of odd instrumentation including vibraphone and kazoo. The first side then proceeds through the bluesy rock of "I Ain't Got No Heart", the totally psychedelic "Who Are the Brain Police?", and the doo-wop parody "Go Cry on Somebody Else's Shoulder", with a three-part harmony among Zappa, Collins, and bassist Roy Estrada.
"Motherly Love" is the best song on the first side, almost with pop sensibility although definitely dirty-minded. It became the sort of anthem for the band in the early years and probably one of the first to directly take on the world of groupies and sex on the road. "How Could I Be Such a Fool?" finishes off the first side as another good song with some nice Mexican horns in the mix.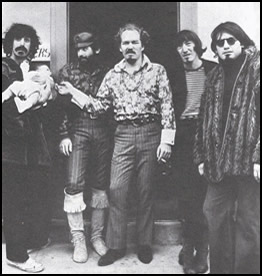 The album's second side is probably the most entertaining and interesting. Starting with the almost-bubble-gum kid's tune "Wowie Zowie" with its frivolous play on words, the side then moves through two legitimate pop songs. The excellent "You Didn't Try to Call Me" contains some additional horns, woodwinds, vibes, and extra layers of guitar by Elliot Ingber. "Any Way the Wind Blows" is a 50s-style love song, composed by Zappa in 1963, and was the song that ultimately got the Mothers their record deal. "I'm Not Satisfied" is an upbeat, sixties rock popper with more great background brass while "You're Probably Wondering Why I'm Here" is a bit more freaky, striking a balance between a totally off-the-rail piece and quasi-pop song.
Side three begins with "Trouble Every Day", a groovy, bluesy number with poetic lyrics. It is perhaps the most memorable song from the album and has a rocked-out, Dylan-esque quality. The eight and a half minute "Help, I'm a Rock" is in three pieces, all very experimental, repetitive, and a bit lazy. Much of the track sounds like someone chanting along to a skipping record. "The Return of the Son of Monster Magnet" takes up the entirty of the fourth and final side. It is a studio jam over a simple rock motif with many street percussionists and other "freaks" brought in from the Sunset Strip to improvise thid final track.
While Freak Out! was far from a commercial or critical success upon its release, the album did develop a cult following among fans and fellow musicians. It was a major influence on The Beatles' Sgt. Pepper's Lonely Hearts Club Band and would eventually make many "all time " lists.
~

Part of Classic Rock Review's celebration of 1966 albums.