Buy Parsley Sage Rosemary Thyme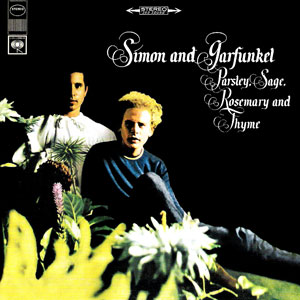 Although Parsley, Sage, Rosemary and Thyme is officially the third album by Simon & Garfunkel, they certainly did not take the traditional path to get to this point. Nevertheless, this album would be their commercial and artistic breakthrough which would launch them into international stardom through the rest of the 1960s (and far beyond that for Paul Simon). This album, like many albums from 1966, fused different styles and genres while it experimented with non-traditional instrumentation which helped push out the outer walls of the rock n roll universe.
Starting out a decade earlier as the teen duet Tom & Jerry, these natives from Queens in New York City struggled for years to find an audience and an identity. While attending college in 1963, Simon & Garfunkel began to catch on in the burgeoning folk scene in New York's Greenwich Village and this ultimately led to a record deal with Columbia Records. Their debut album, Wednesday Morning, 3am, was recorded and released in 1964 and contained a few originals penned by Simon among mostly cover songs. However, it did not fare very well in popularity leading to a breakup of Simon & Garfunkel shortly afterward, with Paul Simon moving to England to pursue a solo career. There in 1965 Simon recorded his solo album, The Paul Simon Songbook and began his own rise through the English folk scene. But back in the states a song from the Simon & Garfunkel debut album called "The Sound of Silence" was slowly climbing the charts, due mainly to its vast popularity on college radio stations. Seeing an opportunity, the duo's producer, Tom Wilson dubbed in some electric guitars, bass and drums onto the original, pure acoustic track of "The Sound of Silence" and released it as a single nationwide. The song climbed the charts an ultimately hit #1 on January 1, 1966. With this development, Simon & Garfunkel reunited and quickly recorded a bunch of songs, including five from Simon's recent solo album, which were released on the duo's second album, Sounds of Silence in early 1966. This album fared much better than their debut effort and gave them some creative freedom to work on a new, all-original album of independent songs.
Released in October 1966, Parsley, Sage, Rosemary, & Thyme got its name from a traditional English ballad that originated in the 16th century, which Simon learned while in the United Kingdom. The album would go an to receive popular as well as critical acclaim and serve as a lynchpin to Simon & Garfunkel's career.

Parsley Sage Rosemary Thyme

by

Simon & Garfunkel
Released: October 10, 1966 (Decca, UK Version)
Produced by: Bob Johnston
Recorded: December 1965-August 1966
Side One
Side Two
Scarborough Fair/Canticle
Patterns
Cloudy
Homeward Bound
The Big Bright Green Pleasure Machine
The 59th Street Bridge Song
The Dangling Conversation
Flowers Never Bend with the Rainfall
A Simple Desultory Philippic
For Emily, Whenever I May Find Her
A Poem on the Underground Wall
7 O'Clock News/Silent Night
Primary Musicians
Paul Simon – Lead Vocals, Guitars
Art Garfunkel – Lead Vocals, Piano
Joe South – Guitars
Carol Kaye – Bass
"Scarborough Fair / Canticle" is a song unique in the Simon & Garfunkel library, with an almost psychedelic, Pink Floyd-ish vibe (although that band did not appear on the scene until 1967). This song would also set a template for future bands drawing on traditional folk such as Traffic's "John Barleycorn Must Die". But beyond just recanting the traditional song, which contains lyrics where a young man asks his female lover to perform impossible tasks, the song fuses with a counterpoint, "Canticle". Here, Art Garfunkel sings a reworked version of Simon's 1963 "The Side of a Hill" with new, anti-war lyrics. In stark contrast, the next song "Patterns" bursts through with sparks of musical notes by acoustic guitar, organ, bass, and various percussion, combined with lyrics about how life is a labyrinthine maze, following patterns that are difficult to unravel. Here the listener is already made aware of the diversity of this album.
Although most of its songs were written during 1966, Parsley, Sage, Rosemary, & Thyme does include a few songs from the previous year, including a remake of "Cloudy" from Simon's solo album and the single "Homeward Bound", which Simon wrote while at a railway station near Liverpool during a long, overnight wait for the next train. The song itself is, perhaps mid-sixties folk at its best and became a huge, top-five hit for the duo.
Interspersed between a variety of simple folk songs are some radical departures, most of which work brilliantly. "The Big Bright Green Pleasure Machine" is an upbeat, almost rock song. As is "A Simple Desultory Phillippic (or How I Was Robert McNamara'd into Submission)", with its heavy fuzz guitar and high organ chops along with a Dylan-esque accent on Simon's vocals. The later of these two is one of the more entertaining on the album, almost comical. "The Dangling Conversation" doesn't quite work as well in its experimentation with strings and orchestral arrangements.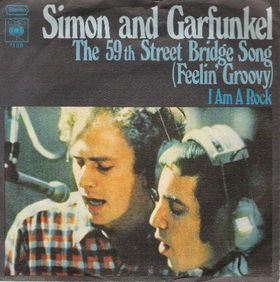 Another catchy pop song which greatly improved Simon & Garfunkel's radio appeal is The "59th Street Bridge Song (Feelin' Groovy)", although this ong was not officially released as a single until a few years later. Using the colloquial name of the Queensboro Bridge in New York City as a backdrop, the song's message is immediate – in deep contrast to the rushed pace of city life, the protagonist is simply taking his time and enjoying the day, feelin' groovy. It features Dave Brubeck Quartet members Joe Morello on drums and Eugene Wright on bass.
The album concludes with a couple of unique and interesting numbers. "A Poem On the Underground Wall" is almost psychedelic in its approach, containing an upbeat acoustic guitar up front and a contrasting deep, doomy organ in background. "7 O'clock News / Silent Night" is a haunting, artistic statement on the state of affairs in late 1966. On one side it contains a simulated news broadcast by Charlie O'Donnell, which amazingly forecasts subjects that will be front and center in years to come – Nixon, mass murderers, Martin Luther King, and war protests. On the other side is a simply arranged version of the Christmas carol "Silent Night", backed by Garfunkel's piano. The closing track with its dual themes and titles, mimics the opening tracks and bring the album full circle.
After Parsley, Sage, Rosemary, & Thyme, Simon & Garfunkel's popularity continued to rise with the soundtrack to the film The Graduate and two more highly successful albums. They split up again for good in 1970, although they would reunite for several special shows and tours over the years.
~

Part of Classic Rock Review's celebration of 1966 albums.