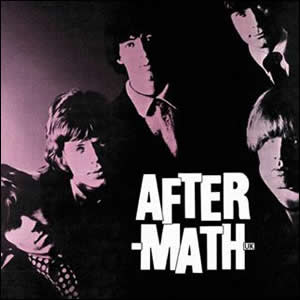 Although it was their fourth album released in Britain and their sixth album released in America, Aftermath was really the second "true" album by The Rolling Stones, following 1965's Out Of Our Heads. This one, like that previous one, was released in two distinct versions in the UK and in the USA, a common practice for the day (this review will look at the "greater" album, considering all the tracks included on either version of Aftermath). The UK hit single "Paint It Black" was added to the American version, replacing four songs that were included on the UK version.
With Out Of Our Heads, the band reached the peak of their mid-sixties (then cutting-edge) mixture of Chicago-style blues and pop-rock. Aftermath builds on this while it progresses the band more towards their distinct sound and image as "rock and roll's bad boys". It is also the first Stones album to include all original material, written by the tandem of Mick Jagger and Keith Richards. Although not himself a songwriter, multi-instrumentalist Brian Jones was the driving force behind some of the unique and distinct sonic quality of the album. Jones incorporated wider musical influences, such as psychedelia and folk, and widely expanded the use of instrumentation, with songs on Aftermath including touches of dulcimer, sitar, marimba, and various keyboards.
Aftermath was also the first Rolling Stones album to be recorded entirely in the United States at the legendary RCA Studios in Hollywood and it was the first album the band released in true stereo.


Aftermath

by

Rolling Stones
Released: April 15, 1966 (Decca)
Produced by: Andrew Loog Oldham
Recorded: RCA Studios, Hollywood, December 1965-March 1966
Side One
Side Two
Mother's Little Helper
Stupid Girl
Lady Jane
Under My Thumb
Doncha Bother Me
Goin' Home
Flight 505
High And Dry
Out Of Time
It's Not Easy
I Am Waiting
Take It or Leave It
Think
What To Do
Song Included On U.S. Version
Paint It, Black
Band Musicians
Mick Jagger – Lead Vocals, Harmonica
Keith Richards – Guitars, Vocals
Brian Jones – Guitars, Dulcimer, Sitar, Keyboards, Percussion, Vocals
Bill Wyman – Bass, Organ
Charlie Watts – Drums. Percussion, Marimba
Much of the music's backbone is still rooted in Chicago electric blues, with Jones' instrumental tangents adding strategic flavoring to several songs. The opener "Mother's Little Helper" contains a signature riff of heavily compressed 12-string electric guitar played with a slide. The song itself is a Beatle-esque, upbeat ode with a much darker message about drug dependency that made it one of the more thought provoking songs of the era.
"Stupid Girl" features a Fafsa organ by band manager and studio keyboardist Ian Stewart. It has the musical vibe of mid-sixties surf music and contains some juvenile lyrics that degrade the band's groupies, one of several songs on the album that portray the fairer sex in a less-than-stellar light. Feminists have long lamented the message in "Under My Thumb", which speaks of gaining the "upper hand" in a sexual relationship. No matter the message, the music to this song is absolutely brilliant, led by Jones' marimba riff throughout with Richards' acoustic and electric guitars and Bill Wyman's driving "fuzz" bass. Jones later brings back the marimba for the Phil Spector-esque "Out of Time". This song was soon covered by English solo artist Chris Farlowe, whose recording was actually produced by Mick Jagger and reached number one on the UK singles in July, 1966.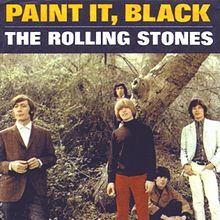 "Paint It, Black" is, in reality, constructed very similar to the band's 1965 smash hit "Satisfaction", in the sense that a catchy and heavy rock song is wrapped around a signature riff. However, the riff on "Paint It, Black" uses the much more exotic sitar which Jones recently learned from Beatles guitarist and Indian music enthusiast George Harrison. During the verse, drummer Charlie Watts adds to the atmosphere by playing a Middle Eastern-flavored drum pattern while Jagger contributed the dark lyrics, about depression, mourning, and cynicism. Keith Richard plays both electric and acoustic guitars as well as contributes background vocals to this hit song.
"Lady Jane" showcases Brian Jones on dulcimer and has a middle-age feel throughout due to its distinct instrumentation and precise vocals. Fans have long considered this song a hidden gem from Aftermath and critics have long argued that Jones deserved a song writing credit. The dulcimer is brought back by Jones on "I Am Waiting", another good, meditative song.
Unfortunately, Aftermath does include a lot of filler as not all the songs hit the mark. "Goin' Home" is an 11-minute blues jam, remarkable for its length in the era, but really Mundane in its delivery. "It's Not Easy" is uninspired, basic filler while "Think" is a feeble attempt to rip-off "Satisfaction" with its buzz and precisely picked strings falling short of anything really interesting. Other songs are more interesting but don't seem quite done, such as the bluesy "Doncha Bother Me", the piano rocking "Flight 505", and the upbeat, acoustic folk/bluegrass "High and Dry", which has a nice edge due to Jagger's vocals and Jones' blues harp, but also contains an annoying, up-front and distracting hi-hat beat.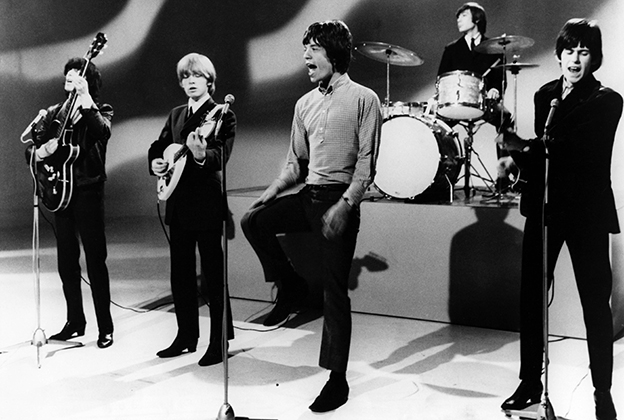 Aftermath would ultimately be the high-water mark for Brian Jones' influence on the band. Over the next few years and albums, his contributions were eventually diminished in lieu of the Jagger/Richards influence until he was ultimately nudged out of the band in 1969. He died shortly thereafter under mysterious circumstances.
~

Part of Classic Rock Review's celebration of 1966 albums.