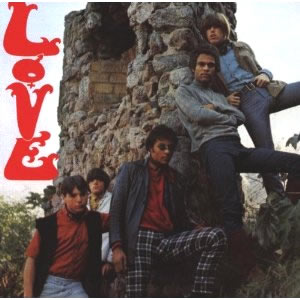 The Los Angeles based band Love had a rather short but important ride on the sixties rock scene. Although they never quite reached national or international fame, the band was extremely influential in California on artists such as Jimi Hendrix and the Doors. Starting with their eponymous debut album in 1966, Love released three distinct and original albums through 1967 with their first being the most rock-oriented. The strongly stereo-ized sound of this album features strummed, Byrds-like guitar chords in one channel with crisp, riff-fueled bass and drums rhythm in the other. It is all topped off with the muddy, emotional vocals of lead singer and chief songwriter Arthur Lee.
Although there is little doubt that much of what makes up the Love album is heavily borrowed from contemporary acts, there is definitely something distinct and original about how it is performed and produced. These excellent folk-pop anthems would certainly not be out of place on any sixties fan's stereo, yet there is an unmistakable edge here. Beyond the heavily Byrds influenced style, there are some songs that veer off in the "garage rock" direction, providing a solid template for future bands such as Pink Floyd, Deep Purple, and Rush.
Following the album's release in April 1966, Love went back into the studio to work on a follow-up, starting with the recording and release of the song "7 and 7 Is", which became a Top 40 hit and their highest charting single. These late '66 recordings would form their second album De Capo, which delved deeply into psychedelia in early 1967. A third album, Forever Changes in late in '67, would be the band's highest regarded album, when they were right on the brink of disintegrating due to heavy drug use and creative differences.

Love

by

Love
Released: April, 1966 (Elecktra)
Produced by: Jac Holzman & Arthur Lee
Recorded: Sunset Sound, Hollywood, December 1965 – January 1966
Side One
Side Two
My Little Red Book
Can't Explain
A Message to Pretty
My Flash on You
Softly to Me
No Matter What You Do
Emotions
You I'll Be Following
Gazing
Hey Joe
Signed D.C.
Colored Balls Falling
Mushroom Clouds
And More
Band Musicians
Arthur Lee – Lead Vocals, Harmonica, Percussion
Bryan Maclean – Guitars, Vocals
Johnny Echols – Lead Guitars
Ken Forssi – Bass
Alban Pfisterer – Drums
The album begins with a driving, thumping rock rendition of a song written by Burt Bacharach, called "Little Red Book", a title which seems to merge the "little black book" of past dates concept with Mao's mandatory communist "little red book" in China. The song sets the pace for an interesting and exciting first side of the album, which commences with the short instrumental "Emotions", which has flavorings of surf music with its echoed guitars along with a marching drum tempo.
"Can't Explain" is another rocker fueled by the bass of Ken Forssi, which stands out as a very advanced sound for the day. This standout bass is revisited several times throughout the album, including on the frenzied song "My Flash On You" and the cover of Billy Roberts' "Hey Joe", which seemed to be mandatory in those days. Aside from Love, this latter song was covered by The Surfaris, The Leaves, The Byrds, Tim Rose, Wilson Pickett, Cher, Deep Purple, The Mothers of Invention, Band of Joy, and of course, The Jimi Hendrix Experience – and these were just the covers in the late sixties. Scores more cover versions came in the subsequent decades.
The two guitarists of the band, Bryan Maclain and Johnny Echols are hard to distinguish, except in the hard rocking "Gazing" where Lee calls them out by name during their individual solos.
The album does add some diversity with softer songs. Although it gets a bit melodramatic with the vocal inflections, "A Message to Pretty" is otherwise a nice calm, strumming love song, topped with harmonica, and a testament to the great production of this album by Jac Holzman. "Softly To Me" takes a very different musical approach and a change of pace with Maclean taking on songwriting and lead vocals duties. "Signed D.C." has a very western feel, with much darker lyrics referring to the sufferings of a junkie, apparently verbatim from a letter by Love's ex-drummer Don Conka (D.C.), who was ousted from the band due to drug problems. The calm "Mushroom Clouds" seems to be a perfect road map for the slow and deliberate songs of post-Barret era Pink Floyd.
Although the album does seem to lose momentum towards the end, there is little doubt that Love is an important album from 1966, when the evolution of rock music was on hyper speed.
~

Part of Classic Rock Review's celebration of 1966 albums.