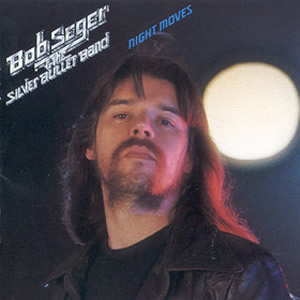 Although this album was his first real breakthrough, Night Moves is actually the ninth overall studio album by Bob Seger. Starting off in his home Detroit area, his career dated all the way back to 1961. For the first decade, his career went through several incarnations with differing acts including earlier bands with names like The Decibels, The Town Criers, and Doug Brown & the Omens. In the late sixties and early seventies, Seger fronted the acts Bob Seger and the Herd and The Bob Seger System. Over those years, Seger scored some big regional hits as well as a few small national hits, but never quite found the career cohesion to build any serious popular momentum. That all changed when Seger formed the Silver Bullet Band.
Coming together in 1974, the Silver Bullet Band included original members Drew Abbott on guitar, Alto Reed on saxophone, Chris Campbell on bass, and Charlie Allen Martin on drums. With the recording of the 1975 album Beautiful Loser, Robyn Robbins joined on keyboards. In April 1976, this new band recorded Live Bullet which contained tracks that started to receive heavy airplay on album-oriented radio, forecasting some greater success to come. This potential was confirmed in a huge way during the summer of 1976, when Seger headlined a show in front of 80,000 at the Pontiac Superdome in suburban Detroit.
Although Night Moves is credited to the Silver Bullet Band, nearly half of the album is backed by the Muscle Shoals Rhythm Section from the famous studio in Alabama. The album was well received by critics and was Seger's first to be certified platinum and to date it has sold over six million copies
worldwide.

Night Moves

by

Bob Segar
Released: October 22, 1976 (Capitol)
Produced by: Bob Segar & Punch Andrews
Recorded: Muscle Shoals Sound Studios, Alabama, 1976
Side One
Side Two
Rock and Roll Never Forgets
Night Moves
The Fire Down Below
Sunburst
Sunspot Baby
Mainstreet
Come to Poppa
Ship of Fools
Mary Lou
Primary Musicians
Bob Seger – Lead Vocals, Guitars
Drew Abbot – Guitars
Robyn Robbins – Piano, Organ
Alto Reed – Saxophones
Chris Campbell – Bass
Chris Allen Martin Drums & Percussion
A couple of years before he would record the standard "Old Time Rock and Roll", Bob Seger touched on the genre of roots rock with "Rock and Roll Never Forgets" as the opening song from Night Moves. The song sets the pace for the nostalgic feel of the album which seemed to be targeted at twenty and thirty-somethings.
The title song "Night Moves" was nearly an instant classic as a compelling story about the secret getaways of teenage lovers. Influenced by Bruce Springsteen's "Jungleland", Seger wrote and recorded the song during a session in a Toronto studio, and employed an interesting arrangement that brings the listener on a journey from the past to the present.
Several songs on Night Moves are female-centric, starting with "The Fire Down Below" which cynically deals with the world of prostitution. "Sunspot Baby" deals with a free-spirited woman who takes off while "Come To Poppa" is quite the opposite, dealing with a needy woman who constantly returns to her benefactor when times are tough.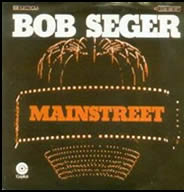 "Mainstreet" is probably the best overall song on the album. It talks of a young stripper losing her innocence in a world of smokey bars, as told from the point of view of her protagonist observer. The song has an incredible atmosphere painted by the Muscle Shoals Rhythm Section sound, especially the smooth, ethereal guitar line which is the song's main signature. This background scenery is balanced by the moody, narrative lyrics by Seger, which were literally written about "Ann Street" in Seger's childhood hometown of Ann Arbor, Michigan.
Night Moves would be a t the forefront of Segar's most popular period, which was anchored by three solid and successful albums starting with this one in 1976, and followed by Stranger In Town in 1978 and Against the Wind in 1980.
~

Part of Classic Rock Review's celebration of 1976 albums.