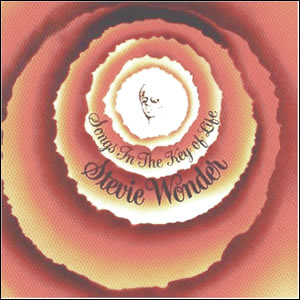 The incredibly long and ambitious Songs In the Key of Life became the tour-de-force of Stevie Wonder's prolific seventies. The album consisted of two LPs plus an addition four-song EP, a total 85 minutes of music from its 21 total songs. Wonder's songs dealt with a variety of subjects many of which were the serious issues of the day and the musical performances are considered some of the best of his career. Because of its incredible length and rich arrangements, Songs In the Key of Life took a year longer than expected to complete, which made for a stressful situation between Wonder and Motown Records founder Berry Gordy, especially since Gordy had just given Wonder the largest record contract in history in 1975. It was a seven-album, $37 million deal with Wonder guaranteed full artistic control, and Gordy and the world eagerly awaited the first album of this new contract to be completed.
The album was finally released at the end of September 1976, and by early October it was already number one on the Billboard Pop Albums Chart, where it stayed for thirteen consecutive weeks into 1977 and eventually became the second best-selling album of that year. Songs In the Key of Life also became the most successful Stevie Wonder album as far as charting singles, and several of the songs were even the basis for hip-hop standards decades later. The album also became Wonder's third in four years to win the Grammy for Album of the Year, winning previously in 1974 and 1975 for Innervisions and Fulfilligness' First Finale respectively. Wonder also won Grammys for Best Male Pop Vocal Performance, Best Male Rhythm and Blues Performer, and Producer of the Year in 1977.
Although a total of 130 people worked on the album, many of the songs on the album were performed entirely by Wonder. The album took the listener through a journey of musical styles, recollections, and observations about issues ranging from childhood, first love, faith, social issues, and the downtrodden.

Songs in the Key of Life

by

Stevie Wonder
Released: September 28, 1976 (Motown)
Produced by: Stevie Wonder
Recorded: Crystal Sound, L.A. & The Record Factory, New York, 1975-1976
Side One
Side Two
Love's In Need of Love Today
Have a Talk With God
Village Ghetto Land
Contusion
Sir Duke
I Wish
Knocks Me Off My Feet
Pastime Paradise
Summer Soft
Ordinary Pain
Side Three
Side Four
Isn't She Lovely?
Joy Inside My Tears
Black Man
Ngiculela – Es Una Historia
If It's Magic
As
Another Star
A Something's Extra EP
Saturn
Ebony Eyes
All Day Sucker
Easy Goin' Evening (My Mama's Call)
Primary Musicians
Stevie Wonder – Lead Vocals, Piano, Keyboards, Drums, Percussion
Michael Sembello – Guitars
Nathan Watts – Bass
Ray Pounds – Drums
When Stevie Wonder chose the title, he set an ambitious personal goal to live up to its billing. He worked with a core group of musicians laying down many of the funk-oriented tracks while independently developing several of the more innovative tracks. Although this diverse album does have amazing cohesion, the first two original sides and EP seem to be far superior to sides three and four, which are still good but far less dazzling. All that being said, side one starts with an odd sequence of songs.
"Love's In Need of Love Today" starts with deep harmonies before breaking into an R&B ballad. Like many songs later on the album, it contains a very long outro with much vocal improvisation all the way to the end. "Have a Talk with God" is performed in total by Wonder, mostly synths with some drums and a nice lead. "Village Ghetto Land" is completely original, with orchestral parts performed on the Yamaha "dream machine" the lyrics were written by Gary Byrd, who actually recited them over the phone to Wonder minutes before he recorded the song. The fourth song, "Contusion" is actually the first to use a "band" arrangement. It is (almost) an instrumental with just some scat vocals and where Wonder really takes a backseat to the other musicians like guitarist Michael Sembello.
"Sir Duke" finishes side one and is a true classic. The song was written in tribute to jazz legend Duke Ellington, who died in 1974. Ellington had a strong influence on Wonder as a musician and he wanted to write a song acknowledging musicians he felt were important. Originally done on 16 track but later on the new 24 track recorder, "Sir Duke" is one of the great songs from the era, fresh and bold with lots of harmonized brass upfront and a fantastic vocal melody by Wonder.
The A Something's Extra 7″ EP was included with many editions the original album and the tracks are on most CD versions. It contains four fine tracks, starting with Sembello's "Saturn", who got the title when he misinterpreted Wonder's singing "Saginaw" (the town of his birth). It is a pleasant ballad with a bit of edginess and marching piano. "Ebony Eyes" is a great, upbeat boogie-woogie piano song with strong bass by Nathan Watts and drums by Wonder and really cool instrumentation in the arrangement including a talkbox, a steel guitar, and a great growling sax lead. "All Day Sucker" is another synth-driven, hyper funk song, while "Easy Goin' Evening (My Mama's Call)" starts kind of dramatic but eases into a nice jazz rhythm with a Fender Rhodes electric piano, topped by Wonder's double-tracked harmonica.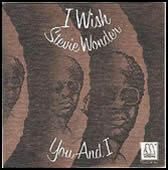 Side two kicks off with "I Wish", a song that is nearly impossible not to dance to at every listen. It revolves around several very complex synth and bass lines that mesh together like a funky symphony. The song was the first and most successful hit off the album, with nostalgic lyrics. "Knocks Me Off My Feet" begins with a lounge act piano until it works into a nice romantic ballad with some very interesting and intense sections.
"Pastime Paradise" is another complex art piece, which contains a reverse gong and strings from the "dream machine" that Wonder says were influenced by the Beatles' "Eleanor Rigby". It also contains some very complex, Latin-influenced percussion with bells and two full choral groups singing completely different parts simultaneously. Yet somehow it all comes together in a beautiful and haunting piece. "Summer Soft" is a beautiful piano tune that breaks into nice ensemble with stronger instrumentation, with the end of the song going through many key changes, becoming more and more intense on each iteration until giving way to a closing organ lead by Ronnie Foster. "Ordinary Pain" finishes the fantastic second side as another very pleasant melody with a strong, thumping rhythm which turns sharply about midway through to a new-fangled funk with vocals by Shirley Brewer.
The third LP side starts with "Isn't She Lovely?", which would become one of Wonder's all time popular songs. Written in celebration ofthe the birth of his daughter, Wonder incorporated sounds from home to complement the excellent piano riff, vocal melody, and sweet harmonica lead during the long outtro. "Joy Inside My Tears" contains a slow and steady drum beat played by Wonder with really subdued vocals. "Black Man" has a strong synth presence and 1980s type deep funk (in 1976), with a section of long question and answer chanting at the end.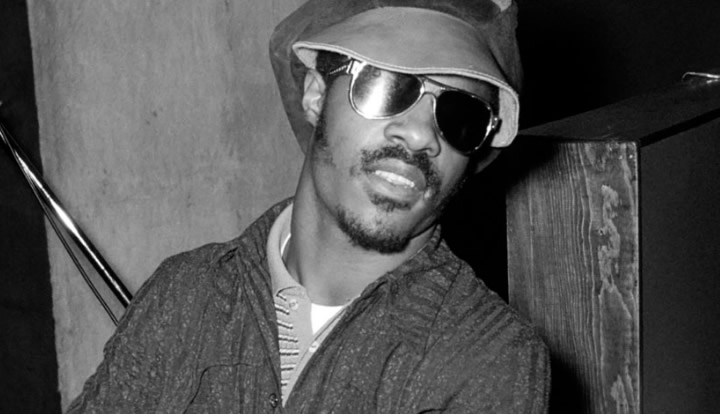 On the fourth side, "If It's Magic" stands out as a unique piece containing on harp by Dorothy Ashby and vocals with a little harmonica by Wonder. "As" is an upbeat R&B ballad dominated by the chorus hook sung by background singers with Wonder improvising much of the lead vocals. "Another Star" finishes the side with an almost disco-beat above some Caribbean-influenced piano and percussion and is yet another song with a long outro of consistent riff and improvised vocals.
Songs In the Key of Life was an incredible success on all fronts and would serve as a major influence for scores artists over the coming decades. It was also the absolute apex of a very long career by Stevie Wonder.
~

Part of Classic Rock Review's celebration of 1976 albums