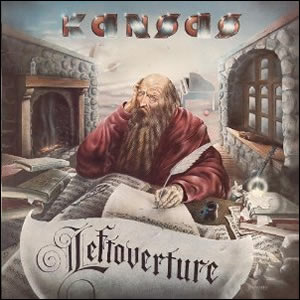 For a long time I considered Kansas to be more like a sidekick act in relation to those truly talented British progressive rock bands. This was probably due, in no small part, to the weak critical reception and tepid coverage that they seem to get from the mainstream rock press, many of whom dismiss them as "corporate rock" or whatever intellectually lazy label they use to dismiss certain acts. But as I listened extensively to Leftoverture while preparing for this review, I came to realize that this band may well equal some of these acts held in higher esteem. While it is i true that they draw heavily from contemporaries like Genesis, Jethro Tull, Yes, Pink Floyd, and Rush, they really have an art for mixing it up in a totally entertaining fashion. Kansas also has a knack for hitting the "sweet spot" when it comes to melody and harmony and they really make their own mark when it comes to true sonic value.
The second epiphany I had concerning the Leftoverture album was actually a question – can this be considered a religious album? There is no doubt that it is definitely philosophical, inspired and spiritual in the new-age lefty kind of way. But is it religious? If so, it may be the best type of religious album; implicit and artful with many subjects left in the form of a very good question, rather than a conclusion or directive.
Which brings us back to the critics of this album, many of which blast it for being a "concept album" without having a true concept. My statement to that is perhaps it is not a concept album at all, just a fine collection of songs with more universal themes than traditional rock and roll. These universal themes may reach beyond the typical conventions of the garden variety rock critic. Others have said the band tries to be too "arty" when they don't have the talent to do so. To those who say this album doesn't contain rhythm or composition, I say they simply do not like music.

Leftoverture

by

Kansas
Released: October 1976 (Kirshner)
Produced by: Jeff Glixman & Kansas
Recorded: Studio In the Country, Bogalusa, LA, 1975-1976
Side One
Side Two
Carry On Wayward Son
The Wall
What's On My Mind
Miracles Out of Nowhere
Opus Insert
Questions of My Childhood
Cheyenne Anthem
Magnus Opus
Group Musicians
Steve Wash – Lead Vocals, Piano, Keyboards
Kerry Livgren – Guitars, Piano, Keyboards, Clarinet
Rich Williams – Guitars
Robby Steinhardt – Violin, Viola, Vocals
Dave Hope – Bass
Phil Ehart – Drums, Percussion
The first side on the album contains a nice mix of styles, highlighted by "The Wall". The guitar-led intro is just fantastic and nicely switches to the baroque-inspired verse with harpsichord-like keys that are later accented by strings and thumping rhythms. This song really feels influenced by a mixture of Yes and classic Genesis, but with a more terrestrial feel especially when it comes to Walsh's lead vocals and Livgren's poetic lyrics which pre-empted Roger Waters by about three years;
"It rises now before me, a dark and silent barrier between,
All I am, and all that I would ever want be, it's just a travesty…"
The next song "What's On My Mind" is almost a straight-forward pop song and therefore probably the weakest song on the album artistically, but not a terrible listen. "Miracles Out of Nowhere" is much stronger, moving through many great instrumental passages with rich instrumentation including acoustic guitars, strings, synths, and piano, while almost folk during verses.
The album's opener, "Carry On My Wayward Son", has become the most lasting piece from Leftoverture, receiving heavy airplay through the decades. While this song is definitely pop-oriented, it still feels "epic" in many ways, from the perfect harmonies at the start, to the various passages of musical interlude, and the fine piano backing the verse and very poetic lyric. The song has been called "a sonic monolith" with its meaning still debated, from that of an ongoing theme brought forward from the previous album Masque, to the religious sentiment I touched on earlier in this article.
The album's second half is where I feel the true genius lies. Although, I can't quite articulate that genus in words (something that no doubt frustrated those harsh critics). Starting with "Opus Insert" which is an absolutely brilliant song to the ears but quite baffling (due to its title) to the mind. It may be an inside joke or puzzle left to be solved, but I'll just stick to what I can report. It is extremely entertaining, starting with an odd, interesting organ that breaks into a heavier section, very good with thumping bass by Dave Hope. It is a "carpe diem" song with nicely strummed acoustic during the chorus followed by a majestic riff of violin/viola which morphs even further into a marching sound with drum rolls behind vibraphone and piano before returning again to odd and beautiful beginning and then synth-led ending.
Before you can catch your breath "Questions of My Childhood" kicks in with a wild and upbeat intro led by synth then organ. More philosophical themes are explored around maturing and realizing you never get all the answers. A great violin lead in the outtro by string man Robby Steinhardt sits on top of the intro synths, which nicely migrate into the background. "Cheyenne Anthem" is nearly a straight-forward folk song with a message, but it seems to have a deeper, poetic meaning as the verses go on (again, religious?) –
"All our words and deeds are carried on the wind…"
Musically the song is once again brilliant, never getting bogged down by any predisposed "message", with nice acoustic guitars and synth overtones and Jethro Tull-like folksy passages which lead to an upbeat section that sounds almost polka (although probably based on Native American tribal dance). This gives way to more Kansas-style riff before the big mid-section breaks back down to simple strummed acoustic guitars and haunting vocals in background.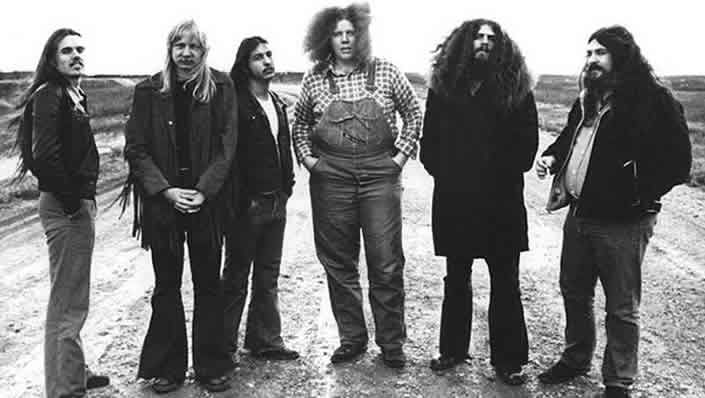 The album concludes with "Magnum Opus", an 8½ minute piece which is nearly an instrumental save for a single verse with almost throw-away lyrics about how "rock and roll is only howling at the moon". The song explores even more exotic sounds, starting with native-type drumming and subtle synths on the top, then moving to heavier guitars and strong rock drumming by Phil Ehart. After the single verse, the song goes into an extended jam, sometimes frenzied, that may have been influenced by Rush's Caress of Steel, before reaching an abrupt ending to close out Leftoverture.
Kansas would build on the success of this album by cutting Point of Know Return the following year, an even more successful album commercially, which combined with Leftoverture marks the apex of the band's career.
~

Part of Classic Rock Review's celebration of 1976 albums.