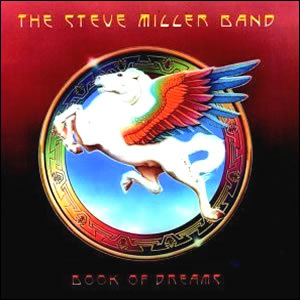 Steve Miller forged his reputation as a Chicago blues man, immersing himself in that scene during the 1960s and playing with the likes of Muddy Waters, Howlin' Wolf, Buddy Guy, and Chuck Berry. Still, his most popular and enduring records came in the mid-to-late seventies and featured a blend of pop-rock songs and quasi-psychedelic pieces with synthesized effects. Book of Dreams fell right in the heart of this era and, along with its predecessor, Fly Like An Eagle, demonstrated this approach as well as any album. In fact, much of both these albums were recorded together in 1975. Miller produced both of these albums and considered releasing a double album but instead opted for two single albums that were released in May of consecutive years (1976, 1977).
em>Fly Like An Eagle was a great success, spawning many radio hits and three singles which reached the Top 20 including the #1 hit "Rock n' Me". That album peaked at #3 on the Billboard charts. Book of Dreams fared even better as an album, peaking at #2 on Billboard. This pair of albums represented the peak of Miller's commercial career.
The diversity of style is what makes the whole of this album far greater than the sum of its parts, although most fans only really know those parts as individual songs long heard on classic rock and AOR radio. Book of Dreams provided a nice blend of the fundamentals of blues-rock and the indulgences of prog rock.

Book of Dreams

by

Steve Miller Band
Released: May 1977 (Capitol)
Produced by: Steve Miller
Recorded: CBS Studios, San Francisco, 1976-1977
Side One
Side Two
Threshold
Jet Airliner
Winter Time
Swingtown
True Fine Love
Wish Upon a Star
Jungle Love
Electro Lux Imbroglio
Sacrifice
The Stake
My Own Space
Babes In the Wood
Primary Musicians
Steve Miller – Lead Vocals, Guitars, Synthesizer
David Denny – Guitars
Greg Douglass – Guitars
Lonnie Turner – Bass
Gary Mallaber – Drums
The album starts off with "Threshold", a minute-long, pure synth-effect track which almost sounds like a distant air patrol alarm and acts as defacto into for "Jet Airliner" (in fact, most classic radio stations play these songs together). "Jet Airliner" was composed by Paul Pena for his album in 1973, but when that artist encountered label problems the album and song went unreleased. The song was presented to Miller by a former band mate and Miller developed it using a variation of Eric Clapton's guitar riff on Cream's version of "Crossroads". This method of using a synth-heavy piece to introduce a proper song was commonplace with Miller during this era as he did the exact same thing to start off Fly Like An Eagle and uses this method again later on Book of Dreams with "Electro Lux Imbroglio" and "Sacrifice".
A couple of Miller's moody, prog rock-influenced songs are "Winter Time" and "Wish Upon a Star", which each make heavy use of keyboards for a surreal backdrop. "Winter Time" also features a simple, acoustic folk motif and features some harmonica by Norton Buffalo. The song later breaks into a nicer groove led by double-tracked lead guitar.
"Jungle Love" was written by guitarist Lonnie Turner and bassist Greg Douglass and may be the best pure pop song on the album, in spite of despite some annoying whistling effects. It features a crisp but heavy guitar riff out front and slightest tinge of reggae in the underlying rhythm, all working in tandem with Miller's steady, melodic vocal line. Another good pop song on the album is "True Fine Love", which executes the perfect seventies songwriting formula of – intro/verse/chorus/verse/chorus/lead/verse/chorus/fadeout.
"Swingtown" is an excellent song built on a beat (which is actually more of a "shuffle" than a "swing") by drummer Gary Mallaber. The intro builds instrument by instrument – first drums, then bass, then rhythm guitar, then piano, then second guitar, then vocals. It is a potpourri of sonic candy especially from the deadened-note guitar and ending synth section. "The Stake" was written by guitarist David Denny and is actually the closest to the classic blues with which Miller cut his teeth, with its riff, harmonica, and harmonized guitar lead – but with a much "hipper" seventies feel, especially with the vocal effects.
The remarkable 1975 sessions at CBS Studios in San Francisco gave us Fly Like An Eagle and Book of Dreams, a unique confluence of sound which worked perfectly for the era and held up well through time. While both of these are excellent albums, Book of Dreams marks the absolute pinnacle of the Steve Miller Band.
~

Part of Classic Rock Review's celebration of 1977 albums.