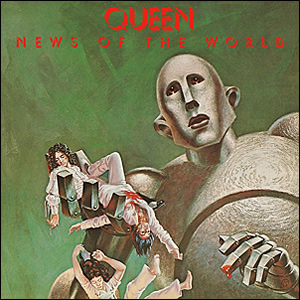 News Of the World was recorded and released in the heart of Queen's most prolific and creative era and may be the band's most balanced album. It bridges the harmony-rich, virtuoso studio pieces of the era such as 1975's A Night At the Opera, with the funk-influenced, rhythm driven hits of their near future, like 1980's The Game. The band's sixth album in just over four years of recording, News Of the World, is extremely diverse with every one of its eleven tracks credited to a single composer within the band, each of the four band members composing multiple tracks, and a variety of genres explored within the songs themselves.
News Of the World was the second album to be produced solely by the band, with the 1976 predecessor, A Day At the Races, being the first. After that album received some criticism as being "boring", Queen decided to scale down their complex arrangements and employ a "rootsier" sound while incorporating many diverse styles and approaches for this album. These styles ranged from heavy metal to soft jazz, from Spanish influenced to "stadium rock" and many genres in between. The album contains two tracks without the band's dynamic front man Freddie Mercury, and two tracks absent their virtuoso lead guitarist Brian May. With the overall songwriting less dominated by May and Mercury, bassist John Deacon and drummer Roger Taylor stepped in to play a larger role.
The album cover was a painting by American sci-fi artist Frank Kelly Freas and was presented to the band by Taylor, who had a copy of the October 1953 issue of Astounding Science Fiction with this cover art. The band contacted Freas, who agreed to alter the painting for the News Of the World album cover, incorporating the four band members. Of course, the title itself came from the British tabloid of the same name, which was once the most popular newspaper on Earth but has in the past year (2011) folded up due in part to scandal.

News Of the World

by

Queen
Released: October 28, 1977 (EMI)
Produced by: Queen & Mike Stone
Recorded: Basing Street & Wessex Studios, London, July-September 1977
Side One
Side Two
We Will Rock You
We Are the Champions
Sheer Heart Attack
All Dead, All Dead
Spread Your Wings
Fight From the Inside
Get Down, Make Love
Sleeping On the Sidewalk
Who Needs You
It's Late
My Melancholy Blues
Group Musicians
Freddie Mercury – Lead & Harmony Vocals, Piano, Percussion
Brian May – Guitars, Percussion, Lead & Harmony Vocals
John Deacon – Bass, Guitars, Percussion
Roger Taylor– Drums, Percussion, Lead & Harmony Vocals
News Of the World has eleven tracks, each written solely by one of the four band members. May lead the way, composing four songs, Mercury wrote three, while Deacon and Taylor wrote two apiece.
May made a conscious decision to make "We Will Rock You" a simple anthem in order to get the live audience more directly involved. The album's opener would go on to become one of Queen's biggest songs worldwide and a staple of arena and stadiums everywhere. It was inspired by a gig at Stafford's Bingley Hall, when the audience sang "You'll Never Walk Alone" to the band to lull them out for an encore (this was a commonplace at "football" matches and one such occurrence was captured at the end of "Fearless" on Pink Floyd's Meddle.
"It's Late" was the May's idea of treating a song as a three-act theatrical play (the verses are even called "acts" in the lyrics sheet). As the guitarist put it at the time;
"It's another one of those story-of-your life songs. I think it's about all sorts of experiences that I had, and experiences that I thought other people had, but I guess it was very personal, and it's written in three parts, it's like the first part of the story is at home, the guy is with his woman. The second part is in a room somewhere, the guy is with some other woman, that he loves, and can't help loving, and the last part is he's back with his woman…"
Brian May also takes over lead vocals on his two other compositions. "Sleeping On The Sidewalk", was recorded in one take instrumentally with the vocals later overdubbed. It has a strong rockabilly backing with a heavier guitar up front which all works well with the subdued vocals, making it one of the album's gems. Lyrically, it tells a rags-to-riches story about an aspiring trumpet player. "All Dead, All Dead" is an excellent composition with melodic piano and vocal harmonies, more subdued vocals by May, a section with swelling guitar coming in like a majestic Medieval organ, and a crisp and thumping, yet measured and sparse rhythm by Deacon and Taylor. In later interviews, May revealed that the song is about the passing of his cat.
John Deacon wrote a couple of interesting songs. "Who Needs You" features the bassist along with May playing dueling Spanish guitars with Mercury adding some percussion. "Spread Your Wings" is one of the forgotten gems in the Queen catalog. With moody piano, acoustic guitar, melodic lead vocals, and just a touch of dynamism from May's lead the song brings out just about all of the best aspects of the band at their peak. Beyond composing the song, Deacon really shines on bass, playing in a style reminiscent of early John Paul Jones, and giving the song a legitimate edge that makes it a classic.
Drummer Roger Taylor contributed a couple of the harder-edged songs on the album. "Sheer Heart Attack" gave the band's third album its title in 1974, but the song itself was only partially finished and didn't make it on to that album. With the punk rock movement in full effect in 1977, Queen brought the song back to life as precursor to "death metal", setting a template that would be adapted by acts such as Judas Priest in subsequent years. On "Fight From the Inside", Taylor plays just about every instrument and sings lead as well, making the song very unique in the Queen catalog.
"Get Down, Make Love" was written by Mercury and makes heavy use of sexual innuendo, with suggestive lyrics that stop just short of being explicit. This funk and punk inspired club piece includes a short mid-section with effects that sound like the ambiance of an early 1980s arcade. However, these "psychedelic" effects were not produced on a synthesiser, but on but May's guitar and an Electroharmonix Frequency Analyzer pedal. The album's closer, "My Melancholy Blues" is a nightclub inspired, soft jazz number which includes Mercury's vocal and piano backed only by a fret less bass and percussive hi-hat and kick drum.
Mercury's masterpiece on the album is "We Are the Champions", which acts as a melodic counter piece to May's "We Will Rock You", also built on audience response. The song had been written by 1975 but was held off albums until 1977. It reached the top five on both sides of the Atlantic. It features beautifully layered and harmonized guitars and and four to five part vocal harmonies, all built above the simple piano tune at its core. Like its counterpart, "We Are the Champions" would be used over and over again in the sports world.
News Of the World went multi-platinum worldwide even though it initially received mixed reviews because of the band's abandonment of their predominantly progressive rock sound. However, critical reception soon shifted positively as it became evident that the band was displaying yet another layer of their musical ability.
~

Part of Classic Rock Review's celebration of 1977 albums.