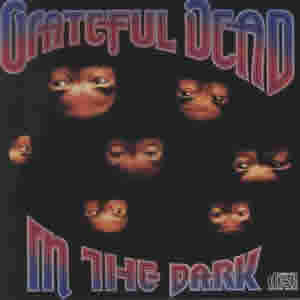 In the Dark was the first studio album by the Grateful Dead in over seven years (their twelfth overall) and was a comeback album on several levels. It was a return to the style of the band's most famous albums in the earlier 1970s and became an unexpectedly popular success reaching the top ten on the Billboard album chart making it the highest charting album of the group's long career. Further, the album comes in the wake of serious health issues with guitarist and primary front man Jerry Garcia. Garcia's health declined through the early 1980s and he nearly lost his life in 1986 when he slipped into a diabetic coma for several days. Although he survived this incident, it caused some permanent memory loss and it is said that Garcia had to re-learn many of his established guitar techniques.
The album was recorded in an unusual fashion.  The band was constantly touring and had been performing much of the new material live for years so they decided to record the basic tracks live on stage in an empty and darkened Marin Veterans Auditorium. This process gave the album its title and helped the band achieve a more authentic sound, something the Dead had long struggled with on studio albums. Later overdubs were added in the studio, which gave the album's sound a sonic, blended edge. In an interview, Garcia spoke about the recording process on this album;
Marin Vets turns out to be an incredibly nice room to record in. There's something about the formal atmosphere in there that makes us work. Going in [Marin Vets] without an audience and playing just to ourselves was in the nature of an experiment…"
The band's sound in the 1980s was also unique to any other era due to the unique talents of Brent Mydland, who possessed both a unique voice and great piano and keyboard skills. Mydland joined the Grateful Dead in 1980 and stayed with the group until his death from a drug overdose in July 1990, making him the third keyboardist in the band to die. Mydland also became a prominent songwriter on both 1980's Go To Heaven and 1989's Built To Last, but only contributed one song, "Tons of Steel", to In the Dark.


In the Dark

by

Grateful Dead
Released: July 6, 1987 (Arista)
Produced by: Jerry Garcia & John Cutler
Recorded: San Rafeal, California, January-March 1987
Side One
Side Two
Touch Of Grey
Hell in a Bucket
When Push Comes to Shove
West L.A. Fadeaway
Tons Of Steel
Throwing Stones
Black Muddy River
Band Musicians
Jerry Garcia – Lead Vocals, Guitars
Bob Weir – Guitars, Vocals
Brent Mydland – Keyboards, Vocals
Phil Lesh – Bass
Bill Kreutzmann – Drums
Mickey Hart – Drums

The album commences and is most identified with "Touch of Grey", one of four compositions by Garcia and lyricist Robert Hunter, a long time collaborator. This song became the band's first and only Top 40 hit in their three decade-long career. Hunter had originally intended this song for a solo album in 1981, which was never completed. It was picked up by the Dead for their live shows starting in 1982 and serendipitously carried the central message of the band (and especially Garcia) in 1987 – "I will get by, I will survive". Although the song became a live favorite by fans before it was issued on album, there was a later backlash after the song's popularity brought an influx of pop-oriented faux "deadheads", sometimes referred to as "touchheads" after this song.
The other Garcia/Hunter tunes on the album are the groove-driven "When Push Comes to Shove", the John Belushi tribute "West L.A. Fadeaway", and the closing ballad "Black Muddy River". This last track contains some Gospel influence and great guitars, while "When Push Comes to Shove" contains a good rhythm driven by dueling drummers Bill Kreutzmann and Mickey Hart.


Guitarist Bob Weir also co-wrote and provided lead vocals for a couple of tracks. "Hell In a Bucket" is the best song on the album overall, as it fuses entertaining lyrics and a melodic hook with an excellent mixture of sound by all band members, especially Garcia on lead guitar and Phil Lesh on bass. Co-written by Brent Mydland, the song also contains a unique electric piano riff. "Throwing Stones" is an extended yet repetitive piece which became a minor hit on album-oriented radio. Lyrically, this song is written in much the same style of early Bob Dylan, but musically the band is able to add some real flavor, especially the long guitar lead by Garcia.
In the Dark was received like no other Grateful Dead album and gave the band a pop commercialism and acceptance like they had never received before. The band did eventually settle back into a regular touring routine and lived out their final years as a live jam band right up until Garcia's death in 1995.
~

Part of Classic Rock Review's celebration of 1987 albums.