Buy The Rise and Fall of Ziggy Stardust and the Spiders From Mars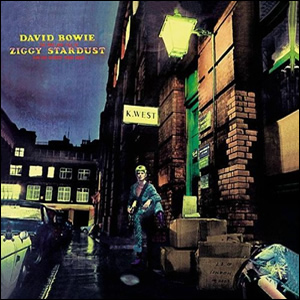 Through a very long and distinguished career, David Bowie's absolute classic is the 1972 album The Rise and Fall of Ziggy Stardust and the Spiders from Mars. It takes the musicianship and experimental of Bowie's previous album, Hunky Dory in 1971, to a whole new level where Bowie really hit his stride and forged his distinctive sound. Although it is a concept album, nothing feels forced and nowhere is it repetitive, just a grand parade of songs which collectively tell a story. Bowie's lyrics and vocals are deep and emotive, albeit tragic, while guitarist Mick Ronson held the music down to a respectable rock level with his sharp and fat guitar riffs.
The concept follows the character "Ziggy Stardust", a space alien who manifests himself as a self-indulgent rock star who takes this form to try and convince humanity to alter their path of destruction. As Bowie described;
"The time is five years to go before the end of the earth. It has been announced that the world will end because of lack of natural resources. Ziggy is in a position where all the kids have access to things that they thought they wanted. Ziggy was in a rock-and-roll band and the kids no longer want rock-and-roll…"
The character of Ziggy Stardust was inspired by a collection of real life personalities, including singers Vince Taylor and Stardust Cowboy, and fashion designer Kansai Yamamoto. Bowie planned for the album to coincide with a stage show or television production but neither fully materialized.
There were also several extra compositions and recordings created during the sessions for this album. One of the most famous was "All the Young Dudes", written within the context of the "Ziggy Stardust" concept but ultimately given to the band Mott the Hoople, for whom the song would be a big hit. A couple of songs that would become radio hits for Bowie – "John, I'm Only Dancing" and "The Jean Genie" – were also recorded during these sessions but not included on the album.

The Rise & Fall of Ziggy Stardust & the Spiders from Mars


by

David Bowie
Released: June 6, 1972 (RCA)
Produced by: David Bowie & Ken Scott
Recorded: Trident Studios, London, September 1971–January 1972
Side One
Side Two
Five Years
Soul Love
Moonage Daydream
Starman
It Ain't Easy
Lady Stardust
Star
Hang Onto Yourself
Ziggy Stardust
Suffragette City
Rock n' Roll Suicide
Primary Musicians
David Bowie – Lead Vocals, Guitars, Piano, Saxophone
Mick Ronson – Guitars, Piano, String Arrangements, Vocals
Trevor Bolder – Bass
Mick Woodmansey – Drums
An off-beat drum pattern by Mick Woodmansey fuels the opening song "Five Years". Moody and low key with a definite influence from Plastic Ono Band era John Lennon, the character of Ziggy Stardust is introduced in dramatic yet elegant fashion with profound lyrics, such as;
"my brain hurt like a warehouse, it had no room to spare / I had to cram many things to store everything in there…"
"Soul Love" is also percussion-driven with a steadily strummed acoustic and unique vocal choruses by Bowie. There is some strongly accented layered electric guitars by Ronson during the chorus and Bowie's saxophone solo to close the album. "Moonage Daydream" continues the acoustic trend with a steady but animated bass by Trevor Bolder and sharp electric riff overtones. This song adds a lot more sonic flavoring than its predecessors with piano, backing vocals, orchestration and a wild, "moon age" guitar lead towards the end.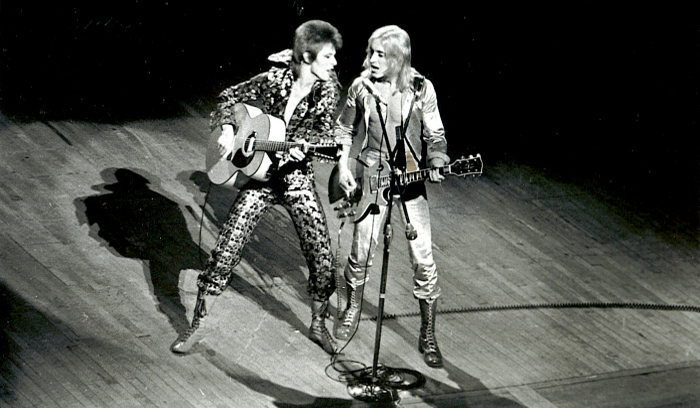 "Starman" is the best song on the album and a late addition to the album. It is classic David Bowie hearkens back into the same groove thematically as his first major hit "Space Oddity". An acoustic ballad accentuated by space age transitional effects, orchestration, and great post-chorus riff by Ronson, the song was Bowie's first commercial hit in three years and persists as one of his classics to this day. Some have even stated that it is the single most influential song in his entire catalog. The song is also a pivitol point in the album's concept where the protagonist morphs from being manipulative to delusional.
The first side concludes with the only cover song on the album; "It Ain't Easy", written by Ron Davies and covered by many artists including Three Dog Night who had a 1970 album of the same name. It may seem l;ike an oddity to include a cover on a "concept" album, by "It Ain't Easy" fits right in with the vibe of this album even though it uses unique instrumentation such as a 12-string acoustic and a harpsichord in the mix.
The moody piano of "Lady Stardust" starts off side two with a ballad of almost Elton John quality and structure. There is once again great bass by Bolder but little to no guitar presence on this tune loosely dedicated to Marc Bolan of T. Rex and the "glam" scene in general. "Star" is a sort of retro piano rocker which speaks of gangs and cliques in London, while "Hang On to Yourself" comes off like early proto-punk with a definite glam twist. This latter song contains an interesting slide guitar by Ronson and sets the album up for a climatic conclusion.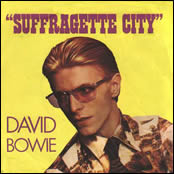 "Ziggy Stardust", the album's default theme song, is interesting and unique rocker with tight instrumentation which heavily leans towards riff-driven classic rock during the verses, while the choruses drift towards the newly-established Bowie sound. Mick Ronson really shines on this song with his crisp, distorted, and methodical guitar riff which gives the song an eternal signature. Bowie accents the two parts of the song with distinct vocals and well delivered lyrics in each. The original album mix segued from "Ziggy" into "Suffragette City", another standard with rocker with great edge and execution by both Bowie and Ronson. Drawing inspiration from a range of artists that span from Little Richard to the Velvet Underground, "Suffragette City" reminds the listener that David Bowie is, in fact, a rock star first and foremost, no matter how "out there" the bulk of his material may drift. The song was originally offered to Mott the Hoople before they chose "All the Young Dudes" for their own project.
After the frantic, top-notch electric rock, the album closes with the calm and acoustic "Rock n' Roll Suicide", which documents Ziggy's collapse as a washed-up performer (showing an amazing sense of self-awareness at time when rock was still relatively young). The song gradually builds though subtle, tremolo electric guitar effects and into full orchestration as a dramatic coda for the album.
A concert film of The Rise and Fall of Ziggy Stardust and the Spiders from Mars was directed by D.A. Pennebaker and eventually released in 1973, a slight consolation to the intended television special which never materialized. The album was vastly more successful in the U.K. than in the U.S. upon release, but has grown to become universally renowned over the past 40 years as one of the best ever produced.
~

Part of Classic Rock Review's celebration of 1972 albums.