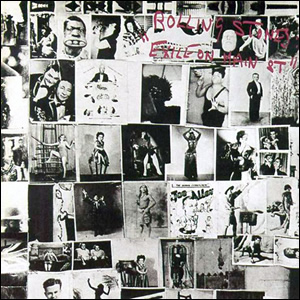 Many esteemed and big-name rock publications have rated Exile On Main Street by The Rolling Stones as one of the greatest albums of all time (especially the publication which bears the same name as the band). Honestly, this fact may expose the single most egregious display of "group think" in the rock world or at the very least, a floating declaration that has gone unexamined for about 40 years. While the music is legitimate rock throughout, this 1972 double album pales in comparison to its predecessor, 1971's single LP Sticky Fingers, while maintaining much of the same musical direction. In fact, there is very little new ground broken on Exile On Main Street, which fails to provide much stylistic variation among its four sides and seriously lacks top notch production quality. The album also presents a lack of band integrity, as many sessions featured outside players taking on prominent roles in the recordings.
The album featured material which was written and recorded between 1968 and 1972, with the bulk being done in the basement of a rented a villa called Nellcôte in France, while the band was on "tax exile" from their native England in late 1971. The loose plan was to sleep all day and record all night, but this loose setting and arrangement bred a rash of no-shows throughout the recording process, in which case band members and other players would fill in on instruments they may have not naturally played. Producer Jimmy Miller filled in on drums for a few tracks, while several players filled in on bass for Bill Wyman, who only played on about half of the tracks.
The resulting album is murky and raw, with the vocals of lead singer Mick Jagger often buried in the mix. While this is not terrible in of itself, it grows old over the course of 18 album tracks. Jagger has been critical of the album through the years, stating at the time of its release;
"It's very rock & roll, you know. I didn't want it to be like that. I'm the more experimental person in the group, you see I like to experiment. Not go over the same thing over and over…everyone knows what their roots are, but you've got to explore everywhere…"
Apparently, much of the rock press expressed similar apprehension about the album at the time of release, but these mainstream critics have largely done an about-face and morphed in with the "all time greatest this" or "all time greatest that" party line.

Exile On Main Street

by

The Rolling Stones
Released: May 12, 1972 (Rolling Stones)
Produced by: Jimmy Miller
Recorded: Various Locations, June 1969–March 1972
Side One
Side Two
Rocks Off
Rip This Joint
Shake Your Hips
Casino Boogie
Tumbling Dice
Sweet Virginia
Torn and Frayed
Sweet Black Angel
Loving Cup
Side Three
Side Four
Happy
Turd On the Run
Ventilator Blues
I Just Want to See His Face
Let It Loose
All Down the Line
Stop Breaking Down
Shine a Light
Soul Survivor
Group Musicians
Mick Jagger – Lead Vocals
Keith Richards – Guitars, Vocals
Mick Taylor – Guitars
Bill Wyman – Bass
Charlie Watts – Drums
Jagger and guitarist Keith Richards wrote the bulk of the material. The first of the four sides may actually be the weakest on the album. It starts with the decent loose jam "Rocks Off", a sound later echoed by Aerosmith on their album Draw the Line, but then devolves into the very average rockabilly of "Rip This Joint". Both feature the rock piano of Nicky Hopkins, who had worked with the stones on past projects. The Slim Harpo cover "Shake Your Hips", brings back a sound reminiscent of the band's earliest blues material, but by the time we get to "Casino Boogie", Jagger's strained vocals start to wear thin on the listener and the album's flow seems to be nonexistent.
"Tumbling Dice" is probably the most popular song from Exile, with lyrics that tell a story about a gambler. The song was originally slated for Sticky Fingers, and features band manager Ian Stewart on piano and second guitarist Mick Taylor filling in on bass for Wyman.
The second side is probably the best of the four, starting with the country-inspired "Sweet Virginia" where drummer Charlie Watts plays a nice shuffle and a saxophone solo is provided by Bobby Keys. Lyrically, this song is both folksy and frank;
"But come on come on down sweet Virginia / come on honey child I beg of you
Come on come on down you got it in you / got to scrape that shit right off your shoes…"
"Torn and Frayed" sounds like it landed just short of being great, just a tad too unorganized and under-cooked to be taken very seriously. Still, it contains a great slide guitar by Richards and organ by Jim Price above the three-chord honky-tonk. "Sweet Black Angel" hearkens back to the sound on 1967's Between The Buttons and is one of the few tracks on this album to feature all five Rolling Stones playing their appropriate instruments. Unfortunately momentum is lost with "Loving Cup", which slides back to the predictable and mundane sound of the first side.
"Happy" features Richards vocals and is a refreshing change-up in ways, with crisp brass accenting this second single from the album which reached the top 40 in the charts. Keys prides saxophone and percussion, while Jim Price adds trumpet. "Ventilator Blues" was co-written by Taylor, the only song on the album which a member of the Stones besides Jagger and Richards gets a songwriting credit. "I Just Want to See His Face" commences with a bad fade in from "Ventilator Blues" and is yet another exhibit of a very average piece being lauded. It is a repetitive and (slightly) improvised piece with some gospel influence, but not much more. "Let It Loose" starts with a different sound of effect-heavy guitar riff but this is the only really interesting part of the song, which once again seems undercooked and weakly composed.
The final side of the album begins with "All Down the Line", again the same exact song over again save for Taylor's interesting slide. The Robert Johnson cover "Stop Breaking Down" reveals an embarrassing gap in composition quality between much of the original material and this (then) 35-year-old song. "Shine a Light" is the last good song on the album, perhaps best song on the album. This piano ballad that is focused yet soulful and features the fantastic organ and piano work by Billy Preston and great backing vocals by Clydie King and Vanetta Fields. It was written mainly by Jagger back in 1968 about then-band member Brian Jones' addiction to drugs and detachment from the rest of the band, but was left off the Beggars Banquet from that year. "Soul Survivor", another really uninspired song, finishes off the side and the album.
Beatles producer George Martin has opined that their double "White" album may have worked better as a really good single album. That sentiment is multiplied and on steroids with Exile on Main Street, which would have worked best is saved for some future "basement tapes" collection. As a proper album of this great era, it is extremely average and definitely not the desert island record that so many had deemed it to be.
~

Part of Classic Rock Review's celebration of 1972 albums.