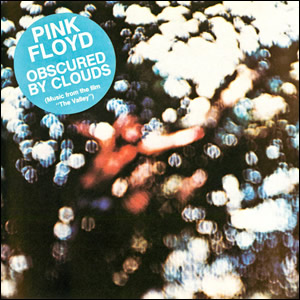 One of the lost treasures of classic rock and, by far, the most overlooked album in the Pink Floyd catalog during their classic era, Obscured by Clouds acted as a mere warm-up for the more ambitious and highly-regarded Dark Side of the Moon. In fact, by the time Obscured was released in June 1972, the band had been performing material from Dark Side (then titled "Eclipse") live for many months and had already entered the studio to start recording the 1973 classic. Many die-hard Floyd fans don't even consider this a "real" album by the band, just the last in a series of soundtracks the group scored between 1968-1972. It is, in fact, a soundtrack for the French film La Vallée (The Valley) by Barbet Schroeder, but far surpasses the previous three; The Committee (1968), More (1969), and Zabriskie Point (1969).
The band itself largely disregarded the Obscured by Clouds album, starting with the rough production, which includes odd sequencing and abrupt endings. At times the album feels like a high-end demo tape and few tracks were ever played live in subsequent tours. Another element in the string of strikes against the album's success was early pressings of the album were defective with excessive sibilance.
Despite all of this, the album is quite good musically. The band composed to a rough cut of the film, creating pieces that were intended to be cross-faded at various points in the film. But in the process, they managed to create a significant number of complete songs. The instrumentals float pleasantly, filled with interesting textures, but it is the proper songs which are the real standouts on this album, which in a lot ways completes the work started on 1971's Meddle.

Obscured by Clouds

by

Pink Floyd
Released: June 2, 1972 (EMI)
Produced by: Pink Floyd
Recorded: Strawberry Studios, Château d'Hérouville, France, Feb-Mar 1972
Side One
Side Two
Obscured by Clouds
When You're In
Burning Bridges
The Gold, It's in the…
Wot's, Uh…the Deal?
Mudmen
Childhood's End
Free Four
Stay
Absolutely Curtains
Group Musicians
David Gilmour – Guitars, Vocals
Rick Wright – Keyboards, Vocals
Roger Waters – Bass, Synths, Vocals
Nick Mason – Drums, Percussion
The album begins with a couple of under-cooked instrumentals, although the lead-off title track does have an interesting synth pulse throughout and a general guitar lead piece by David Gilmour (one of many elements which would recycled on Dark Side of the Moon). "When You're In" contains a more rock-oriented riff and may be the final track credited to all four band members. It contains some nice fills by drummer Nick Mason but sounds as though it is an incomplete attempt at building a proper rock song.
"Burning Bridges" is a ballad which would have fit nicely on any Pink Floyd album. Vocally, it is a duet by Gilmour and keyboardist Rick Wright, who co-wrote the song and provides its mellow organ riff and melody. This became sort of the "movie theme" on the album as it is reprised later on side one with the instrumental "Mudmen".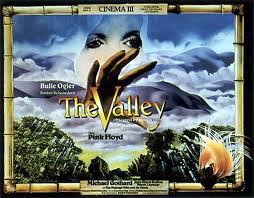 Another sign that the band did not take this album too serious was some of the odd naming of tracks, even some of the most interesting tracks on the album. "The Gold It's in the…" is a pure rocker with a cool and hip early seventies, post-Beatles rock vibe. This particular song has produced polarizing opinions among fans and critics, with some purists feeling it was a shallow attempt at a contemporary rock sound, while others argue it shows their ability to diversify (I tend to agree with the latter). This song's lyrics are also full of adventure and idealism, another rarity among Pink Floyd themes.
"Wot's…Uh the Deal?" is as sweet a song as Pink Floyd had ever put out as well as the most totally underrated ever. Again, this may be in part to the obscure title (wot's…uh the deal with that?). It is an acoustic ballad with double-tracked vocals by Gilmour and lyrics by bassist Roger Waters. The song features and extended piano instrumental which is then complemented by a fine slide-guitar solo. The lyrics are desperate and emotional, but not to the extent of being melodramatic or sappy.
"Free Four" is an absolute gem by Waters and, in truth, one of the best Pink Floyd songs ever. Thematically, it may be Waters' first summation of the life and death themes he would deeply explore in Dark Side and beyond. It is also the only song on Dark Side of the Moon that features Waters on lead vocals, a role he would later dominate on his final three albums with the band. Unlike the other nonsensical titles, "Free Four" is easily attributed to the rock count-in and persists as an upbeat acoustic folk tune with great layered electric guitars by Gilmour and clap-like percussive drumming by Mason. "Free Four" was the first Pink Floyd song to get significant airplay in the USA.
Gilmour and Wright each also had a showcase song on side two. Gilmour's "Childhood's End" is the last song he would write independently while Waters was still with the band and contains a dramatic beginning (echoed in later years by U2) and rapid, rhythmic ticking which would be later recycled and perfected for "Time". It was one of the rare tracks from this album to be performed live, often containing extended lead sections to feature Gilmour's guitar playing. Obscured by Clouds is also the final Pink Floyd in their classic era to feature lead vocals by Wright on the melancholy love song "Stay", a very well done ballad with more interesting guitars, piano, and organ. The album concludes with the experimental track "Absolutely Curtains" (which may have actually worked better as an opening track). The only really instrumentation comes from Wright, with some sparse percussion by Mason, through first three and a half minutes before dissolving into a vocal chant by Mapuga tribe of New Guinea (featured in the film).
Originally titled "The Valley", the album was re-titled as Obscured by Clouds when the band fell out with the film company. This may be yet another reason why this great music has been so grossly understated over the past four decades.
~

Part of Classic Rock Review's celebration of 1972 albums.