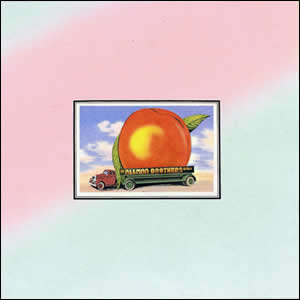 A unique hybrid album that bridges two eras of The Allman Brothers Band, the 1972 double album Eat a Peach was recorded prior to and in the wake of the tragedy which took the life of lead guitarist Duanne Allman. Allman was killed in a motorcycle accident in October 1971 and the album is a tribute to him and his fantastic guitar work. The album consists of live performances recorded at Filmore East in New York City in early 1971 (and not included in that year's Live From Filmore east along with studio tracks recorded before and after Allman's death. The original 4-sided vinyl version of Eat a Peach was uniquely laid out with the three tracks recorded post-Duane Allman on side one, live and studio songs featuring Allman on side three and the colossal, 34-minute live "Mountain Jam" split to occupy the entirety of sides two and four (on CD versions of the album this is one complete track #4).
There has been a long-standing rumour that the album's title (and cover art) referred to the truck involved in Duane's fatal motorcycle accident. But that was not a peach truck, but a flatbed lumber truck. The album name actually came from a quote by Duane Allman who, when asked what he was doing to help the "revolution" replied;
"There ain't no revolution, it's evolution, but every time I'm in Georgia I eat a peach for peace."
This album showcases the band at their peak. It was originally intended to be light and free form but this mission soon tilted towards best showcasing Duane's talent and paying tribute to him in his absence. In all it makes for one of the most interesting, diverse, and entertaining albums ever.

Eat a Peach

by

The Allman Brothers Band
Released: February 12, 1972 (Capricorn)
Produced by: Tom Dowd
Recorded: Filmore East, New York & Criteria Studios, Miami, March-December 1971
Record One
Record Two
Ain't Wastin' Time No More
Les Bres in A Minor
Melissa
Mountain Jam (Part 1)
One Way Out
Trouble No More
Stand Back
Blue Sky
Little Martha
Mountain Jam (Part 2)
Band Musicians
Gregg Allman – Lead Vocals, Piano, Keyboards
Duane Allman – Guitars
Dickey Betts – Guitars, Vocals
Berry Oakley – Bass
Jai Johnny Johnason & Butch Trucks – Drums, Percussion
"Mountain Jam" may be the longest song ever attempted on a mainstream rock album and (understandably) may be a little hard to sit through for typical rock fans. Still, there is remarkably little repetition is this tune which is credited to all band members. Anchored in solid rock, the tune explores jazz-like improvisation, with guitarist Dicky Betts adding sharp but in-sync accompaniment to Duane Allman's soaring leads. This track is really where the album should begin as it is chronologically the oldest and its opening notes can actually be heard in the fadeout of At Fillmore East's closer "Whipping Post".
Other songs recorded at the Fillmore include two blues covers. Sonny Boy Williamson's "One Way Out", one of the most famous recordings ever by the band. Duane plays call and response licks to his brother Gregg Allman's vocals, which is later topped off by a more blazing slide guitar solo by Betts. It may demonstrate the Allmans at their absolute peak as they perform their core blues-rock roadhouse style. Muddy Water's "Trouble No More" follows with more slide guitar by Duane on slide again in an updated version of a song the band originally recorded for their 1969 debut album.
Greg Allman's "Stand Back" is the first of the three studio tracks with Duane. More funk-oriented and harder rocking than anything else on the album, with a more typical lyrical theme of scorned love. Dicky Betts "Blue Sky" was a minor radio hit written for his wife (whose Native American name translated to "Blue Sky"). There are some excellent harmonized guitar riffs between the verses and a long lead section of traded riffs between Betts and Duanne Allman during the middle section, all above a pleasant acoustic diddy. "Little Martha" was Duane Allman's instrumental coda, an acoustic duet piece which ends the modern version of the album. It was the only Allman Brothers track written solely by Duane and was the most recent recorded prior to his death, making it a fitting tribute.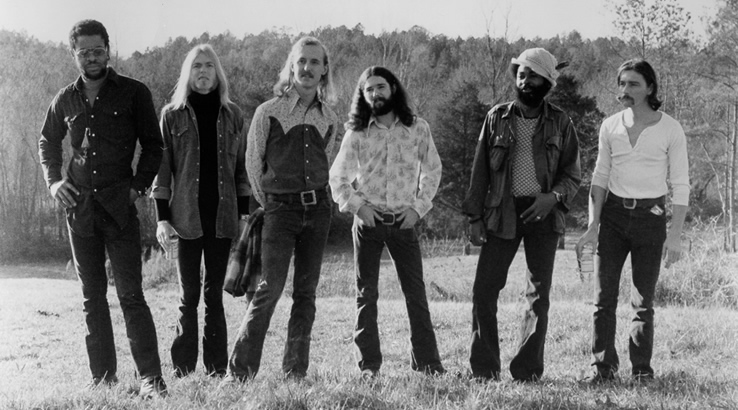 After Duane's death, the shocked band members immediately went separate ways, assuming the group was over. However within a month, they got back together and began planning the format for this album, which included recorded three more tracks to generate enough material for a double album. "Ain't Wasting Time No More," was the first track by this "new" band, with Gregg Allman vocalizing both sadness and defiance with the wistful and melancholy lines. This simple but powerful and bluesy pop/rock song Makes a great contrast to the more extended tracks to follow. "Les Brers in A Minor" is a long instrumental composed by Betts, starting with very improvised, Miles Davis-like jam for the first three minutes or so before breaking into a much tighter rock/funk groove led by the bass of Berry Oakley and highlighted by the newer guitar/organ harmonies between Betts and Allman and some wild percussion parts by dual drummers Jai Johnny Johnason & Butch Trucks.
The most haunting and beautiful song on the album is "Melissa", a sweet and melodic love song featuring somber vocals and acoustic guitar by Gregg Allman and weeping, decayed guitar notes by Betts. The song was actually originally written by Gregg Allman in 1967 and first recorded by his then-group called The 31st of February. A favorite of Duane Allman's, The Allman Brothers had planned to record it on their debut album but it was never completed. Although Duane does not play on this track it all, it is clear his spirit echoes through every floating note on the beautiful ballad.
With three sides of "old" and one side of "new", Eat a Peach was both a sad ending and hopeful beginning, and showed the band had great perseverance to carry on. Although the group would not be quite the same without Duane, they did put out some respectable albums in the years after his life was cut tragically short.
~

Part of Classic Rock Review's celebration of 1972 albums.