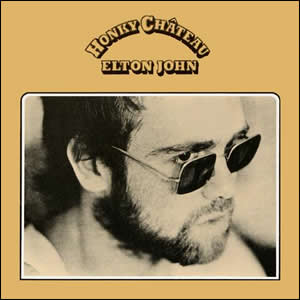 Although barely three years into his international career, Elton John was already on his fifth major label album by mid 1972 with Honky Château. It featured John's regular touring band, including new guitarist and background vocalist Davey Johnstone . The album was a transitional one for John as it bridged the singer/songwriter formula of his early career with the more pop/rock oriented music he would produce later. There is also much diversity and depth on this album; spanning from songs with deep, introspective or even cynical tones to those which are light, upbeat, and follow the pattern of "good time" rock and roll.
In 1967, John had established a songwriting partnership with Bernie Taupin, when they both answered the same ad. During the late 1960s, the two worked primarily as staff songwriters at various English studios before Elton John's debut album, Empty Sky in 1969, followed by three more studio albums and a movie soundtrack through 1970 and 1971.
Honky Château is a bit lighter than its immediate predecessor Madman Across the Water and features an eclectic mix of ballads, rockers, blues, and country-rock. It comes at the dawning of Elton John's creative apex with song-craft skill and dynamic performance.

Honky Chateau

by

Elton John
Released: May 19, 1972 (Uni)
Produced by: Gus Dudgeon
Recorded: Château d'Hérouville, Hérouville, France, January 1972
Side One
Side Two
Honky Cat
Mellow
I Think I'm Going to Kill Myself
Susie (Dramas)
Rocket Man
Salvation
Slave
Amy
Mona Lisas and Mad Hatters
Hercules
Band Musicians
Elton John – Lead Vocals, Piano, Keyboards
Davey Johnstone – Guitars, Banjo, Mandolin, Vocals
Dee Murray – Bass, Vocals
Nigel Olsson – Drums, Percussion, Vocals
The fast and spirited "Honky Cat" kicks off the album with a choppy piano tune that contains a touch of banjo by Johnstone playing banjo. This Top Ten pop song is accented by a horn section and is mirrored by the closing "cat" song "Hercules". "Mellow" is a slow tempo piano ballad which gains a bit of funk during the chorus and contains a very odd yet melodic organ solo by John. The tongue-in-cheek parody "I Think I'm Going to Kill Myself" maintains the New Orleans-style atmosphere while dealing with the serious subject of suicide. "Susie (Dramas)" once again returns to the choppy, upbeat piano template but with a cool guitar riff during choruses.
"Rocket Man" is the most famous song from this album, reaching the Top Ten on both sides of the Atlantic and inspired by a shooting star sighting by Taupin. The lyrics describe an astronaut's mixed feelings at leaving his family in order to complete his mission. The song really stands out sonically with atmospheric textures, showcasing the talents of producer Gus Dudgeon. The production also features the layered vocal harmonies provided by Johnstone along with bassist Dee Murray and drummer Nigel Olsson.
Side two of the album is filled with mainly pleasant yet unremarkable songs. "Salvation" fits the early 1970s singer/songwriter mold with an almost-Gospel backing choir. "Slave" is driven by a melodic acoustic rhythm with a great topical electric guitar with excellent chorus effect and a definite country feel with some pedal steel and banjo by Johnstone. "Amy" returns to the "honky piano" but with a rhythm that at times seems unsure. But the one song that shines on the second side is "Mona Lisas and Mad Hatters", a simply beautiful and elegant ballad that looks at New York City from the street-level view. This emotionally charged song best illustrates the songwriting skills of John/Taupin, using minimal instrumentation but achieving so much melody and movement with just piano, mandolin, and very melodic vocals.
Honky Château became Elton John's first number one album in the United States and was eventually certified platinum. It also set this artist up for the most successful year of his career in 1973.
~

Part of Classic Rock Review's celebration of 1972 albums.