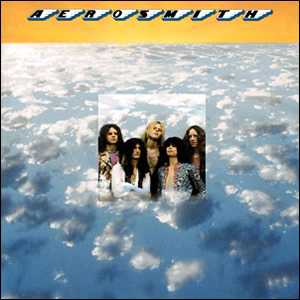 Aerosmith emerged as a blues rock alternative in a music sea of glam rock and prog rock of the early 1970s. Their impressive 1973 debut album doesn't contain anything particularly innovative musically, but still manages to forge some unforgettable moments. The album is also the band's most authentically bluesy release (something they'd try to replicate three decades later with the 2004 cover album Honkin' On Bobo) and some of these extended blues numbers were the longest songs the band would ever release. Band leader and lead vocalist Steven Tyler wrote the bulk of the original material and uses a bit of an exaggerated "blues" voice, something he would soon abandon.
Tyler began performing as a drummer in his native New Hampshire as early as 1964. In nearby Massachusetts, guitarist Joe Perry and bassist Tom Hamilton formed a free-form and blues group called the Jam Band (commonly known as "Joe Perry's Jam Band"). Eventually the performers were united in 1970 in Boston by drummer Joey Kramer, a Berkley student who had gotten to know all the above musicians. With Kramer on drums, Tyler moved to "frontman" and the new band chose a name inspired by Harry Nilsson's album Aerial Ballet. Another Berkley student, Brad Whitford joined as rhythm guitarist in 1971, completing the classic quartet which makes up the band to this day.
By the time their debut album was released, the band had been playing constantly for nearly three years, helping to forge a confident boogie-blues and riff-based hard rock sound. Producer Adrian Barber captured this sound in a raw yet professional manner, avoiding the typical stumbles and haziness that normally comes with a debut.

Aerosmith

by

Aerosmith
Released: January 5, 1973 (Columbia)
Produced by: Adrian Barber
Recorded: Intermedia Studios, 1972
Side One
Side Two
Make It
Somebody
Dream On
One Way Street
Mama Kin
Write Me a Letter
Movin' Out
Walkin' the Dog
Group Musicians
Steven Tyler – Lead Vocals, Piano, Harmonica
Joe Perry – Guitars
Brad Whitford – Guitars
Tom Hamilton – Bass
Joey Kramer – Drums
Aerosmith's recording career begins with an excellent example of their early sound. "Make It" is a mixture of fuzzy but clean riffs and some distant whining guitars above a solid rhythm with about medium quality recording. "Somebody" a pure, riff-driven rocker follows. It appears the band was going for the accessible radio hit (which probably would have worked for the later, more polished Aerosmith) but it never did quite catch on and just lays there for the enjoyment of us future music lovers. This song has an interesting middle section, which slowly develops but works towards a whiny, bluesy guitar mimicked in sync by Tyler's ad-libbed voice.
The original recording of "Dream On" is unique, surreal, and timeless song, which can often be overlooked as the classic signature song that it is. This may be due to the fact that it has been way overplayed on rock radio and, let's face it, the band kind of butchers it live. The song is unique on this album, driven by piano, mellotron, and high pitched vocals by Tyler, and ringing guitar notes by Perry. It was the band's first single, but only reached #59 in 1973. It did much better during a second release in 1976, reaching the Top Ten after Aerosmith had broken through to the main stream.
The first side closes with "One Way Street", the perfect fusion of blues and rock which represents the heart of the album. Whitford takes over lead guitar on this one, which is a multi-part jam with some finer details touched up by Hamilton's bass and Tyler's harmonica. "Mama Kin" is the second song on the album which remained a signature throughout their career. It starts with a long intro section of Perry's steady but strong riff and works in much stop/start action by the rest of the musicians. Guest David Woodford provides saxophone to the mix and Perry adds some backing vocals.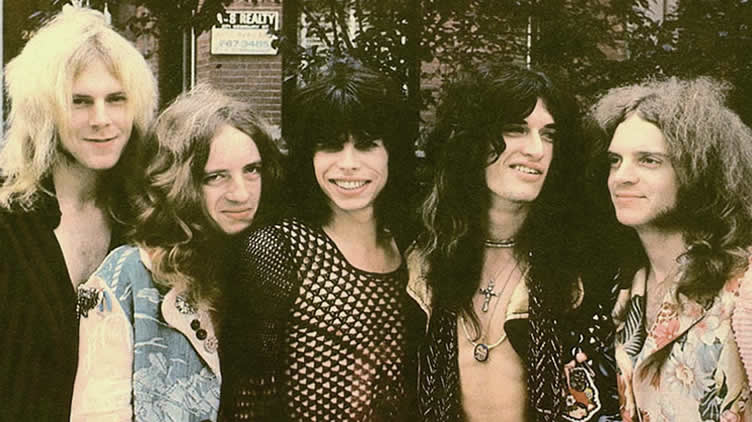 The rest of side two contains solid yet relatively unknown tracks. "Write Me a Letter" was recorded with a real live feel to it, sounding like it was done in a club. The guitars are crisp and Kramer's drumming is especially sharp and dynamic, rising above the rest of the band. "Movin' Out" was co-written by Perry and is another strong blues with a real Celtic undertone to it. The album completes with "Walkin' the Dog", the only cover song on the album, written by Rufus Thomas. It may also be the most Zeppelin-esque of any song on the album, very upbeat and entertaining and a strong way to finish the album.
By all commercial metrics, Aerosmith was a flop upon its release and, like its top single, was issued new life only after the band broke through with success on their mid 70s albums. However, musically this album stood the test of time and decades later sounds fresh and entertaining.
~

Part of Classic Rock Review's celebration of 1973 albums.