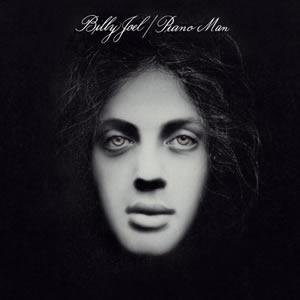 While in the midst of a bitter legal with his first label Family Records, Billy Joel sought exile in Los Angeles, biding his time as a lounge singer under the assumed name "Bill Martin". Joel had toured long to support his 1971 debut Cold Spring harbor, an album which was essentially dead commercially due to faulty production (something that would be fixed years later with a re-release). Under these odd circumstances, the performer was still able to land a new contract with Columbia Records as well as compose and record Piano Man, which would give him his most famous song and his pop identity, along with some other significant highlights.
"I had no leverage and had to drop off the face of the Earth…"
Joel's career detour to the west coast was the latest in a long musical journey. He had been performing since age four and joined his first group after seeing The Beatles on The Ed Sullivan Show in 1964. He started as a pure rocker in the band The Echoes, a group that specialized in British Invasion covers and became a popular in New York. In 1967, Joel joined the band The Hassles, a band that had signed with United Artists records and released two albums and four singles in the late 1960s, but nothing caught on commercially. Joel and Hassles' drummer Jon Small formed the odd duet Attila with Joel on distorted and highly processed Hammond organ. Attila released their one eponymous debut album in July 1970 before disbanding when Joel had an affair with Small's wife, Elizabeth, whom Joel eventually married.
While the album as whole definitely draws influence from contemporaries like Elton John, James Taylor, and John Denver, the major signature songs on the album are very personal and original. The songs, all written by Joel, contain well developed characters and story narratives with some impressive music that straddles the line between rock and folk.

Piano Man

by

Billy Joel
Released: November 9, 1973 (Columbia)
Produced by: Michael Stewart
Recorded: Record Plant and Devonshire Sound, Los Angeles, September 1973
Side One
Side Two
Traveling Prayer
Piano Man
Ain't No Crime
You're My Home
The Ballad of Billy the Kid
Worse Comes to Worst
Stop In Nevada
If I Only Had the Words (to Tell You)
Somewhere Along the Line
Captain Jack
Primary Musicians
Billy Joel – Lead Vocals, Piano, Keyboards, Harmonica
Larry Carlton – Guitars
Richard Bennett – Guitars
Emory Gordy, Jr. – Bass
Ron Tutt – Drums
An interesting drum shuffle by Ron Tutt along with a driving bass line moves the opener "Traveling Prayer" into an upbeat, Western sounding honky-tonk. The song comes complete with banjo and fiddle yet surprisingly sparse piano to open an album called Piano Man. Another Western-themed song completes the first side with Joel's fictionalized "The Ballad of Billy the Kid". This is a brilliant song both lyrically and musically with its great piano interludes and rock riffs inspired by composer Aaron Copland. Although Joel himself admits it is historically inaccurate calling it "an experiment with an impressionist type of lyric", it draws a great comparison between the famous outlaw and himself. "Ain't No Crime" is the first real song where Joel executes his piano talent, with mock Ray Charles vocals he would utilize in later pop hits. "You're My Home" is an acoustic ballad written about his wife Elizabeth, with some nice layered topical instruments including a pedal steel guitar.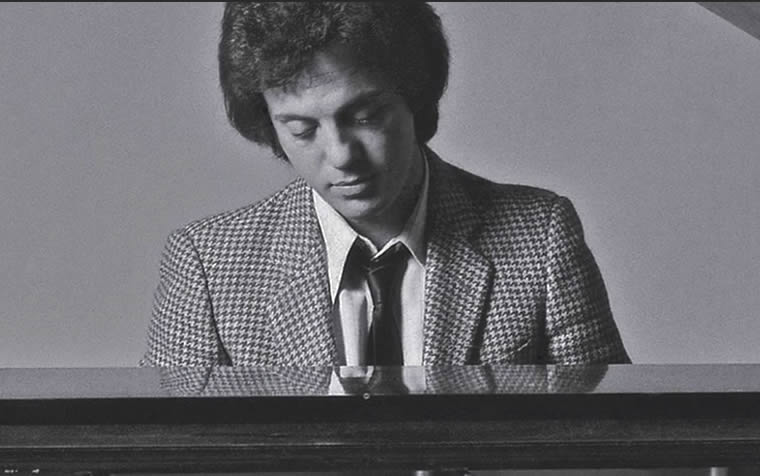 Of course the highlight of the first side is the famous title song, which became a modest hit at the time (peaking at #25) but endured as a classic through time. That original single version was heavily edited, something Joel himself referred to on his second album Street Life Serenade on the song "The Entertainer";
"It was a beautiful song, but it ran too long, if you're gonna have a hit, you gotta make it fit, so they cut it down to 3:05…"
The lyrical limerick contains real characters from the piano lounges Joel played while in L.A. while lawyers at Columbia Records tried to get him out of his first record deal. Musically, the song is a perfect ballroom ballad with exquisite sound including liberal use of harmonica and accordion above Joel's bouncy piano, a testament to the production techniques of Michael Stewart.
The album loses steam a bit on the second side, with some quality but less-than-interesting filler. "Worse Comes to Worst" is like a slow reggae with definite pop overtones and accordion by Michael Omartian. "Stop in Nevada" is a general story-telling pop song, while "If I Only Had the Words (To Tell You)" is an attempt at a crooning pop standard, but with some decent piano riffs between the verses. "Somewhere Along the Line" picks up the bit with a pop/folk flavor.
The closer "Captain Jack" is the album's tour-de-force. It was pivotal in Joel gaining the Columbia contract, due to a performance of the song in an April 1972 live radio concert at WMMR in Philadelphia, and the subsequent airplay (and flood of requests) this recording received on the station. The song was inspired by suburban teenagers in Long Island who obtained heroin from a dealer known as "Captain Jack", who lived across the street from Joel's apartment. Musically the song alternates between the piano ballad verses and the soaring, riff-driven chorus with heavy use of organ. Joel played the song on his first television appearance, Don Kirshner's Rock Concert in 1974.
Billy Joel claimed he that he netted only about $7000 total from the Piano Man album. This was the first of two Los Angeles based albums for Joel which brought him neither him fame nor fortune, but set the stage for his phenomenal success later in the decade, starting with his triumphant return to New York with Turnstiles in 1976.
~

Part of Classic Rock Review's celebration of 1973 albums.