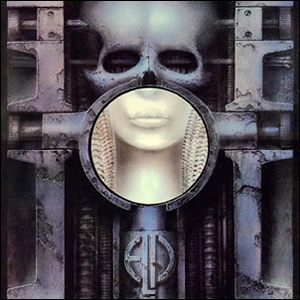 Emerson, Lake, & Palmer reached their progressive climax with their fourth studio album Brain Salad Surgery. It was the group's most ambitious and commercially successful album, with a mixture of rock and classical along with some cutting edge electronic sounds, used for the first time on any of the group's records. The album was the first on the trio's new Manticore label and was produced by the group's guitarist, bassist, and lead vocalist Greg Lake. Lake co-wrote the album's lyrics with former King Crimson bandmate Pete Sinfield, who was also signed to the group's new label. This was the first time any outside musician appeared on an album by the trio.
Brain Salad Surgery was a concerted effort by the group to produce an album which could be performed in its entirety live, unlike the highly overdubbed material of their previous album Trilogy. Employing some of the tactics used by Pink Floyd, the band wrote some of the music in a cinema, "live" on stage, reworking arrangements to capture the emotion of the film. Most of the material was composed as instrumental pieces with lyrics added to some later on. Three instrumentals remained on the final album, while three more ("When the Apple Blossoms Bloom in the Windmills of Your Mind I'll Be Your Valentine", "Tiger In a Spotlight", and the title song "Brain Salad Surgery") were omitted because of time constraints.
The album's unique title came from a lyric in Dr. John's song "Right Place, Wrong Time", released earlier in 1973 which stated; "just need a little brain salad surgery, got to cure this insecurity." The album cover artwork was done by the artist Giger, integrating an industrial mechanism with a human skull along with the latest ELP logo (which Giger also created).

Brain Salad Surgery

by

Emerson, Lake, & Palmer
Released: November 19, 1973 (Manticore)
Produced by: Greg Lake
Recorded: Advision Studios and Olympic Studios, London, June–September 1973
Side One
Side Two
Jerusalem
Toccata
Still, You Turn Me On
Benny the Bouncer
Karn Evil 9: 1st Impression, Pt. 1
Karn Evil 9: 1st Impression, Pt. 2
Karn Evil 9: 2nd Impression
Karn Evil 9: 3rd Impression
Band Musicians
Greg Lake – Lead Vocals, Guitars, Bass
Keith Emerson – Piano, Organ, Keyboards, Accordion
Carl Palmer – Drums, Percussion
This album packed with dynamic flourishes of musical virtuosity begins in a rather subdued, if not standard way. "Jerusalem" is an adaptation of Hubert Parry's hymn with lyrics Taken from the preface to William Blake's "Milton" poem. This only managed to get it banned by the BBC for potential "blasphemy". Musically, the organ is a little overwhelming in the mix with not much bass presence at all, but it is also notable as the first known track to use the Moog Apollo, the first polyphonic synthesizer still in prototype at the time. The album quickly picks up with the instrumental "Toccata", sounding more like the top-end prog rock of the era, which the group was known for. Keith Emerson's deeper rudiments are of the type that would be replicated by the band Rush on guitar and bass years later, and the mid-section contains a long percussive solo by Carl Palmer with more synth effects mixed in. "Toccata" draws from the Fourth Movement of Alberto Ginastera's 1st Piano Concerto, whom Emerson flew to Geneva to discuss his arrangement with in order obtain permission.
Lake's acoustic ballad "Still, You Turn Me On" is poetic and beautiful with layered riffs and a nice counter-balance of melody and song craft to the furious instrumental which precedes it. This short but poignant song contains profound yet romantic lyrics which earned it a fair share of radio play;
"Do you wanna be an angel, do you wanna be a star, do you wanna play some magic on my guitar / Do you wanna be a poet, do you wanna be my string, you could be anything…"
Sinfield's first lyrical contribution comes with "Benny the Bouncer", an electronic honky-tonk of sort with comical lyrics which are oddly vocalized, giving a bit of light fare before the album moves into its side-plus extended piece.
"Karn Evil 9" is a suite whose three movements comprise roughly a side and a quarter of the album where the band pulls out all the sonic stops. The most well-known section is "1st Impression, Part 2" with the famous "Welcome back my friends to the show that never ends…" lyric, which was later used as a title for a live album. The story of "Karn Evil 9" tells of a futuristic world from which "all manner of evil and decadence had been banished." The decadence of the old world is preserved through exhibits that are part of a futuristic carnival show, which exhibits depravities. This story is told lyrically through the first and third impressions, with the second impression being a three piece jazz improv with Emerson on piano, Lake on Bass, and Palmer on drums. The piece also includes its share of synthesizers with a steel drum part and Emerson's voice fed through a modulator to sound like a child's voice, Emerson's only official vocal credit on an ELP record.
Following the success of Brain Salad Surgery, Emerson Lake, and Palmer went on some very successful (albeit extravagant) tours through 1974, including one performance broadcast nationwide in the United States. Then then went on an untimely three-year break to re-invent their music, but never again were able to capture their momentum, leading to the group's break by the end of the decade.
~

Part of Classic Rock Review's celebration of 1973 albums.