Buy Greetings from Asbury Park, NJ
Buy The Wild, The Innocent, and the E Street Shuffle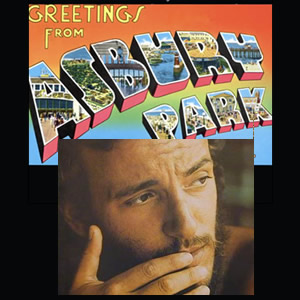 Bruce Springsteen started off his recording career with two albums in 1973, Greetings from Asbury Park, NJ, released in January, and The Wild, The Innocent, and the E Street Shuffle, released in September. Both albums were produced by the team of Mike Appel & Jim Cretecos and both were well-received critically but had little commercial success at the time. Both albums also used musicians that would be later make up the E Street Band (at the time known as the "Bruce Springsteen Band"), however Springsteen's best friend guitarist Steve Van Zandt was all but shut out from the sessions due to budgetary constraints. The pair would not perform again together for several years.
Springsteen had been playing acoustic guitar, in the tradition of early Bob Dylan style folk, for more than half a decade before his management signed a record deal with Columbia Records in June 1972. When planning began for the debut album, Springsteen had advocated for a band arrangement but the label's A&R man John Hammond wanted a more solo-dominated album, reflecting the live sound. Eventually a compromise was reached where the album would consist of five "band" recordings and five solo recordings. However, when then-CBS President Clive Davis listened to the ten tracks he commented that not he strongly preferred the band tracks, and also felt that the album lacked a potential hit single. Springsteen composed two more commercial-sounding songs ("Blinded By the Light" and "Spirit In the Night") and reached out to saxophonist Clarence Clemons of a rival North Jersey band to add a new element to these new songs. Three Springsteen solo tracks were omitted from Greetings from Asbury Park, NJ bringing the total track count to nine, seven band and two solo tracks. Despite this effort to further "commercialize" the album is was a major flop sales-wise upon its release. According to a local Freehold, NJ record store owner, the Partridge Family far outsold the hometown Springsteen during the very first week that the album was released and it wouldn't be until years later when Springsteen became nationally famous that anyone would even hear of this album.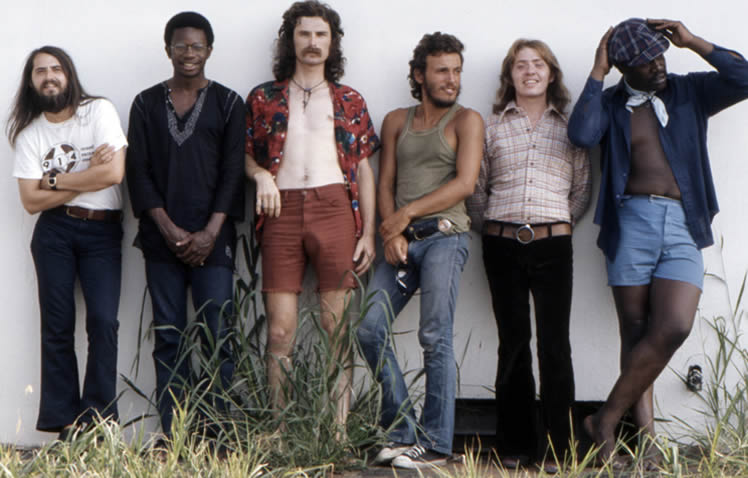 Recording sessions for The Wild, The Innocent, and the E Street Shuffle took place exactly a year later, during the summer of 1973. On every level (critically, commercially, and sonically), this sophomore album is superior to the debut, although together they form a fine evolution in advancement. Still, initial sales were still slow and, like its predecessor, this album would not get widespread listens until after the huge breakthrough of Springsteen's third album, Born to Run. Expanding on the basic approach of his debut album, The Wild, The Innocent, and the E Street Shuffle offers multi-strains of other musical styles, and is much more a "band" effort, with keyboard player David Sancious (whose home on the E Street gave the album and group its name) stepping in to play a major role in musical arrangements. Lyrically, this may have been Springsteen's nod of nostalgia and final goodbye to the small-town street life as he was moving on to higher ground. It was also a signature album for drummer Vini Lopez, who offered a busy Keith Moon style approach for his final album with the that was lacking in later E Street material.

Greetings from Asbury Park, NJ
Released: January 5, 1973 (Columbia)
Produced by: Mike Appel & Jim Cretecos
Recorded: 914 Sound Studios, Blauvelt, NY, July-September 1972
Side One
Side Two
Blinded By the Light
Growin' Up
Mary, Queen of Arkansas
Does This Bus Stop at 82nd Street?
Lost In the Flood
The Angel
For You
Spirit In the Night
It's Hard To Be a Saint In the City

The Wild, the Innocent, and the E Street Shuffle
Released: September 11, 1973 (Columbia)
Produced by: Mike Appel & Jim Cretecos
Recorded: 914 Sound Studios, Blauvelt, NY, May-September 1973
Side One
Side Two
The E Street Shuffle
4th of July, Asbury Park (Sandy)
Kitty's Back
Wild Billy's Circus Story
Incident On 57th Street
Rosalita
New York City Serenade
Primary Musicians (Both Albums)
Bruce Springsteen – Lead Vocals, Guitars, Bass, Keyboards, Harmonica
David Sancious – Piano, Keyboards
Clarence Clemons – Saxophone, Vocals
Garry Tallent – Bass
Vini Lopez – Drums, Vocals
Springsteen's debut album started with a song written intentionally to provide it with a radio-friendly hit. "Blinded by the Light" contains a barrage of words above a loose, almost lost musical jam. The song is almost all verse until it finally reaches the distant breaks of the chorus hook. Session piano man Harold Wheeler joins in on piano along with Clemons, Lopez, and Springsteen playing the remainder of instruments. Like the album, the single didn't make many waves upon release, but three years later a re-arranged version of the song was recorded by Manfred Mann's Earth Band and it reached #1 in both the US and Canada, ironically becoming the highest charting song of all that Springsteen wrote through his long career.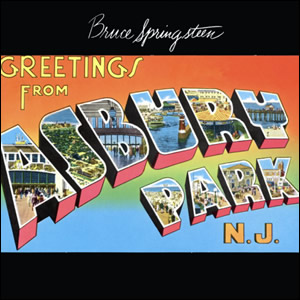 "Growin' Up" is a true early classic by Springsteen, a bit sharper and better organized than the opening track. The song that doesn't quite receive the production quality it deserves on this recording but still resonates through the years. "Mary Queen of Arkansas" is one of the two "solo" songs on the debut album, along with the side two opener "The Angel". Both are a bit melodramatic for the sophisticated listener with Springsteen's naked voice wearing a little thin, but "Mary Queen of Arkansas" does have a bit of charm and spontaneity. "Does This Bus Stop at 82nd Street?" is a linear story told in a furious stream of advice lines, all fed out in a brief but entertaining musical blitz. The bouncy bass by Garry Tallent is particularly entertaining in this slight-but-fun romp. "Lost In the Flood" finishes side one of Greetings as slow piano ballad that builds tension before eventually breaking into a full arrangement about two minutes into the song. It is also notable as the only track on these first two albums to feature Steven Van Zandt, who dubbed in sound effects for the song.
The debut album ends strong with three upbeat songs which forecast the approach expanded upon on the second album. "For You" is upbeat and romantic, driven by the bouncy organ by Sancious and the heartfelt melodies of Springsteen. "Spirit in the Night" is a fun and adventurous song with the the strongest early presence by Clemons, who provides saxophone, hand claps, and backing vocals on this track. The closer, "It's Hard to Be a Saint in the City" is the most Dylan-esque of all songs on this album with a nice mixture of acoustic guitar and piano providing a fine bedding to the frantic, poetic lyrics in a very entertaining way, making for a great way to end the album.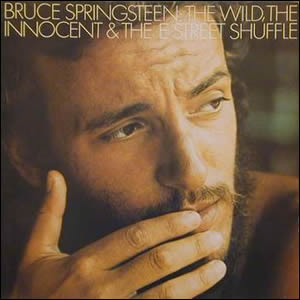 Springsteen's second album, The Wild, the Innocent, and the E Street Shuffle, begins with the de facto title song "The E Street Shuffle", which was allegedly inspired by a snowy night when the band's rented truck broke down after a gig in New York City and they decided to walk the short distance to Sancious' mother's home in the vicinity. It begins with some off-tune horns before breaking into a very funky guitar and clavinet riff, which makes it clear right away that the sound is more refined on this album. It has a definitive 1970s sound with some baritone added by Albany "Al" Tellone.
"4th of July, Asbury Park (Sandy)" continues the Jersey shore scenery promised in the debut's title. Romantic lyrics line this mostly pleasant and enjoyable song with the slight exception of the over-exaggerated "breath-y" vocals by Springsteen in the opening verses. Beyond that, Springsteen's acoustic and electric guitar mixes are excellent with some accordion added by future E Street Band member Danny Federici. "Kitty's Back" is an extended, multi-part song which opens with a slow moving bluesy guitar lead which abruptly morphs to a more upbeat, jazzy verse with boogie bass by Tallent and some great horns. Later, there is a wild, almost psychedelic jam section in the middle which includes a great organ solo by Sancious.
"Wild Billy's Circus Story" is a cool song which really strikes a chord to end the first side. It evolved from a previous song called "Circus Town", which was recorded for the Greetings album but never released. Flipping the original LP over, is the side two opener "Incident on 57th Street". A distorted piano kicks off this absolutely brilliant song, perhaps the most polished and melodic song on the album. Lyrically, "Incident" tells a romantic story set against a New York street fight, in the spirit of "West Side Story", with fully developed characters and setting, something Springsteen would revisit often in the future.