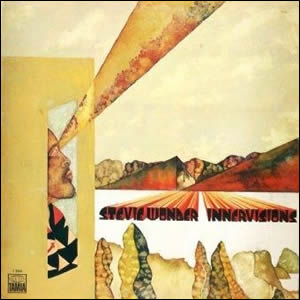 Innervisions is an album themed on social issues, drugs, spirituality, and urban life by Stevie Wonder in 1973. Wonder did virtually everything on this album from songwriting to producing to playing the vast majority of the album's instruments and it may have been an attempt to replicate Marvin Gaye's landmark 1971 What's Going On album. Innervisions achieved similar artistic and commercial results to that previous album with the added dimension of musical innovation. Wonder put all the different topics and themes into a striking vision (or "Innervision") which would be one of the most effective and entertaining of Wonder's long career.
Although he was only 23 years old at the time of its release, Innervisions was already Wonder's 16th studio album, all on Motown's Tamla label. However, it was the first on which he composed every song and virtually played every instrument. He made heavy use of the ARP synthesizer, which was popular at the time because of its ability to construct a full sound environment. Many considered this album to be the pinnacle of Wonder's long career. As one reviewer put it at the time;
"Stevie Wonder's Innervisions is a beautiful fusion of the lyric and the didactic, telling us about the blind world that Stevie inhabits with a depth of musical insight that is awesome…"
The album peaked at number four on the U.S. album charts and became Stevie Wonder's first album ever to reach the U.K. Top 10. It also won the 1974 Grammy Award for Album of the Year.

Innervisions

by

Stevie Wonder
Released: August 3, 1973 (Tamla)
Produced by: Stevie Wonder
Recorded: The Record Plant, Los Angeles, 1973
Side One
Side Two
Too High
Visions
Living for the City
Golden Lady
Higher Ground
Jesus Children of America
All in Love Is Fair
Don't You Worry 'Bout a Thing
He's Misstra Know-It-All
Principle Musician
Stevie Wonder – Most instrumentation including:
Lead and Backing Vocals, Piano, Synthesizers, Harmonica, Drums and Percussion
The album's first side begins with the pre-disco funk of "Too High", where Wonder shows off his instrumental skills on Fender Rhodes, harmonica, synthesized bass, and especially drumming (a talent he rarely receives credit for). "Visions" is one song in which Wonder doesn't completely dominate. Acoustic guitars are provided by Dean Parks with refrained electric by David "T" Walker and upright double bass by Malcolm Cecil . Despite the arrangement being extremely sparse, Wonder still manages to forge some great vocal melodies.
"Living for the City" is a cinematic composition of civic injustice with great musical drive and interesting interludes with synth riffs. The lyrics are delivered with an exaggerated growl for effect and a dramatic spoken part describes the life of a young man who migrates from Mississippi to New York City, only to be tricked into transporting drugs, arrested, and sentenced to 10 years in jail. Wonder intentionally got his voice very hoarse for the recording. "Golden Lady" is a mellow ballad with a funky bass above a jazzy piano. It is a great way to complete side one, with judicious but effective use of synthesizers and a Hammond organ lead by Clarence Bell.
Side two starts with "Higher Ground", a "peoples" song dominated by the Hohner clavinet with a Mu-tron III envelope filter pedal. This tune is completely performed by Wonder and reached #4 on the U.S. pop chart. Reportedly, he wrote and recorded the song all within a three-hour burst of creativity in May 1973. The weakest part of the album follows with "Jesus Children of America" and "All in Love Is Fair", not terrible songs, but certainly not Wonder's best.
The very Latin influenced "Don't You Worry 'bout a Thing" is the lightest and most fun song on the album, with great vocal dynamics and inventiveness. Beginning with an unusual skit (which would proliferate decades later on hip-hop songs), this piano-led tune about a faux hero repeats the Spanish phrase 'Todo 'stá bien chévere' which means "everything is really cool" and reached the Top 20 on the U.S. charts. Another charting hit, "He's Misstra Know-It-All" finishes the album with Wonder once again playing all instrumentation, including multiple backing vocals. The song had a second charting life in 1977, when it was released on the B-side of "Sir Duke" and tells the story of a con man.
Three days after the release of Innervisions, Wonder was critically injured in a car accident in North Carolina. His head injuries placed him in a coma for four days and he permanently lost his sense of smell. As he recovered, Wonder was deeply concerned that he might have also lost his musical faculty and was hesitant to even attempt to play the clavinet that was brought to his hospital room. Finally he played and his spirit quickly returned and his recovery accelerated as Stevie Wonder continued into the prime of his creative career.
~

Part of Classic Rock Review's celebration of 1973 albums.