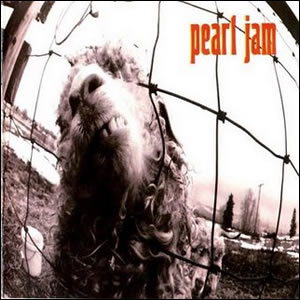 Pearl Jam tried to strike a balance between embracing their phenomenal success brought on by their debut Ten (our 1991 Album of the Year) and trying to maintain their rigorous standards of integrity in the face of that massive commercial success. The band set out on an intentionally obscure path which mirrored the "secret society" movement of Led Zeppelin at the height of that band's popularity with their untitled fourth album in 1971. Like that classic album, the title Vs. does not appear anywhere on the cover, no singles were released from the album until several years later, and Pearl Jam also refused to produce any music videos from the album.
The album was originally slated for the title "Five Against One", which represented the band's perspective on their struggles trying to make this sophomore record. However, the title was changed shortly before its release to Vs. as a mocking tribute to all the media stories that would compare Pearl Jam against another Seattle-based band, primarily Nirvana. Lead singer Eddie Vedder took personal exception to this adversarial tone because most of the Seattle bands worked together in promoting their scene. The title was changed so late in the process that some of the first cassette pressings of the album were labeled Five Against One.
Vs. was co-produced by Brendan O'Brien and contains a rawer and more aggressive sound compared with the band's previous release. In fact, some members of the band have since lamented that they wished the debut had more of a vintage sound like Vs.. O'Brien used an unusual linear approach of recording and mixing each song in turn so the band can focus singularly on each track, with most of the music developed through jam sessions. The lyrical content, written primarily by Vedder, is at times simplistic and self-righteous but this is offset by a passionate delivery with an intense and live-sounding performance.

Vs.

by

Pearl Jam
Released: October 19, 1993 (Epic)
Produced by: Brendan O'Brien & Pearl Jam
Recorded: Nicasio, CA and Seattle, WA, March–May 1993
Track Listing
Band Musicians
Go
Animal
Daughter
Glorified G
Dissident
W.M.A.
Blood
Rearviewmirror
Rats
Elderly Woman Behind the Counter in a Small Town
Leash
Indifference
Eddie Vedder – Lead Vocals, Guitars
Mike McCready – Guitars
Stone Gossard – Guitars
Jeff Ament – Bass
Dave Abbruzzese – Drums


Dave Abbruzzese joined Pearl Jam on drums in mid 1991, making this his first album recorded with the band. He composed the music for the album's frantic opening rocker "Go", a song relentless throughout and building right until its crashing end. It was the first single from the album on international releases. "Animal" was composed by guitarist Stone Gossard but is somewhat less appealing than the opener, yet adequate due to its short but great lead. The album's original title Five Against One was taken from a lyric from "Animal".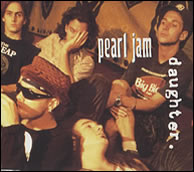 "Daughter" is a storytelling song in the same vein as "Jeremy" from debut album. It is a surreal acoustic tune by Gossard, with an otherwise standard arrangement until it dissolves into an odd, faded ending. Lyrically, Vedder wrote about a girl with a learning difficulty which is misinterpreted as outright defiance by her parents. This rather odd song became the most popular radio hit from the album. Although never officially released as a single in the U.S., "Daughter" song topped Billboard's Mainstream Rock charts for eight consecutive weeks and became the band's first Top 40 single on the Pop charts.
"Glorified G" is a light, almost poppy song with chorus hook complete with backing vocals. Musically, the song features a twangy, Country-esque guitar by Mike McCready and an upright bass by Jeff Ament. Lyrically, the song was inspired by an incident after Abbruzzese told the band he had just bought two guns and Vedder was outraged, sparking a conversation about guns within the band. Overall the song straddles the line between country and funk before it later breaks into a strong rock section in the outro. "Dissident" is a political statement by Vedder with great vocal melodies and music collaborated by Gossard, McCready, and Ament, built from a live jam. The good, melodic guitars lead this slow but strong storytelling song, again not released in the United States, but charted as a single in several other countries.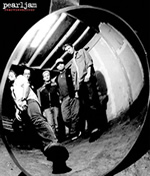 "W.M.A." is driven by Abbruzzese's rolling drums and Ament's repetitive bass lines never really deviates making the song kind of mundane after the first three minutes, despite the fast and funky guitars and U2-like quality of the way it builds over a simple phrase. "Blood" alternates between thrash metal and funk, which is interesting at first but soon sounds like nothing more than an unorganized jam used for album filler. "Rearviewmirror" is a song of great motion that contains a syncopated riff and bass line and an E-bow effect by McCready, blending new wave type music with Vedder's distinctive grunge vocals on top. "Rats" is a rather typical (by this point in the album) funk/rock song, upbeat and entertaining, but not quite original.
"Elderly Woman Behind the Counter in a Small Town" may be the climatic point of the album. It is an acoustic waltz by Vedder that acts as a nice break late in the album with a definitive chorus hook. An overall melancholy tune about nostalgia and long lost love told through the eyes of an elder woman who never left her small hometown, rather typical pop song fare but not typical of Pearl Jam. While the album is pretty uniformly strong throughout, it is kind of weak at the end. "Leash" is heavy, shouting, with bad transitions and rather uninteresting. The final track "Indifference" is a mundane song which completely falls in line with its title, save for just a light tinge of cabaret blues by Gossard which may be the song's redemption. Still, the deep connection which the song is trying to accomplish never quite materializes and Vs. does not finish as strongly as it should have.
Still, the album was nothing short of phenomenal commercially. Upon its release, Vs. set the record for most copies of an album sold in its first week – well over a million – a record it held for five years. It occupied the number one spot on the Billboard album charts for five weeks and has been certified seven times platinum by the RIAA in the United States. It was also nominated for "Best Rock Album" at the 1995 Grammy Awards, giving Pearl Jam the mainstream acceptance that they claimed they loathed.
~

Part of Classic Rock Review's celebration of 1993 albums.