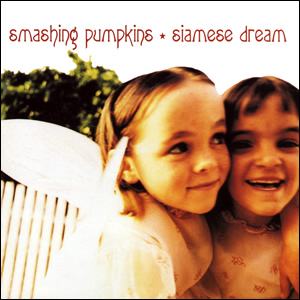 Building on the surprise success of their debut album Gish, the Smashing Pumpkins matured their blend of dream pop, heavy metal, and progressive rock on Siamese Dream, a blockbuster album which eventually sold over six million worldwide. Co-produced by Butch Vig and the group's leader and primary composer Billy Corgan, the album has high level production for early nineties alternative rock, which intentionally aimed for loose arrangements and a raw, basic sound. The producers goals were to create a work with great sonic depth and layered sounds built the "old fashioned" way using multiple overdubs and sonic harmonies.
Despite the successful end result, the actual making of this record was quite tumultuous. The band was upgraded from Caroline Records to the parent Virgin Records and high expectations for this this sophomore record put immense pressure on the band. Further complicating things was a severe heroin addiction by drummer Jimmy Chamberlin, which was the motivating factor for the band relocating to Triclops Studios in Marietta, Georgia for the album sessions, so they could Chamberlin off from his known drug connections. Corgan took on ever-increasing roles in the studio, often overdubbing or re-recording tracks by his band mates if he felt he can improve on them.
Executives from Virgin began to grow impatient with the album's recording as it went over budget and became behind schedule and even came to the studio to observe the band after hearing about their problems. This move only served to put more stress on Corgan, who would not let the company cut corners if it meant compromising the sound. Eventually the album came in about $250,000 over budget and by the time recording was completed, Corgan and Vig were too exhausted to continue and employed engineer Alan Moulder to mix the album.

Siamese Dream

by

Smashing Pumpkins
Released: July 27, 1993 (Virgin)
Produced by: Butch Vig & Billy Corgan
Recorded: Triclops Sound Studios in Marietta, GA, December 1992-March 1993
Track Listing
Band Musicians
Cherub Rock
Quiet
Today
Hummer
Rocket
Disarm
Soma
Geek USA
Mayonaise
Spaceboy
Silverfuck
Sweet Sweet
Luna
Billy Corgan – Lead Vocals, Guitars
James Iha – Guitars, Vocals
D'arcy Wretzky – Bass, Vocals
Jimmy Chamberlin – Drums


A couple of short drum rolls give a false beginning before the "Cherub Rock" builds in an ever-intensifying one minute intro. The several vocal styles by Corgan are displayed immediately with the good alternative hook "Let me out!" being the most indelible moment in the song. Like several tracks on this album, "Cherub Rock" was recorded by Corgan and Chamberlin alone. "Quiet" follows with a classic metal-like revolving riff. However, the song never really gets to any satisfactory destination.
"Today" was the first song written by Corgan for Siamese Dream. Beginning with quiet picked notes which give way to full-fledged grunge riff topped by a catchy and melodic melody. While topically upbeat, the song contains dark lyrics which Corgan wrote the song about a day in which he was having suicidal thoughts, supplying great contrast between the grim subject matter and bouncy tune which brought the band popularity through widespread radio airplay. "Hummer" contains an opening montage constructed by noise-heavy sound effects which later gives way to a calmer bass by D'arcy Wretzky and great guitar textures throughout, although the song does kind of lose steam about halfway through its seven minute duration. "Rocket" is almost a dance song with its steady and methodical rhythms, making it the fourth and final single from the album.
The most acclaimed song on the album is "Disarm", an acoustic song with heavy string and "bell" effects which make for a very moody, melodic and theatrical feel throughout. Unlike many of the songs on Siamese Dream, which are lengthy and tend to wear out their welcome, "Disarm" is short at barely over three minutes. Despite being banned by the BBC, the song peaked at number 11 on the UK singles chart. "Soma" was co-written by guitarist James Iha and is very quiet and restrained until it breaks into a heavier version of the same emo theme for effect. The song contains about 40 overdubbed guitar parts, demonstrating the meticulous production techniques. Chamberlin gets much acclaim for his performance in "Geek U.S.A." with a heavy drum roll and heavy metal riff. The song is a reworked version of an earlier song by the band entitled "Suicide Kiss".
The latter part of the album is less even and less heralded. "Mayonaise" is another collaboration between Corgan and Iha and begins with a strummed electric and some lightly-bluesy, unplugged little riffs before once again progressing to the heavy riffs. Almost romantic in its approach, the song has a decent melody and garnered considerable radio play despite not being released as a single. "Spaceboy" is an acoustic, Bowie-esque song with heavy mellotron added by Corgan, who wrote the song as a tribute to his autistic half-brother. "Silverfuck" contains some sonic textures but the melodies and overall vocals are kind of weak. "Sweet Sweet" is a 12-string ballad arranged like a Scottish folk song but with the distinctive Corgan vocals leading to the the calm and decent closer "Luna" which is almost upbeat in tone, ending the album in a whole different place than it was played out on throughout its duration.
Siamese Dream earned The Smashing Pumpkins their first Grammy nominations in 1994 and established the band as a top level act in the ever-popular alternative genre which had yet to peak.
~

Part of Classic Rock Review's celebration of 1993 albums.