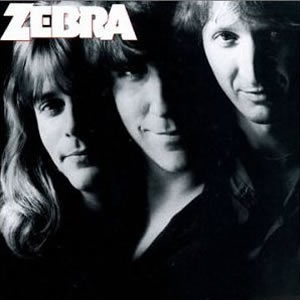 The rock trio Zebra existed with almost equal measures of three critical stripes – love, hate and indifference. The group's dedicated fans point out the melodic dynamics present with group leader Randy Jackson, as he fused some of the best arena rock of the 70s with the pop and rock sensibilities of the 80s. Critics dismiss the band as nothing more than Zeppelin 'clones' who tried to fill a void in the wake of that legendary band's dissolution. As for the rest, well, most passive listeners never really heard of the band Zebra. However, in early 1983 when the band released their self-titled debut, there were many who saw great things down the line.
Zebra, whose name was inspired by a 1922 cover of vogue magazine, had been together since forming in 1975 in New Orleans. Led by guitarist, vocalist and primary songwriter Randy Jackson, the group started to gain notoriety when they migrated to Long Island, NY and furiously played in that area's club and college scene, mainly as a cover band. However, their limited catalogue of originals were strong enough to impress Atlantic Records, who signed the group to a five album deal right out of the gate in late 1982.
This seemed like a wise business deal for the suits as the album Zebra became the fastest selling debut record in Atlantic Records history when it sold over 75,000 copies in its first week and spent eight months on the Billboard charts, peaking at number 29. But this was largely due to their dedicated fan bases in both New York and Louisiana, and widespread acceptance by critics or radio stations never quite materialized.

Zebra

by

Zebra
Released: March 21, 1983 (Atlantic)
Produced by: Jack Douglas
Recorded: 1983
Side One
Side Two
Tell Me What You Want
One More Chance
Slow Down
As I Said Before
Who's Behind the Door?
When You Get There
Take Your Fingers from My Hair
Don't Walk Away
The La La Song
Band Musicians
Randy Jackson – Lead Vocals, Guitars, Synthesizers
Felix Hanemann – Bass, Keyboards, Vocals
Guy Gelso – Drums, Vocals

Veteran producer Jack Douglas was at the production helm and forged a processed (perhaps over-processed) sound which was snare-heavy and bass light. Still the dynamics of the band shine through on this debut. "Tell Me What You Want" starts immediately as an acoustic ballad which quickly builds to a frenzied and intense electric screed driven by Jackson's ever intense vocalizing and the deep synth and bass riff line by Felix Hanemann. "One More Chance" is built like a traditional love song where Jackson shines with both his vocal range and great guitar textures. Theses guitars range from the delicately picked flange of the verse to the driving crunch of the choruses, all underneath some space-aged lead guitar licks. "Slow Down" is an oddity for this or any subsequent Zebra album – a cover. Written by Larry Williams in 1958 (but best known for the 1964 Beatles' cover), the song has the band stepping out sonically and providing a simple, driving hard rock song complete with boogie piano by Hanemann.
"And I Said Before" is a great play on a simple lyric motif put to use with great music arrangement and vocal variations. It is also the first on the album where drummer Guy Gelso really shows his chops and it contains an interesting bridge with a banjo in the foreground and a heavy rock riff on the interlude. The song acts as a defacto intro for "Who's Behind the Door?", the group's signature song through their early recording years. Philosophically deep (it is like the "Dust in the Wind" of 1983) with the finest production on the album, it is musically driven by Jackson's complex acoustic riffing through the intro. Later the chorus and climatic ending have a much more spacey, electric feel (complete with laser-like sound effects). The song reached the Top 10 on the US rock charts but failed to breach the Top 40 on the pop charts.
The album's second side begins with "When You Get There", a simple, entertaining, and upbeat rocker. Unlike much of the material, this one is really carried by the rhythm section, especially Hanemann's bass. "Take Your Fingers From My Hair" is an ambitious, extended piece which makes a half-hearted attempt at a rock suite, ranging from folky acoustic verses to head-banging metal electric choruses. The band later tries this extended approach once again (albeit with a slightly different angle) on the ill-conceived closer "The La La Song". The best part of this both of these longer tracks is that they each contain authentic jam sections, which breaks the band out of the sanitized production into more authentic rock sections put together by the trio as a band.
Somewhat lost between these more ambitious pieces is the real highlight of the second side, "Don't Walk Away". Built on a simple rock guitar riff and a steady upbeat rhythm, this song contains simple and melodic, McCartney-esque vocals by Jackson. It builds sonically throughout with simple yet precise synth and piano motifs all while building towards the climatic double-bridge, which sandwiches the best guitar lead on the entire album. The song ends simply and elegantly, leaving the listener wanting for more (as every great rock song should).
Zebra followed up their debut with the 1984 album No Tellin' Lies, which contains some brilliant moments but is not as solid as their debut. Their third album 3.V, released in 1986, was the most critically acclaimed of the three but arrived long after Zebra's initial momentum had faded and the band was already doomed to be one of the greatest bands that nobody heard.
~

Part of Classic Rock Review's celebration of 1983 albums.