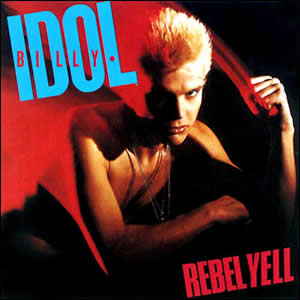 Rebel Yell is the second studio album by Billy Idol, released during the height of his popularity in late 1983. Four charting hits were spawned from this album, which reached #6 on the U.S. Billboard album charts and has been certified 2x platinum. Idol also gained great popularity beyond the United States and his native Britain, including countries like Germany, Italy, Switzerland, and New Zealand. Sonically, Rebel Yell fully completed Idol's evolution from the punk rock of the seventies to a pop synthesis sound which helped define the sound of the eighties – big guitars, thunderous drums and streamlined synths beneath edgy lyrics and vocals.
While Idol grabbed the marquee, guitarist and keyboardist Steve Stevens was a full partner in creating and composing the music, as he had been on the 1982 debut Billy Idol. That album found surprising mainstream success, due in part to the new MTV and a new wave "British Invasion" of 1982. To fully capitalize on this success, in early 1983 Chrysalis Records re-released "Dancing with Myself" (originally from a 1981 EP) and produced a top-notch music video, which got heavy play on MTV for six months and built anticipation for this next album. Idol got the name of the album (and its lead-off song) after drinking with the Rolling Stones who had a bottle of liquor called "Rebel Yell."
Producer Keith Forsey also returned to keep the core team in tact from the debut album. As the long-time drummer for Donna Summer, Forsey injected a decidedly pop and dance-oriented approach which surprising blended well with Idol's strong and snarling vocals. Along with producing every Billy Idol album of the era, Forsey would go on to be a major player in the 1980s pop music scene, producing a string of successful movie soundtracks (Flashdance, Beverly Hills Cop, The Breakfast Club, Top Gun) as well as composing a few Top Ten hits.


Rebel Yell

by

Billy Idol
Released: November 10, 1983 (Chrysalis)
Produced by: Keith Forsey
Recorded: Electric Lady Studios, New York City, 1982-1983
Side One
Side Two
Rebel Yell
Daytime Drama
Eyes Without a Face
Blue Highway
Flesh For Fantasy
Catch My Fall
Crank Call
(Do Not) Stand in the Shadows
The Dead Next Door
Primary Musicians
Billy Idol – Lead Vocals, Guitars
Steve Stevens – Guitars, Bass, Synths
Judi Dozier – Keyboards
Thommy Price – Drums

The album starts strong with the unique arpeggio and big beat of the title track "Rebel Yell". During the recording sessions this song was the first to use a live drummer, as a bulk of the tracks used electronically programmed percussion. Stevens and Forsey heard drummer Thommy Price playing with the band Scandal in a neighboring studio and invited him to play on the album. The arpeggio riff was developed by Stevens in the studio on both guitars and synths. Although "Rebel Yell" is the most famous track on the album, it failed to chart upon its original single release and only climbed to #46 when re-released in 1985.
While the opening title track is definitely the true theme song for the album, it is also a bit deceiving as it is decidedly more powerful than the more laid-back material of the rest of the album. "Daytime Drama" has a rather weak, metallic rhythm which, unfortunately, fails to complement the fine guitars by Stevens, which are the only real highlights of this song.
"Eyes Without a Face" is the finest pure song on the album and one of Idol's most successful on the charts. This was one of the first written for the album and is notable for the French female chorus vocals of Perri Lister, Idol's longtime girlfriend. Lister sings 'Les yeux sans visage' (French for 'eyes without a face'), and the title of the 1960 horror movie which inspired the song's title. Here the electronic percussion works perfectly in sync with the steady bass and various synth and guitar riffs, all under Idol's melodic crooning on one of his most unique tracks. "Blue Highway" completes the album's fine first side as an upbeat, new wave track with great vocals and melody, much like the material on the debut album.
Unfortunately, Rebel Yell is a bit uneven as the original second side of the album is not as strong. "Flesh for Fantasy" contains a rapid funk-infused guitar above electronic drums, making it a rather cheesy pop song with a provocative title. "Catch My Fall" is a better track, built on a steady bass line and including some saxophone by guest Mars Williams and a definitive lead section which is a guitar highlight for Stevens. Both of these songs were released as singles.
"Crank Call" has an-almost hard rock/hair-band feel, complete with good riffs, an anthemic hook, and a good sonic mix of guitar and keyboard textures. "(Do Not) Stand in the Shadows" is nothing much more than a formulaic, upbeat pop song, while the closer "The Dead Next Door" is texture rich with synths ala Brian DePalma, but the style eerie style falls short with little more substance than Idol's vocal melodies.
In 1985, Idol released a quasi-compilation of extended, dance-oriented tracks from his first two album called Vital Idol, spawning more charting hits. The team of Idol, Stevens, and Forsey returned for Whiplash Smile in 1986, which sold well but marked the beginning of a slow decline from pop super-stardom for Billy Idol.
~

Part of Classic Rock Review's celebration of 1983 albums.