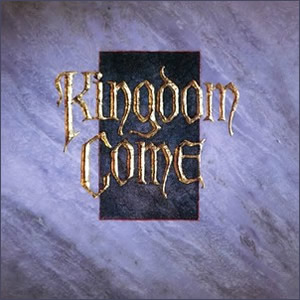 Kingdom Come released their well-received, self-titled debut album in early 1988. Led by German born front man Lenny Wolf, who co-wrote most of the album's material with the group's manager Marty Wolff, the band scored their most popular and best-selling album right out of the gate. After the band's lead single generated tremendous buzz well ahead of the album release, Kingdom Come went gold on the same day it was released and eventually went platinum status in the United States, Germany and Canada and peaked at #12 on the U.S. Album charts. Part of the initial attraction (and later critique) of the band was their audio likeness to classic-era Led Zeppelin.
Kingdom Come was formed shortly after Wolf and Wolff were signed to Polygram Records in 1987. They formed a five-piece group starting with Pittsburgh-based lead guitarist Danny Stag. Although Wolf was a guitarist himself, the duo decided that he would purely be a frontman and enlisted Rick Steier as a second rhythm guitarist.
The album was co-produced by Bob Rock, who forged a crisp and solid rock sound at Little Mountain studio in Vancouver and mixed it at the famous Electric Lady studios in New York City. There is little doubt that the Zeppelin-esque sound forging was intentional, as there was a huge appetite for that band's reunion through the 1980s. The result of this was a tremendous amount pre-release buzz about the band, some of it mistaken rumors of a covert reunion of the surviving members of Led Zeppelin. But soon the quintet was dismissed as simply "clones" which crowded out any serious examination of their fine music.

Kingdom Come

by

Kingdom Come
Released: March 1, 1988 (Polydor)
Produced by: Bob Rock & Lenny Wolf
Recorded: Little Mountain Studios, Vancouver, Canada, 1987-1988
Side One
Side Two
Living Out of Touch
Pushin' Hard
What Love Can Be
17
The Shuffle
Get It On
Now Forever After
Hideaway
Loving You
Shout It Out
Group Musicians
Lenny Wolf – Lead Vocals
Danny Stag – Lead Guitars
Rick Steier – Guitars
Johnny B. Frank – Bass
James Kottak – Drums
Despite the over-the-top Zeppelin comparisons, the main riff for the opener "Living Out of Touch" is more Robin Trower than Jimmy Page. The verse contains a calm strum over consistent bass and drum beat, with the riff returning during the chorus to give the song a more driving and intense vibe. "Pushin' Hard" is more standard eighties hair metal, albeit with some good dynamics such as the mid section where everything comes down except a slow bass riff by Johnny B. Frank.
"What Love Can Be" is very bluesy, slow and deliberate – somewhat like Zeppelin's "Tea For One" from Presence, but really more like "Ride On" by AC/DC from Dirty Deeds Done Dirt Cheap. This moody and dark song contains some unexpected sonic treats which help it to rise above the typical power ballad while giving it room to still become a radio hit. "17" starts with big-bang drum beat by James Kottak before leading into a long intro section which is almost like a preview of Pearl Jam (who wouldn't come along until 3 years later). However, once the verse kicks in, "17" becomes kind of sparse and repetitive. The first side concludes with "The Shuffle", which is kind of fun and upbeat, breaking out of the deliberate pattern. Here Wolf mocks Stag's guitar lines, much like Plant mocked Page's on early Led Zeppelin albums.
The song which, by far, drew the most attention for Kingdom Come was "Get It On". This song is driven by Wolf's incredible dynamics along with a John-Paul-Jones-like bass and crisp duo guitar riffs. It even includes a John Bonham-like drum fill before the song's grand conclusion. Allegedly, a cassette copy of the song's mix was leaked to a radio station in Detroit, which started playing the song before its official release by the band, setting off a chain reaction which fueled the "Zeppelin reunion" rumors and giving "Get It On" tremendous airplay from coast to coast.
The rest of side two contains three fillers and one absolute masterpiece. Drummer Kottak and bassist Frank each co-wrote track with "Now Forever After" and "Hideaway" respectively. Both of these songs are pleasant enough but really dated in the sense that they could have been eighties movie soundtrack songs. The closer "Shout It Out" is even more disappointing, containing nothing much more than its cheap hook. The real gem is Stag's "Loving You", which is a real showcase for both Stag and Wolf. The song features fantastic arrangement and production techniques with the placement of eclectic instruments and reverb effects. From a sparse electric guitar beginning to the mostly acoustic song proper, the song goes to pastoral setting with majestic dynamics, accented by some slight fiddle and/or strings and the emotional dynamics of Wolf's vocals, which peak here like nowhere else on the album.
Following the release and meteoric success of Kingdom Come in 1988, the band was chosen to open up the summer "Monsters of Rock" tour with many of the top hard rock / heavy metal acts of the day. The following year, the band released their follow-up LP, In Your Face, which had more modest sales and internal conflicts led to the band's abrupt break-up in August 1989.
~

Part of Classic Rock Review's celebration of 1988 albums.