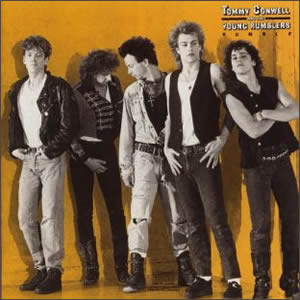 Tommy Conwell and the Young Rumblers, a popular Philadelphia area "bar band", caught the attention of Columbia Records when their 1986 independently released album, Walking on the Water, sold very well regionally. The band, which started as a three piece with band leader Tommy Conwell on lead guitars and vocals, Paul Slivka on bass and Jimmy Hannum on drums, was known for their high energy live performances. Aside from being an accomplished guitarist, Conwell was keenly tuned into his audience and gave them his all at every show by jumping off the stage into the audience and playing guitar while strolling along the top of the bar. When their first major label record, Rumble, was released in 1988, it did a fair job of capturing a bit of this live energy in the recording.
Rumble was produced by Rick Chertoff who had recent successes producing Cyndi Lauper's multi-platinum debut album, She's So Unusual and The Hooters' first two successful major label releases, Nervous Night and One Way Home. He was charged with the task of making a polished, ready for mainstream radio, recording of an unpolished rock and roll band. This was quite a task when a major part of the band's charm and appeal was the grit of their live energy.
By the time recording started, the band had grown from a simple rockabilly type three piece (albeit more "rock" than "billy") to a full fledged rock and roll line up of five with the addition of Rob Miller on keyboards and Chris Day on guitar.

Rumble

by

Tommy Conwell and Young Rumblers
Released: July 10, 1988 (Columbia)
Produced by: Rick Chertoff
Side One
Side Two
I'm Not Your Man
Half a Heart
If We Never Meet Again
Love's On Fire
Workout
I Wanna Make You Happy
Everything They Say Is True
Gonna Breakdown
Tell Me What You Want Me To Be
Walkin' On the Water
Group Musicians
Tommy Conwell – Lead Vocals, Lead Guitars
Chris Day – Guitars
Rob Miller – Keyboards
Paul Slivka – Bass
Jimmy Hannum – Drums
The songs on this album are straight up rock and roll with simple themes of youthful rebellion, friendship and love set to bluesy, rock and roll guitars and rhythms. Nothing about this album is really that new or innovative, it is just good old fashioned rock and roll done well by outstanding musicians with great work ethics and riveting stage presence.
The opener, "I'm Not Your Man" dives right in, featuring a bawdy, bad boy rant from Conwell preceded by a bluesy guitar riff. Conwell's guitar is clear and sharp and shines on this song. This was the most successful single on the album rising to #1 on the Mainstream Rock tracks chart. The other popular song from the album is "If We Never Meet Again", which has a catchy chorus hook and a very cool, twangy guitar interlude, which highlights Conwell's versatility on guitar.
"Half a Heart" features Miller's  keyboards against a steady bass backbeat by the adept rhythm section of Slivka and Hannum. It is easily the most pop oriented tune of the whole album. "Love's on Fire" continues the energy with driving guitars leading into the boogie beat, keyboard laden, aptly named "Workout".


The second side includes "Everything They Say Is True", which has a heavy keyboard riff, and "Breakdown", probably the best overall song on the album both musically and lyrically. Its softly strummed intro gradually "breaks down" into a hard rocking ode to redemption that includes some fantastic guitar and earnest vocals from Conwell.  George Thorogood is channeled through Conwell's gruff and gritty vocals in "Tell Me What You Want Me to Be". "Walkin On Water" is a rollicking tune that closes the album with a life is just a party vibe.
The Young Rumblers would go on to record two more albums for Columbia. Guitar Trouble, recorded with help from Bruce Hornsby, was released in 1989 to modest success and the final album was passed on by Columbia. Rumble would be the pinnacle of commercial success for this Philadelphia Rock and Roll band.
~

Part of Classic Rock Review's celebration of 1988 albums.