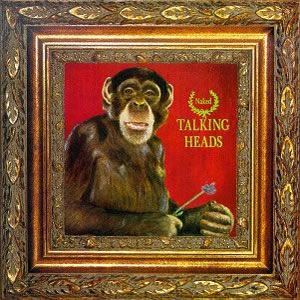 Talking Heads eighth and final album was Naked , released in 1988. The album was an attempt at a quasi-concept album which brings the listener to an ironically serene world following an (apparently) man-made apocalypse. This may not have been the original intent, as the complex musical arrangements were composed and recorded before any of the lyrics which made up this theme were recorded. The four member group employed an additional twenty or so musicians of vastly different genres in order to achieve a world music sound through most of the album, making Naked the most musically diverse album by the band.
Talking Heads previous two albums, Little Creatures in 1985 and True Stories in 1986, were both very pop oriented, and the band wanted to try something completely different. They decided to record their next album in Paris, based on scores of improvisational tracks they recorded as the foundation for the new material. Steve Lillywhite was brought in to co-produce and he conducted day-long, improvised musical sessions with the group and several other musicians with one take selected for each particular track.
The lyrics and melodies were left until later when the band returned to New York. Lead vocalist and chief songwriter David Byrne added themes to the prerecorded tracks. The album's title and cover were loosely based on a Chinese proverb; "If there is no tiger in the mountains, the monkey will be king", which was also printed on the LP jacket of Naked. Although the musical approach works for most of the album, the apocalyptic lyrics laced with late-eighties fatalism tend to sound dated. Of course, the band was in the midst of slowly breaking up at the time, so that may have had an influence on the lyrical content.

Naked

by

Talking Heads
Released: March 15, 1988 (EMI)
Produced by: Steve Lillywhite & Talking Heads
Recorded: Studio Davout, Paris, 1987
Side One
Side Two
Blind
Mr. Jones
Totally Nude
Ruby Dear
(Nothing But) Flowers"
The Democratic Circus
The Facts of Life
Mommy Daddy You and I
Big Daddy
Bill
Cool Water
Band Musicians
David Byrne – Lead Vocals, Guitars
Jerry Harrison – Guitars, Keyboards, Vocals
Tina Weymouth – Bass, Keyboards, Vocals
Chris Frantz – Drums, Percussion
The first side is a collection of upbeat, well syncopated tunes. "Blind" is a funk track with an Afro-flavored groove and a full horn section which includes three saxophones, two trumpets, and a trombone. If not for the violent lyrical themes, the song may almost be considered a spoof on James Brown. "Mr. Jones" also includes a rich horn section, although this song is more swing than funk. Still upbeat and fun, it is a great musical blend and the closest to soulful vocals as you'll get from Byrne. Drummer Chris Frantz
decided to use brushes and softer percussive techniques in order to give room to the various other percussionists.
"Totally Nude" contains a fine slide guitar by Yves N'Djock, along with Caribbean rhythms. However, this track does get a bit too crowded as the ensemble seems to be trying to do too many things at once. On his album Graceland a few years earlier, Paul Simon had much better success at making these diverse styles mesh together. "Ruby Dear" begins with blues-like drum beat before breaking into some odd yet intriguing verses, which employ a bit of sixties pyschedelia. This is the first of many tracks on which Smiths guitarist Johnny Marr appears.
Marr provides the sharply plucked leads on "(Nothing But) Flowers", which was the most popular song on the album and the album's best musically. Bass guitarist Tina Weymouth provides an overall fantastic groove to back up Byrne's melodic vocals. The songs lyrics describe a world where modern conveniences has ceased and the world has reverted to a more natural state, which the protagonist originally favored but now longs the conveniences and culture of the modern world.
The original LP's second side takes a bit of a dark turn, both musically and philosophically. "The Democratic Circus" starts as the closest to the 1980s new wave sound that you'll find on the album, before later breaking out into rougher, riff-driven sections. "The Facts of Life" uses machine-like synth effects by Jerry Harrison, which is somewhat cool for about a minute or so, but after six and a half minutes gets quite mundane. "Mommy Daddy You and I" includes some bluesy squeeze notes above a deep synth bass and a rapid accordion by James Fearnley during the verses.
"Big Daddy" is a nice fusion song with a pure soul intro and blues elements led by the harmonica of Don Brooks. Lyrically it is analogous to the "big brother" figure in George Orwell's 1984. "Bill" features Eric Weissberg, who found previous famous for his arrangement of "Dueling Banjos" in 1973. This song is really quite subdued and mellow, with the exception of the apoplectic lyrics. The closer "Cool Water" features dramatic, movie scene-like atmosphere with Byres singing monotone in the fashion of Nico from years passed. Marr adds to the intensity of the song with his guitar as Byrnes offers pleas for human fellowship through his lyric.
Talking Heads achieved a fitting swan song with their stylistically fruitful Naked, which reached the Top 20 on both sides of the Atlantic, becoming only the second album by the group to accomplish that feat. The band dissolved shortly after the album's release, officially announcing their breakup in 1991.
~

Part of Classic Rock Review's celebration of 1988 albums.