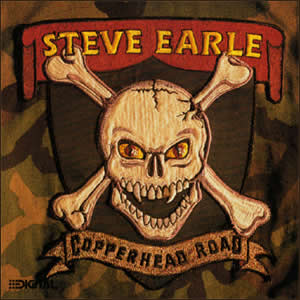 Steve Earle has always woven in and out of the outlaw country genre  exploring different sectors of musical territory. Back in 1988, Earle took his first major turn into what would eventually be called "Americana" with the album Copperhead Road. This hybrid of country twang and solid rock elements propelled the Texas native into an area all his own for decades to come. This album followed Earle's first two releases, Guitar Town, in 1986 and Exit 0 in 1987, both of which had sold well and earned enthusiastic reviews within the country music scene. But Earle and Nashville soon tired of each other and the artist set out to make an album "where heavy metal meets bluegrass".
Prior to signing with MCA Records, Earle had paid his debts in the music industry in Nashville and various locations in Texas. Starting in 1975, he spent over a decade as a songwriter, session player, band bassist and front man for his group "The Dukes". Earle had a previous contract with Epic Records but was dropped after releasing just one EP called Pink and Black in 1982.
Copperhead Road contains a definite eighties production sound by producer Tony Brown. It employs a big drum sound and arena-influenced guitars, at times sounding more like Aerosmith or Guns n' Roses than the country/rock sound of the contemporary "New Traditionalists". Still, the songs' roots shine through all the gloss and firepower. Beyond the songwriting and vocals, Earle is fluent array of instruments, including six and twelve string acoustic guitars, mandolin, and harmonica.

Copperhead Road

by

Steve Earle
Released: October 17, 1988 (MCA)
Produced by: Steve Earle and Tony Brown
Recorded: Memphis, 1988
Side One
Side Two
Copperhead Road
Snake Oil
Back to the Wall
The Devil's Right Hand
Johnny Come Lately
Even When I'm Blue
You Belong to Me
Waiting on You
Once You Love
Nothing but a Child
Primary Musicians
Steve Earle – Lead Vocals, Guitars, Mandolin, Harmonica
Donny Roberts – Guitars
John Jarvis – Piano
Kelly Looney – Bass
Ken Custer – Drums
The songs on side one of Copperhead Road reflect on Earle's leftist politics. "Snake Oil" attacks then president Ronald Reagan, comparing him to a traveling con man. "Back to the Wall" is about poverty and homelessness and "The Devil's Right Hand" is an anti-gun tune which tells the tale of a lonely gunslinger. "Johnny Comes Lately" has its roots in Earle's anti-Vietnam activism as a young man. This tells the story of two generations of soldiers coming home from the war – one a veteran of World War II and his son, a veteran of the Vietnam War – and contrasts the differing receptions they received on returning home. This side one closer features the folk group The Pogues as Earle's backing band.
Title track "Copperhead Road" was also the big hit single from the album. It starts with a bagpipe-sounding synth and then morphs into a mandolin-dominated opening verses before dramatically crashing into it's loud "rock" sections later in the song. It tells the story of a Vietnam war veteran from a Tennessee moonshine clan who returns home to grow marijuana on his family's land in order to make ends meet. The song has a anthemic feel throughout, making it one of Earle's most memorable songs.
So is Earle primarily a musician or a political activist? Well, on side two of Copperhead Road, he pretty much abandons his preaching on social justice and rage against the establishment for more traditional, country-influenced "love" songs. "Even When I'm Blue" is a typical country theme, which deals with your typical love and life scenarios. "You Belong to Me" and "Once You Love" are honest and absorbing reflections of the heart of a dysfunctional romantic. The closer "Nothing But a Child" is a quasi-Christmas song which features guest Maria McKee on vocals and the group Telluride providing mandolin, dobro, and violins.
Following the release of Copperhead Road, Earle was compared to everyone from Bruce Springsteen to John Mellencamp to Randy Newman to Waylon Jennings. However, a combination of heroin abuse and troubles with the law halted his career in the 1990s and Earle never quite reached the level of those artists. However, by the end of the century Earle was back to form and released several more important albums through the 2000s.
~

Part of Classic Rock Review's celebration of 1988 albums.