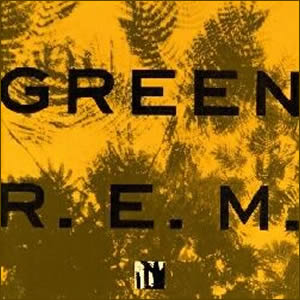 Years before alternative was "cool" (in other words, when "alternative" was still alternative), R.E.M. was forging their own way through the super-slick eighties. Their sixth album, 1988's Green, was the breakout album that followed the group's quintet of critically acclaimed but commercially light pieces earlier in the decade. The result was a successful attempt to strike the right balance in both of those fields and branch out to an international audience. This was the group's debut album for the big label Warner Brothers Records after cutting their teeth with the indie I.R.S. Records with their late 1987 release Document, which received major airplay but was not widely distributed overseas. In their frustration, the band entertained big label offers and signed with Warner for reportedly between $6 million and $12 million.
Working with producer Scott Litt (who would produce five albums in all with the band), R.E.M. began recording demos in their home town of Athens, Georgia before moving to major studios in Memphis, Ten. and Woodstock, NY for the proper recording. The record's tracks ranged from upbeat to more somber and political material. Led my vocalist Michael Stipe, the band made a consorted effort to "not write any more R.E.M.-type songs". The group began what would become a tradition of swapping instruments and the result was a very eclectic and sonically diverse output.
Green is defined by the tweaks the group made to their creative process, grown out of the restlessness of their then eight-year career of near constant touring. For R.E.M., this meant composing positive, or at least satirical and playful, material for the first time in a while. The band were also more open to strong rock influences such as the Byrds, the Doors, and Led Zeppelin, than they had been in the past.

Green

by

R.E.M.
Released: November 7, 1988 (Warner Brothers)
Produced by: Scott Litt and R.E.M.
Recorded: Ardent Studios, Memphis & Bearsville Studios, Woodstock, NY, May–Sep 1988
Side One
Side Two
Pop Song 89
Get Up
You Are the Everything
Stand
World Leader Pretend
The Wrong Child
Orange Crush
Turn You Inside-Out
Hairshirt
I Remember California
11
Band Musicians
Michael Stipe – Lead Vocals
Peter Buck – Guitars, Mandolin
Mike Mills – Bass, Keyboards, Accordion, Vocals
Bill Berry – Drums, Vocals
Green labeled its original LP sides, with side one being the "air" side. "Pop Song 89" is a twangy, three-chord, upbeat song with a memorable lead guitar riff by Peter Buck and harmonized, low key vocals by Stipe. This opener is a sarcastically titled, semi-parody of pop music which is deliberately simplistic. "Get Up" follows with a straight-forward rock arrangement but seems to be a little more forced than the opener, especially with the excess vocal parts. The lyrics were written about bassist Mike Mills and his habit to sleep late during their recording sessions.
"You Are the Everything" is the first song to use a completely alternate arrangement, with Buck playing mandolin, Mills on accordion, and drummer Bill Berry providing a simple bass. Set to the backdrop of chirping crickets, the song provides a Southern pastoral setting and straight-forward, love-song-like lyrics through a fine vocal melody by Stipe, making this the first really interesting song on the album. The group returned to this exact arrangement on the second side song "Hairshirt", which adds even more melody and entertainment to the mix with top-notch mandolin and very laid back accordion and bass.
The ultimate R.E.M. pop song, "Stand" starts with carnival-like organ and moves towards some good guitar riff and great vocal hooks. With a kind of in-your-face singsong chorus sung by Stipe and Mills in close harmony and a signature wah-wah guitar solo by Buck, the song did well on radio, MTV, and the pop charts. "World Leader Pretend" is a much more serious piece led by a driving acoustic guitar, interesting drum accents and a subtle cello by guest Jane Scarpantoni. The song is notable as the first and only to have lyrics printed on the original album sleeve. The first side ends with "The Wrong Child", an acoustic guitar and mandolin piece with several competing vocal parts which Make it almost interesting but a little too busy at times.
The second side is referred to by the band as the "metal" side, and starts with the military stomp of "Orange Crush". Stipe sings through a megaphone that lends his vocals a corroded quality appropriate to the subject matter (the title refers to the chemical "agent orange"), which is counter-balanced by the very interesting tone and theme. Although not commercially released as a U.S. single, "Orange Crush" reached number one on both the Mainstream and Modern Rock Tracks.
The rest of the album consists of moderately interesting tunes. "Turn You Inside-Out" contains a slow, electric twang with a methodical and strong beat by percussionist Keith LeBlanc. "I Remember California" has a strong electric intro arrangement which gives way to just simple bass and busy, tom-filled drums by Berry during the verse, making it unique and interesting, although a bit too long. "11" (the eleventh, untitled track) close the album with Buck playing drums on an upbeat, new-wavish song with definite British influence.
Green has gone on to sell over four million copies worldwide and the band launched a visually developed tour to support it in 1989. Riding the worldwide success of this album, the band continued the momentum with the success of Out of Time in 1991 and Automatic for the People in 1992.
~

Part of Classic Rock Review's celebration of 1988 albums.