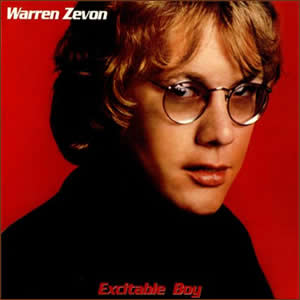 Excitable Boy was Warren Zevon's follow up to his self-titled 1976 album which established Zevon as a rising talent in the Los Angeles singer/songwriter community. Once again, Zevon teamed up with friends and colleagues to produce some fine pop rock. The difference this time was that while Linda Ronstadt's recordings of several songs from his Warren Zevon album were bigger hits than the original Zevon recorded versions, they created much buzz about this sophomore effort. As a result, Excitable Boy was actually a hit in its own right, featuring the same sardonic, sharp style with crisp, often dark lyrics, which combine perfectly with pop rock melodies to tell quirky yet emotionally stirring stories.
Zevon was born in Chicago to a Jewish immigrant from Russia, but grew up in Fresno, California. As a teen, he briefly studied classical music under Igor Stravinsky but he quit high school at sixteen and moved to New York to become a folk singer. Zevon toured regularly with the Everly Brothers as keyboard player and band leader during the early seventies before returning to California in 1975.
While in Los Angeles, Zevon roomed with then-unknown Stevie Nicks and Lindsey Buckingham and he collaborated with Jackson Browne, who produced and promoted Zevon's self-titled major-label debut. An all-star list of contributors to that album included Nicks, Buckingham, Mick Fleetwood, John McVie, members of the Eagles, Carl Wilson, Ronstadt, and Bonnie Raitt. Though only a modest commercial success, the 1976 album was critically acclaimed, so Browne and co-producer Waddy Wachtel returned for Excitable Boy.

Excitable Boy

by

Warren Zevon
Released: January 18, 1978 (Asylum)
Produced by: Jackson Browne & Waddy Wachtel
Recorded: The Sound Factory, Los Angeles, 1977
Side One
Side Two
Johnny Strikes Up the Band
Roland the Headless Thompson Gunner
Excitable Boy
Werewolves of London
Accidentally Like a Martyr
Nighttime in the Switching Yard
Veracruz
Tenderness on the Block
Lawyers, Guns and Money
Primary Musicians
Warren Zevon – Piano, Keyboards, Bass, Guitar, Lead Vocals
Danny "Kootch" Kortchmar – Guitar, Percussion
Russ Kunkel – Drums
The album opens with "Johnny Strikes up The Band" featuring a steady piano from Zevon accented with catchy guitar riffs by Wachtel. The song is a perfect introduction as it is about a band leader who makes people forget their troubles when he "strikes up the band." This leads into "Roland the Headless Thompson Gunner", which tells the story of a political double-crossing resulting in a "Legend Of Sleepy Hollow" type revenge story where the headless ghost of Roland hunts down the man who did him wrong and kills him.
The album's title track is, on the surface, a bubbly, happy pop tune complete with a doo-wop chorus, saxophone, and a rollicking melody. The lyrics, however, tell the horrific tale of a young sociopath's bizarre penchant for rape and murder. Zevon's deadpan matter-of- fact delivery on "Excitable Boy" strikes the perfect balance in this macabre, sardonic tale. With bright, piano-driven melody,  doo-wop sax, and back up vocals, rape and murder never sounded so carefree.
Perhaps the most recognizable song in this collection is "Werewolves of London". While this is not Zevon's creative masterpiece, it does have a great hook with the howling chorus and piano beat as well as some memorable lyrics.
"I saw a werewolf with a Chinese menu in his hand walking through the streets of Soho in the rain…"
The side one closer, "Accidentally Like a Martyr", is a perfect ballad of heartbreak, lost love, and misplaced trust accented by mournful slide guitar and melancholy piano.
The second side starts of weak with "Nighttime in the Switching Yard",  a dated disco piece which seems out of place on this album. However, the side improves from there. "Veracruz" is a Spanish influenced ballad that tells the story of young men going off to battle. Zevon manages to put forth some political opinions without getting too preachy. The recorders, harps and Spanish guitar paint a sad but inspiring scene.
Browne co-wrote "Tenderness on the Block", a story of a young girl growing up, full of promise and potential set to an optimistic and bouncy piano. This may seem uncharacteristically positive for Zevon, but it is really a bittersweet story as it is told from the point of view of a parent watching their child go out into the world. "Lawyers Guns and Money" is a brilliant closer which tells the story of a hapless young rogue who finds himself in trouble with the Russian Mafia after going home with a waitress (the way he always did). He laments how he has run out of luck and Dad's lawyers, guns and money can't get him out of this fix, a typical song of  comeuppance, which Zevon composes so well.
Excitable Boy was the best selling album of Zevon's up and down career and reached the Top 10 of the Billboard album charts. The remainder of Zevon's three decade long career was marked by self-imposed declines and a inspired comebacks, right up to his final album produced shortly before Zevon's death in 2003.
~

Part of Classic Rock Review's celebration of 1978 albums.