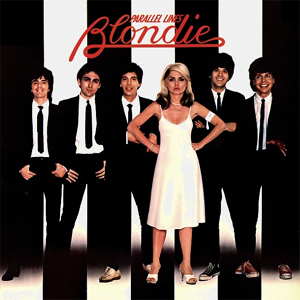 Blondie has become one of those groups that is often misunderstood on multiple levels. First, this was a band, not a female solo artist with a common nickname. Next, this was not a disco group but a bona fide new wave, experimental rock band with pop leanings which had started out at CBGBs right alongside the Ramones and the Talking Heads. Blondie just had far better pop success, which started with 1978's Parallel Lines, produced by Mike Chapman. This third studio album, which masterfully blended bubblegum pop with elements of punk, went on to sell over twenty million copies worldwide and reached the Top 10 on both sides of the Atlantic.
The group's iconic figure, composer and lead vocalist Deborah Harry, was already age 33 and a seasoned veteran of the New York rock scene when this album was produced. Her artistic and domestic partner in creating the group was guitarist Chris Stein, who brought with him inspiration from the new music scene of the Mercer Arts Center on New York's Lower East Side. The duo first played together in the group The Stilettos in 1973 and formed many incarnations of a rock group before drummer Clem Burke and keyboard player Jimmy Destri came aboard and formed Blondie in 1975. The group released their self-titled debut album in December 1976 but scored their first commercial success in Australia in 1977, when a music television program mistakenly played their video "In the Flesh".  That song, which has been described as "a forerunner to the power ballad", went to number one down under. In February 1978, Blondie released their second album, Plastic Letters.
Producer Chapman intentionally steered the band away from their punk and new wave  leanings (although much of those elements seeped through) and towards making a pop album. He mixed Stein's guitar right up beside Deborah Harry's vocals and navigates from song to song and style to style smoothly. Chapman also imposed a tough rehearsal schedule and tightened up the rhythm and timing on the recordings.

Parallel Lines

by

Blondie
Released: September, 1978 (Chrysalis)
Produced by: Mike Chapman
Recorded: Record Plant, New York City, June–July 1978
Side One
Side Two
Hanging On the Telephone
One Way or Another
Picture This
Fade Away and Radiate
Pretty Baby
I Know But I Don't Know
11:59
Will Anything Happen?
Sunday Girl
Heart of Glass
I'm Gonna Lose You Too
Just Go Away
Band Musicians
Deborah Harry – Lead Vocals  |  Chris Stein – Guitars |  Frank Infante – Guitar, Vocals
Jimmy Destri – Keyboards  |  Nigel Harrison – Bass, Vocals  |  Clem Burke – Drums
The album begins with "Hanging on the Telephone", a cover song written by Jack Lee for the new wave band the Nerves. Although this song sounds a bit dated just for the technology references (i.e. "telephone booth"), it does contain a pleasant harmonized guitar lead and is a near perfect setup for the next track. "One Way or Another" was co-written by bassist Nigel Harrison, who joined Blondie just prior to the recording of Parallel Lines. This rock and roll classic is a ballsy female creed of pure will and determination with an infectious cascading guitar lick. The song concludes with a tremendous outro which contains layered vocals and siren effects and it reached U.S. Top 40 in April, 1979.
"Picture This" is another gem on the first side, and the first foray into retro rock. The heavy guitar riffs are masterfully mixed throughout, giving the song a great vibe while maintaining an edge, accented by the profound lyrics;
"all I want is 20/20 vision a total portrait with no omissions…"
Stein's "Fade Away and Radiate" Sounds like it is influenced by early Alice Cooper with its slow and haunting atmosphere. It kicks in nicely with well treated guitar and synth effects and dry but powerful vocals. "Pretty Baby" follows as a more upbeat rock song with a call and response chorus and great guitar riffs between verses. The group's final 1978 addition, guitarist Frank Infante wrote "I Know But I Don't Know" and shares lead vocals with Harry. This song has an intro organ has Latin influence but Burke's driving drums make it come off more as punk rock, especially when coupled with Infante's scorching guitar runs.
The album's second side contains Parallel Lines two biggest hits. "Sunday Girl" almost sounds like a sixties cover, but is really just a masterful composition by Stein with a great vocal melody executed by Harry. The light plunking guitar and gentle cruising rhythms gives the song an air of innocence which is a nice break on this album and propelled it to the top of the U.K. charts.
From pure retro in "Sunday Girl", the album takes a sharp turn to pure disco of "Heart of Glass". The song evolved from a very different sounding demo by Stein and Harry, but the studio recording was fused together beat by beat by Chapman, who had lofty goals for this track from the start. It reached number one in both the U.S. and the U.K. (and beyond) and the group has long admitted the song was a flagrant attempt to exploit the then still raging disco scene. Deborah Harry's vocal reaches a more airy high-pitched level than the more brassy rock numbers, which works perfectly with the band groove.
The rest of side two contains some fine tunes which tend to be overlooked next to the big hits. Destri's "11:59" is a moderate-tempo song with apocalyptic overtones, highlighted by a choppy chord beat and organ lead. "Will Anything Happen?" is a great piece of popped-out punk which is led by a hyper guitar riff, smooth, cool vocals by Harry, and an incredibly long drum roll by Burke. The apt and brilliant closer "Just Go Away" was composed solely by Harry and is quite an original female punk classic, which finishes Parallel Lines on a very high note.
Parallel Lines got its title from a song left off the album (although the lyrics for that song were printed on the original album sleeve. Of the twelve tracks that made the cut, six were issued as singles, making this a true commercial blockbuster.
~

Part of Classic Rock Review's celebration of 1978 albums.