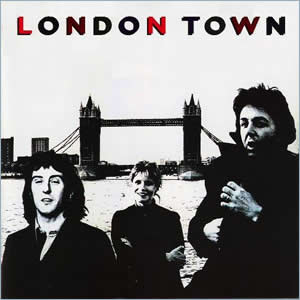 As the sixth overall album under the group name Wings, the 1978 album London Town is often overlooked as a great album by the Paul McCartney led band. But a great album this certainly is, despite the relative commercial disappointment at the time. Wings was coming off two number one albums in 1976 (the preceding studio album Wings at the Speed of Sound and the live album Wings Over America), as well as McCartney's two biggest hit singles of his career. Decades later, London Town trumps all those in musical quality, richness and quantity, clocking in at over 50 minutes, near the physical upper limit for a single vinyl LP.
Sessions for the album began in February 1977 at Abbey Road Studios with initial plans for a release later that year. After Linda McCartney discovered that she was pregnant, the group nixed a planned tour and decided to move recording to moored on a yacht in the Virgin Islands called "Fair Carol" in May 1977. Several new songs were recorded in this unorthodox studio, including the songs "Mull of Kintyre" and "Girls' School", which were released as a single in August. To the surprise of everyone, "Mull of Kintyre" became the best selling British single of all time, replacing McCartney's own 1963 Beatles' song "She Loves You". However, while the band was on break for Linda's maternity, two members of Wings (guitarist Jimmy McCulloch and drummer Joe English) departed, leaving just the McCartneys and lead guitarist Denny Laine as a trio.
With Laine promoted to the forefront, this is the most guitar-centric Wings album. Laine also performs lead vocals on two tracks, giving the album a group feel while keeping Paul McCartney firmly at the forefront. A very diverse album, London Town is an adventurous celebration of music itself, hopping from one contemporary genre to another, all grounded by the underlying rock riffs and rhythms provided by Laine and McCartney. The album also featured many state-of-the-art synthesizers, making it a very interesting listen.

London Town

by

Wings
Released: March 31, 1978 (Capitol)
Produced by: Paul McCartney
Recorded: Abbey Road and Air-London-Studios, London, Fair Carol (private yacht), Virgin Islands, February 1977-January 1978
Side One
Side Two
London Town
Café On the Left Bank
I'm Carrying
Backwards Traveler / Cuff Link
Children, Children
GirlFriend
I've Had Enough
With a Little Luck
Famous Groupies
Deliver Your Children
Name and Address
Don't Let It Bring You Down
Morse Moose and the Grey Goose
Band Musicians
Paul McCartney – Lead Vocals, Guitars, Bass, Keyboards, Violin, Drums, Percussion
Denny Laine – Guitars, Recorder, Percussion, Vocals
Linda McCartney – Keyboards, Vocals
The tremolo electric piano of the title song "London Town" sets the pace for this soft-rock classic opener. McCartney's bouncy bass gives it a soulful edge that saves it from being too traditionally English and the singer works through some great vocal melodies and harmonies. Lyrically, the song is sort of a modern day "Penny Lane", offering word motifs of an ordinary British street scene. That 1966 song was accented by the distinct piccolo trumpet while a dozen years later "London Town" is brought into greatness by Laine's brief but potent electric guitars. The song became a Top 40 hit in the U.S.
Like a traveler through Europe, the album transports the listener from London to Paris with the more upbeat yet just as melodic tune "Cafe on the Left Bank". This song is sonically superb with the mixture of Laine's hard-edged riffing, Paul McCartney's bass and Linda McCartney's bouncy waltz-organ. The soft "I'm Carrying" is a mainly solo piece by McCartney, recorded on the yacht as just gently picked acoustic and vocals, "Yesterday" style. Some orchestral strings were later overdubbed in London along with McCartney adding an electric guitar using a Gizmo, a then-new device which allows a guitar to be played by vibrating the strings rather than plucking them. The medley of "Backwards Traveler" and "Cuff Link" may be one of the very few parts of the album which feel like filler. "Backwards Traveler" is a single verse and repeated chorus which lasts all of a minute before devolving into a synth-driven funk instrumental "Cuff Link", which may have sounded hip in 1978 but sounds dated today.
Laine takes over lead vocals on "Children Children", which almost has a Burl Ives feel at first, but does eventually rise to a pleasant folk/rock song. A fiddle part is added by Paul McCartney along with layered acoustics and a main keyboard riff. "Girlfriend" was written for Michael Jackson as a soul-style song at first intended just as a demo. The recording itself does have does have some interesting caveats such as the bridge with pop/rock elements including a heavy guitar lead by Laine and great bass throughout. Making yet another radical transformation, "I've Had Enough" is a pure rocker that almost sounds like a proto-punk, (or at the very least Kinks-like) cynical song. This side one closer never relents from the its rock vibe, which only intensifies with the guitar overdubs by Laine later in the song.
"With a Little Luck" returns to the soft pop/rock as a turn towards optimism. It contains a rich arrangement of synth and electric piano parts and passionate lyrics with McCartney repeatedly using terms like "exploding" and "rocketing" to explain the desired outcome of fate, no doubt metaphors for the music industry. During the final verse, his shredding voice wails in hopeful desperation. The middle synth and bass section (unfortunately omitted from the original single and most "Best of.." collections) is a real highlight of the song, with Linda McCartney showing some of her keyboard talents. The song hit number one in the United States and reached number 5 in the UK.
"Famous Groupies" is a marching sing-along about the taboo subject of "those magnificent examples of female pulchritude and luminosity". The song's ironic theme was allegedly inspired by Linda's distain for some of the more outspoken "groupies" and is a very entertaining acoustic folk song with regal chorus and ascending verses in the vibe of Jethro Tull and multi-character aspect of old Genesis. The brilliant "Deliver Your Children" is the second and final song to feature Denny Laine on lead vocals (although McCartney does harmonize on almost every line). The verses are pure country rock, complete with acoustic lead riffs, while the chorus is more pop-oriented. Overall, "Deliver Your Children" is one of the most unique Wings songs and a truly under-appreciated gem despite some slightly trite lyrics.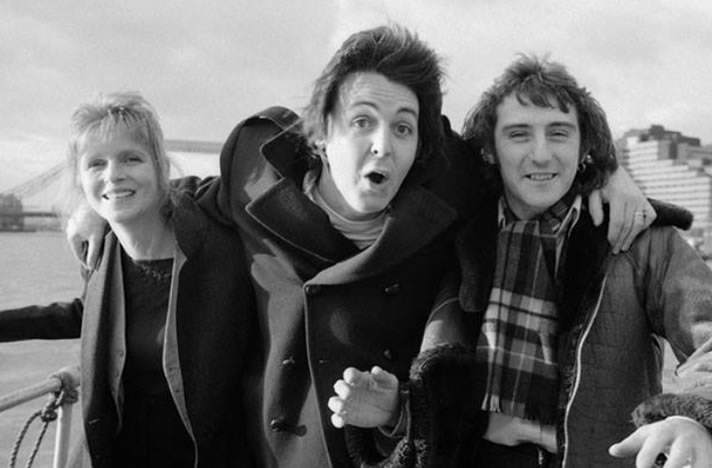 While the album is downright brilliant through ten tracks, it tends to lose some steam during the final three. "Name and Address" is a tribute to Elvis Presley, who died the previous August, and is entertaining enough except a bit too stereotypical, like a Vegas lounge act of an Elvis impersonator. "Don't Let It Bring You Down" is a bit better as a dark folksy, Scottish waltz by McCartney and Laine. Acoustic throughout with unique percussion, this moody tune contains a slight but potent electric guitar and a flute riff in the foreground. The closer "Morse Moose and the Grey Goose" seems like an attempt to end with a progressive-like mini suite but it seems to lack much substance to justify its six and a half minutes, While not a terrible or excruciating listen, the song is just an unfortunate closer for a very fine album.
London Town reached number two on the album charts, Wings' first album since their 1971 debut Wild Life to not hit the top spot. Replacements for McCulloch and English were hired later in 1978 so the group could continue touring as a five-piece. Wings would release one more album in 1979 before McCartney settled into a multi-decade solo career, which continues to this day.
~

Part of Classic Rock Review's celebration of 1978 albums.