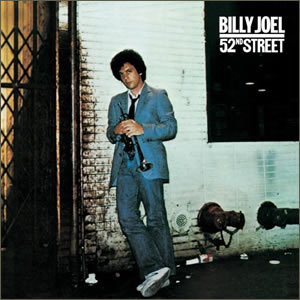 The third of consecutive masterpieces by Billy Joel in the late 1970s, 52nd Street, amazingly encapsulates musical elements from Joel's past, present and future in a rather short album. It was put together by Joel and producer Phil Ramone in near secrecy in a small studio around the corner from the street which bears its name. In fact, that famous street was where Joel's label was located (about a block away from the studio) as well as being one of New York City's traditional jazz centers in the twentieth century. This was also Ramone's third consecutive album with Joel, starting with Turnstiles in 1976 and The Stranger in 1977.
Building on the styles of those previous albums, 52nd Street is a bit more sophisticated and jazzy, with looser, street-wise arrangements. Contrarily, this album makes some deliberate attempts at mimicking styles from several artists and genres, which makes the album very diverse. There is no doubt that Joel drew from influences of his youth as well as some late seventies contemporaries such as fellow New York jazz/rockers Steely Dan.
Once The Stranger became a chart phenom in early 1977, Joel and Ramone quickly re-entered the studio to record a follow-up, enlisting the same core band which played on the previous album and had toured with Joel since his return to New York in 1975. Within a span of about three months, the album was composed, recorded, mixed, mastered, and released. Joel did all of the composing and arranging while Ramone did a masterful job of making all the various styles and techniques flow together smoothly from start to finish.

52nd Street

by

Billy Joel
Released: October 13, 1978 (Columbia)
Produced by: Phil Ramone
Recorded: A&R Recording, New York City, July–August 1978
Side One
Side Two
Big Shot
Honesty
My Life
Zanzibar
Stiletto
Rosalinda's Eyes
Half a Mile Away
Until the Night
52nd Street
Primary Musicians
Billy Joel – Lead Vocals, Piano
Richie Cannata – Saxophones, Clarinet, Keyboards
Steve Khan – Guitars, Vocals
Doug Stegmeyer – Bass
Liberty DeVitto – Drums
The nine track 52nd Street can really be divided into three, three-song sections. The first of these sections contain the three big radio hits, all of which reached the Top 40. Allegedly an inside dig against Mick Jagger's wife Bianca, "Big Shot" drops some New York society names and terms with its storytelling lyrics. Musically, Joel takes a back seat to the members of his rock band, especially guitarist Steve Khan, whose strong guitar riffs drive the song much more than the simple guide piano.
While "Big Shot" is a showcase for his band, the following track "Honesty" is where Joel firmly takes center stage. This is a song which demonstrates the upper limit of Joel's writing and performing ability, a philosophical piano ballad with soaring yet delicate vocals. "Honesty" may be Joel's best Elton John impression, a complex piece with a great bridge seeping with emotion. The song features David Spinozza on acoustic guitar and Robert Freedman providing horn and string orchestration.
"My Life" is a steady rocker, driven by Khan's acoustic guitar and an excellent bass by Doug Stegmeyer. On top of it all, are the tasteful lead piano riffs and great melodies by Joel and, even when he is at his most pop-oriented, his lyrics maintain their philosophic edge. On this track, the music is laid back and reserved yet still has a feeling of fast-paced motion, a tribute to Ramone's ingenious production techniques.
The second three-song section of the album is where the true genius of the 52nd Street lies. All three of these songs are gems which have kind of gotten lost in the retrospectives of Joel's career, but all three belong in the top echelon. "Zanzibar" is one of Joel's most complex and richly arranged compositions. This tour de force of 52nd Street is a truly unique song which vacillates from pure rock to jazz with Joel's shouting vocals leading the way throughout. Even when the song seems to breakdown to a completely off-the-wall jazz section, it works great and flows well with guest Freddie Hubbard on flugelhorn and trumpet. The song evokes the carnival-esque glare of Manhattan at night.
"Stiletto" is a great piano blues/rocker led by a saxophone riff by Richie Cannata. This song has some interesting sonic passages starting with a simple but powerful beat by Liberty DeVitto that drives this song which would be entertaining whether performed solo in a nightclub or in a stadium filled with 50,000 people. The bridge section is a fun piano run that harkens back slightly to "Root Beer Rag", while the lyrics are nearly sadomasochist. On the lighter and cleaner side, "Rosalinda's Eyes" is a moderately soft love ballad with Spanish-influenced rhythms, like a more mature version of "Just the Way You Are". The song contains many sonic treasures by guest players, including vibes and marimba by Mike Mainieri, nylon string guitar by Hugh McCracken and a unique and excellent percussion by Ralph MacDonald, which Ramone creatively had play out for 20 or 30 seconds after the rest of the song fades.
Perhaps the only flaw on 52nd Street lies within the final three songs, which each seem to try too hard to point in one direction or another. I have long contended that the demise of rock and roll began once it became self-aware, sometime in the 1970s, and these last three songs each exhibit that theory to an extent. "Half a Mile Away" may sound like Joel's earliest 70s pop attempts or later 80s numbers, but either way it sounds hollow compared to the finer tracks. The bright horn arrangements are the only real highlights from this song. "Until the Night" is a very retro, Phil Spector inspired track that forecasts some tracks on the future album An Innocent Man. This is a good tune where Joel really shows his vocal range, but is a little too self-indulgent and over-produced to really jive on this album. The best part of the song is the dramtic bridge section which precedes and equally dramatic sax solo by Cannata. The title song "52nd Street" finishes the album as almost an afterthought (probably by design). After the dramatic climax of "Until the Night" and a pregnant pause, the closer kicks in as a very brief, one verse Ray Charles tribute with a clarinet lead during the outro section.
Although it did not sell as well as its predecessor, 52nd Street was Billy Joel's first #1 album that was extremely well-received by critics, and earned the 1979 Grammy for Album of the Year. 52nd Street is also distinct as the first album to be commercially released on compact disc, by Sony Music in Japan in 1982. Joel continued his commercial success with fine albums throughout the eighties, but none were quite as good as his works from the late seventies.
~

Part of Classic Rock Review's celebration of 1978 albums.