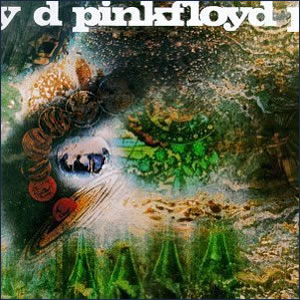 A Saucerful of Secrets is the only album by Pink Floyd to feature all five group members. This was due to the album being recorded before (late 1967) and after (early 1968) the departure of guitarist and chief songwriter Syd Barrett. Due to this, the group took two separate approaches to the album, which was produced by Norman Smith and recorded mainly at Abbey Road Studios. The first was as a continuation of their successful 1967 debut The Piper at the Gates of Dawn, while the latter approach was a journey into unchartered territory with tracks composed by other band members. The result is an album which contains as many (if not more) sound collages as it does proper rock songs.
After the release of the band's debut in mid 1967, it was apparent that Barrett's behavior was becoming increasingly erratic and unpredictable. Barrett's friend and "understudy" David Gilmour was brought in to help out with Barrett's guitar and vocal parts live. During the earliest sessions for A Saucerful of Secrets in the Fall of 1967, Barrett was still considered the group's chief songwriter and he did compose several songs. However, most of these recordings were omitted from the album, with "Apples and Oranges" and "Paint Box" released as the band's third international single in October 1968, and the rest left off due to various levels of non-satisfaction. These included the tracks Vegetable Man", "Scream Thy Last Scream", and the maddening "Have You Got This Yet?", which Barrett performed differently every single time, making it impossible for the other group members to learn their parts.
Barrett was dismissed from Pink Floyd in January 1968, leaving a new incarnation of Pink Floyd to finish the album. The band initially struggled to come up with this material, with all four remaining members contributing some songwriting and vocals. The first tracks from these sessions, "It Would Be So Nice" and "Julia Dream", were also released as a non-album single in April 1968. After a few more songs were completed, the group still felt there was not enough material for an album and each contributed to the twelve minute, experimental title track to fill this gap.

A Saucerful of Secrets

by

Pink Floyd
Released: June 29, 1968 (EMI)
Produced by: Norman Smith
Recorded: Abbey Road Studios, London, October 1967-May 1968
Side One
Side Two
Let There Be More Light
Remember a Day
Set the Controls for..
the Heart of the Sun
Corporal Clegg
A Saucerful of Secrets
See-Saw
Jugband Blues
Band Musicians
Rick Wright – Piano, Organ, Mellotron, Vocals
Syd Barrett – Guitars, Vocals
David Gilmour – Guitars, Vocals
Roger Waters – Bass, Vocals
Nick Mason – Drums
A Saucerful of Secrets begins with a three part mini-suite called "Let There Be More Light". The first part contains a really cool and sharp bass riff by Roger Waters which later dissolves into the bouncy and mocking main section, which alternates between the marching vocals of harmonies of the verse and the harder refrain part with Gilmour on vocals. The closing guitar section features Gilmour providing multiple riffs simultaneously. "Let There Be More Light" was also released in edited form as the fourth single by Pink Floyd.
"Remember a Day" was a song left over from the debut album and was written and sung by keyboardist Richard Wright with Barrett providing a lot of the effect through his slide, lead, and acoustic guitars. The most melodically cohesive song on the album's first side, this song contains a great piano above a strong rhythm by Waters and drummer Nick Mason. The song was never performed live by Pink Floyd, making it a true forgotten classic from the era when the group was alternating between British pop and pyschedelia, as this song straddles both.
"Set the Controls for the Heart of the Sun" is the only song on which features all five group members. It was first performed and recorded with Barrett in 1967 and later featured guitar overdubs by Gilmour. Written by Waters, the lyrics were inspired by a book of Chinese poetry and the song was a successful part of their live set for years.


"Jugband Blues" is the only track on the album written and performed by Barrett and perhaps one of the most haunting songs with Syd apparently singing about his own demise; "…and I'm wondering who could be writing this song…" – an epitaph of Barrett's short reign as band leader. Barrett enlisted a Salvation Army band to play on this eclectic track which features a three time signatures and dissolves into a slowly strummed acoustic during the final outro which closes the album along with Barrett's tenor with Pink Floyd.
Waters' rocker "Corporal Clegg" is the first Pink Floyd song to address the recurring theme of war, as Waters dedicated it to his father. Musically, the song features a good wah-wah guitar on top of a steady and melodic organ before breaking into odd but entertaining kazoo sections. The song is also notable for featuring rare lead vocals by Mason. The dreamy and distant "See-Saw" is the second song written and sung by Wright and features much of the same childlike themes of "Remember a Day". It features strummed acoustic and a cool electric with heavy chorus effects along with a vibraphone, xylophone and strong mellotron, to convey a great mood and a totally Abbey Road production.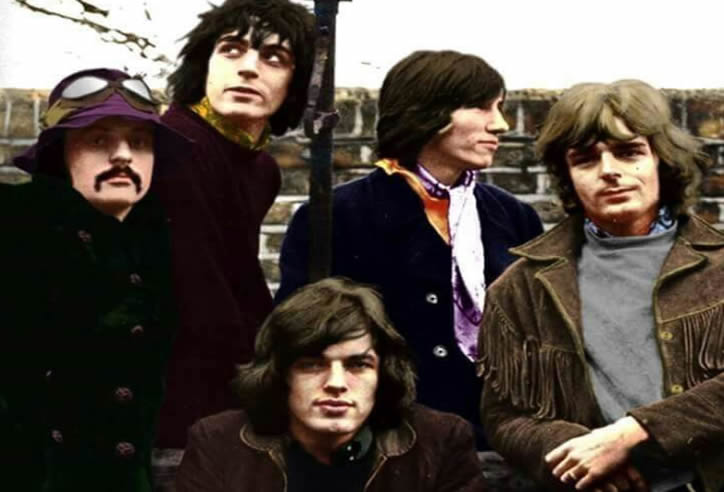 The title song, "A Saucerful of Secrets", is a twelve minute experimental and avant-garde piece broken into four sub-chapters. It reaches an eerie climax in the first section before the brilliant "Syncopated Pandemonium" section, fueled by Mason's drum loop, Wright's haunting piano chords, and a wild theramin effect. Later the song settles into a melodic organ with vocal choruses in a section entitled "Celestial Voices". "A Saucerful of Secrets" is what the Beatles' "Revolution #9" should have been and has been dubbed a "masterpiece of psychedelic rock".
The album A Saucerful of Secrets reached the Top Ten on the UK Albums charts and marked the beginning of an era when the band entered their most experimental phase. Syd Barrett went on to record two solo albums, The Madcap Laughs and Barrett in 1970 with Gilmour and Waters helping out with production, before totally withdrawing from public life.
~

Part of Classic Rock Review's celebration of 1968 albums.