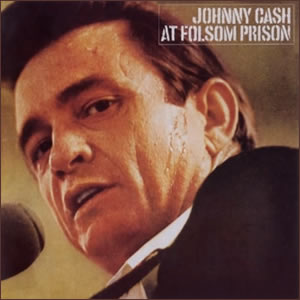 Classic Rock Review only covers studio albums, not compilations or live albums. But there will be one exception to this rule – At Folsom Prison by Johnny Cash. This totally unique and legendary record, by one of the legendary founders of rock and Americana, may be the most honest album of all time. The album was recorded in one day at Folsom State Prison in California, where Cash performed two nearly identical shows during the morning and afternoon of January 13, 1968, with 15 tracks chosen for the album. We mentioned this during our Feature on Live Albums, when we proclaimed the studio album exclusivity. But again, this is an exception due to the artist and its place in time.
Cash had the concept of recording an album live in a prison since he wrote "Folsom Prison Blues" in 1955 and he finally got the go-ahead in 1967 from Columbia Records and producer Bob Johnston. Still, Cash mainly financed the project himself. Accompanying Cash on stage were "The Tennessee Three"; guitarist Luther Perkins and bassist Marshall Grant, who had worked with Cash since he moved to Memphis in 1954, and drummer W.S. Holland. The performers rehearsed for days, an uncommon occurrence for them, and were even visited by California governor Ronald Reagan during a rehearsal.
A few of the songs recorded but not released on the original album were the country waltz and farmer's lament "Busted" and "Joe Bean", a song about a prisoner falsely accused who faces a hanging on his birthday. "The Legend of John Henry's Hammer" is a theatrical song, written by Cash and his future wife June Carter, from the 1963 album Blood, Sweat, and Tears. With metallic hammer sounds throughout, this recording  suffers from too many tempo changes (which is probably why it was ultimately left off the album).
Cash himself was no stranger to run-ins with the law. Having struggled with drugs and alcohol, he was arrested several times in the late fifties and early sixties. Although he never served a prison sentence, these incidents helped cultivate his outlaw image which he embraced throughout his career. Still, Cash credits this album and the ensuing fame as helping turn his life around.

At Folsum Prison

by

Johnny Cash
Released: May, 1968 (Columbia)
Produced by: Bob Johnston
Recorded: Live at Folsom State Prison, January 13, 1968
Side One
Side Two
Folsom Prison Blues
Dark As a Dungeon
I Still Miss Someone
Cocaine Blues
25 Minutes to Go
Orange Blossom Special
The Long Black Veil
Send a Picture of Mother
The Wall
Dirty Old Egg-Suckin' Dog
Flushed From the Bathroom of Your Heart
Jackson
Give My Love to Rose
I Got Stripes
Green, Green Grass of Home
Greystone Chapel
Primary Musicians
Johnny Cash – Lead Vocals, Guitar, Harmonica
Luther Perkins – Guitars
June Carter – Vocals
Marshall Grant – Bass
W.S. Holland – Drums
The performances actually began with performances by Carl Perkins and The Statler Brothers, who also joined Cash during the latter part of the performance. A prison MC encouraged the prisoners to "respond" to Cash's performance, but also made personal announcements for prisoners (by number) when they had a visitor, making this all the more real. Cash breaks right into his performance with his signature "Hello, I'm Johnny Cash" before breaking into "Folsom Prison Blues". Cash was inspired to write this after seeing the movie Inside the Walls of Folsom Prison while serving in the Air Force in West Germany. While it wasn't a big hit originally, this live version became a Top 40 pop hit in 1968 and topped the Country charts.
Many of the remaining  songs on the album fit well with prison, sorrow, and longing for freedom. Merle Travis's "Dark As a Dungeon" is a slow,  country waltz about Appalachian coal miners, while "I Still Miss Someone" is a short and sweet song with melodic vocals, written by Cash and his nephew Roy Cash Jr. Red Arnall's "Cocaine Blues" is perhaps the most intense and exciting part of the first side, with the music again employing the famous "train" rhythm and fast shuffle throughout with the two note bass line of Grant, never really deviating until the very end.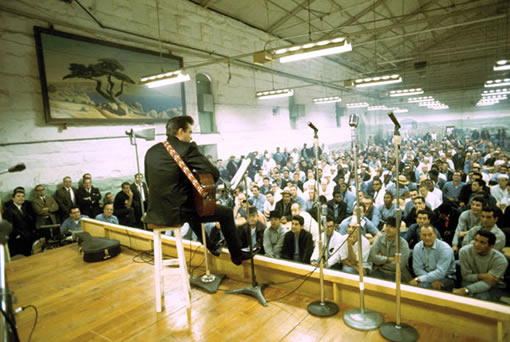 Shel Silverstein's "25 Minutes to Go" is a countdown to execution, performed very similar (albeit inverse) to Cash's famous flood song "Five Feet High and Rising" with a few key changes for effect. On this song, Cash sells the desperation well with lyrics like;
Well I'm waiting for the pardon that well set me free, with 9 more minutes to go, but this ain't the movies so forget about me, 8 more minutes to go…"
On the traditional fiddle song "Orange Blossom Special", Cash plays harmonica and sings all the parts in this frantic and breathless song with great drum rolls by Holland.
Cash then performed several ballads and folk songs solo, with just his acoustic guitar. "The Long Black Veil" is a haunting folk song, with haunting but beautiful vocals by Cash, which tell a story about a man falsely accused but refuses to provide an alibi in order to save the honor of his best friend's wife. "Send a Picture of Mother" is a Johnny Cash original and pure folk song which shows that Cash's originals are still the best songs in this collection. Harlan Howard's "The Wall" is a song about escaping prison;
Well, the warden walked by and said son don't try, I'd hate to see you fall, well, there is no doubt, they're carry you out if you ever touch that wall…"
…lyrics to which Cash comments "they're mean bastards, aren't they?" A couple of novelty songs from his album Everybody Loves A Nut follow, "Dirty Old Egg-Sucking Dog" and "Flushed from the Bathroom of Your Heart", adding comic relief to the show.
June Carter and the Tennessee Three bring the level back up with the recent hit from 1967, "Jackson", one of the highlights of the second side. The album then concludes with a quartet of songs specifically about prison. "Give My Love to Rose" is a Cash original in the traditional tragic country form about a prisoner and his lament of not seeing his wife and son. This has a much larger chord set than most Cash songs, with guitarist Luther Perkins doing a great job with the subtle changes. "I Got Stripes" gets back to the upbeat train rhythm, while Curly Putman's popular worldwide sixties tune "Green, Green Grass of Home" features the Statler Brothers and June Carter returning to the stage.
The album concludes with "Greystone Chapel", an original composed by Glen Sherley, who was then an inmate at Folsom. Sherley made a recording of the song and passed it on to a pastor who regularly visited inmates at Folsom, who then got it to Cash. The inclusion of this song solidifies the authenticity of the album and its intent.
At Folsom Prison reached the Top 20 in several countries and really revitalized Cash's career, with several of his earliest recordings making a popular comeback in subsequent years. Cash would record two more live albums at prisons; San Quentin in California in 1969 and Österåker Prison in Sweden in 1972. He also soon took on the persona of "The Man in Black" to show his solidarity with all the downtrodden.
~

Part of Classic Rock Review's celebration of 1968 albums.