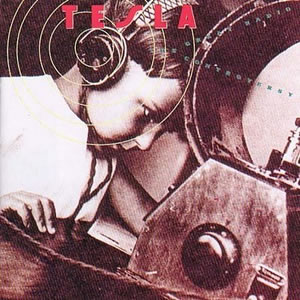 The group Tesla never quite fit within any definitive genre box, which may have ultimately prevented the Northern California band from reaching their critical or commercial potential. In the 1980s they were a "hair band" that was a few steps ahead of the norm back then. In the 1990s they were too focused and upbeat to get swept up in the "grunge" wave. In between they bridged the gap with 1989's Great Radio Controversy, their most highly renowned album. While riddled with more than its share of eighties "heavy metal" caricature, there is material on this album with soul and musicianship which few new releases touched at that time.
Formed in 1982 and originally named City Kidd, the group renamed themselves Tesla after inventor and electrical engineer Nikola Tesla, during the recording of their first album, Mechanical Resonance. The band's signature sound was forged by lead vocalist Jeff Keith along with guitarists Frank Hannon and Tommy Skeoch.
Produced by the team of Steve Thompson and Michael Barbiero, The Great Radio Controversy contains mainly big-sounding production methods in line with 1980s pop-metal, but also reaches back to more authentic and earthy methods. The album was produced at Bearsville Studio outside of Woodstock, NY, a studio originally built by Bob Dylan's manager.

Great Radio Controversy

by

Tesla
Released: February 1, 1989 (Geffen)
Produced by: Steve Thompson and Michael Barbiero
Recorded: Bearsville Studio, New York, 1988
Track Listing
Group Musicians
Hang Tough
Lady Luck
Heaven's Trail (No Way Out)
Be a Man
Lazy Days, Crazy Nights
Did It for the Money
Yesterdaze Gone
Makin' Magic
The Way It Is
Flight to Nowhere
Love Song
Paradise
Party's Over
Jeff Keith – Lead Vocals
Frank Hannon – Guitars, Piano, Organ
Tommy Skeoch – Guitars
Brian Wheat – Bass
Troy Luccketta – Drums


While the songs early on are somewhat standard, the album does improve as it progresses. Co-written by bassist Brian Wheat, "Hang Tough" starts with his mechanical bass pattern before the twin guitars come in for a harmonized riff and later return for a decent dual guitar solo. "Lady Luck" follows with some rich vocal harmonies before "Heaven's Trail (No Way Out)" breaks in with the driving rhythm guitar of Skeoch. A simple yet rewarding song, this third is cut by bluesy breaks in between the verses.
"Be a Man" starts with a long, bluesy slide intro before the slow riffing brings the song into its proper context. The pure rocker "Lazy Days, Crazy Nights" is a notch above most tracks on the early half of the album, with a dark and determined feeling overall along with a decent vocal hook. The album continues to get stronger with "Did It for the Money", which creatively meanders before finding its footing, which is pretty solid and strong. "Yesterdaze Gone" displays Tesla at their heaviest, almost true heavy metal in beat but firmly down in the arena rock vocally, along with a pretty wild mid section guitar lead with harmonies so rich it almost sounds like a synth envelope.
"The Way It Is" was co-written by drummer Troy Luccketta and is one of the highlights of album as well as Tesla's career. The moody acoustic intro and verse eventually gives way to the strong yet deep choruses. The song's bridge and outro bring the song to a whole new level sonically as repetition works well with theme and musical backing and Keith's vocals are at their absolute zenith during "The Way It Is".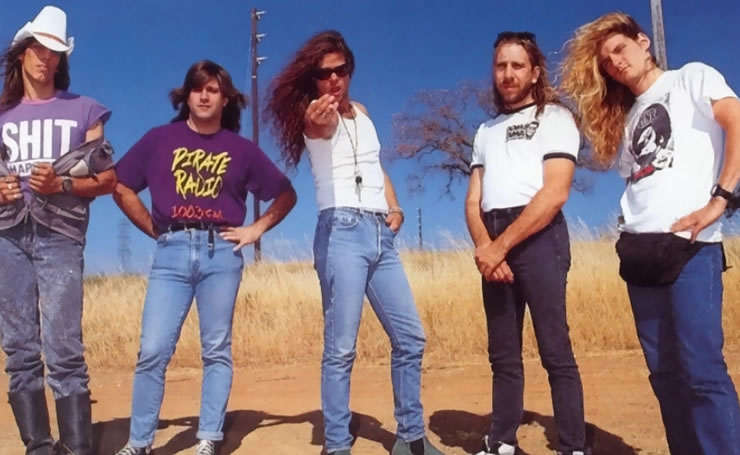 "Love Song" is nearly as impressive, being perhaps the best power ballad ever. This uni-directional song is driven by the beautiful guitar motifs of Hannon. Commencing with a complex acoustic intro before moving towards the joyful strummed electric riff that introduces the song proper. The song is complete and melodic to the end without a wasted note or moment. "Paradise" is another fine song that contains a sad acoustic intro to a love song with a distinctly different feel than the song titled "Love Song". Keith's vocals pick up the pace while the music remains low key in the mid section prior to a funk-influenced alternate section which follows. The closing track,"Party's Over" tries to end the album with a rock anthem, but falls just a bit short.
Great Radio Controversy reached the Top 20 of the American album charts and spawned three Top 40 hits on the Mainstream Rock chart. In 1990, Tesla maintained their commercial momentum with the live Five Man Acoustical Jam before returning to the studio the following year with Psychotic Supper.
~

Part of Classic Rock Review's celebration of 1989 albums.