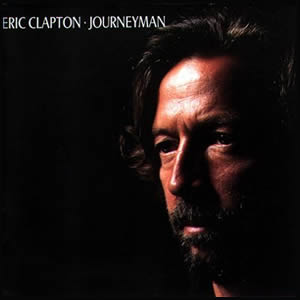 The 1980s seemed to have been a time for old time rockers to make incredible (albeit short) comebacks after several years in the wilderness. This was case with Paul Simon's Graceland, the Grateful Dead's In the Dark, and the many members of Traveling Wilburys with their fantastic 1988 debut album. In the case of Eric Clapton, he never really went away, releasing four studio albums earlier in the 1980s along with several live and compilation albums. Still, by the very end of the decade he had faded from the top level of popular music until his late 1989 release of Journeyman, which propelled "slow hand" right back to the top.
The 1980s were also troubling times personally for Clapton, as he developed a heroin addiction and admitted that he was an alcoholic. Reluctant to clean up, Clapton became suicidal and is quoted as saying, "the only reason I didn't commit suicide was that I knew I wouldn't be able to drink any more if I was dead." While struggling through recovery, Clapton performed on Pink Floyd member Roger Waters' debut solo album, The Pros and Cons of Hitch Hiking as well as worked on two Phil Collins produced albums Behind the Sun and August. In 1987, Clapton remade "After Midnight" as a promotional track for Michelob beer and in 1988 he released his four-album box set Crossroads, which primed him for a big comeback.
Clapton did not compose much of the material on Journeyman himself, only collaborating on two of the twelve songs. He instead focused on performing (both on guitars and vocals) a handful of blues covers, a few more contemporary songs, and several new originals which were written by long-time collaborator Jerry Williams. There are also many cameos by fellow major-label artists, making the album an interesting mix of styles and genres. Produced by Jill Dell'Abate & Russ Titelman, the album's sound fused eighties rhythms with overloaded, blues-era guitar textures, a method at least partially borrowed from 1980s-era ZZ Top material.

Journeyman

by

Eric Clapton
Released: November 18, 1989 (Reprise)
Produced by: Jill Dell'Abate & Russ Titelman
Recorded: 1989
Track Listing
Primary Musicians
Pretending
Anything for Your Love
Bad Love
Running on Faith
Hard Times
Hound Dog
No Alibis
Run So Far
Old Love
Breaking Point
Lead Me On
Before You Accuse Me
Eric Clapton – Lead Vocals, Guitars, Dobro
Nathan East – Bass, Vocals
Jim Keltner – Drums, Percussion


Clapton's vocals are quite distinct on this album, perhaps as good as any during his long career. This is evident on Williams "Pretending", the album's opening song which shot to the top of the rock charts. The song starts with very short boogie-woogie piano before breaking into a synth arpeggio topped with exquisite guitar licks and a very good chorus melody. The song's highlight is the great outro where the intensity increases perfectly and the bluesy guitar smokes in superb splendor.
"Anything for Your Love" contains consistent and interesting percussion by drummer Jim Keltner, who provides the song's deliberate pace which makes it at once relaxing and full of tension – a rare quality. "Bad Love" was co-written by Clapton and Mick Jones and begins with a synth part which works as a bedding for another fantastic guitar riff which sets the pace for what would become Clapton's last #1 song. Featuring Collins on drums and harmony vocals, "Bad Love" features a middle bridge riff which makes the song an interesting listen.
"Running on Faith" has an eighties era beat but a definite retro feel everywhere else. This excellent ballad with good chord structures climaxes during the uplifting coda with a Gospel-like chorus. "Hard Times" was written by Ray Charles and mimics his club-style blues dominated by piano with accents of lead guitar and horns and a very impressive vocal effort by Clapton. The most regrettable moment on the album is the unwise cover of the classic "Hound Dog", which takes away from album overall.
The second side begins with another Williams-penned pop song, "No Alibis" – perhaps the poppiest song on the album. Still, it has a nice, steady, deliberate approach to it and good harmonies featuring Chaka Khan and Daryl Hall. "Run So Far" was written by George Harrison and features the former Beatle on guitar and harmony vocals, while "Old Love" is a collaboration between Clapton and Robert Cray. This long, bluesy ballad, has earnest, dual guitars throughout the long coda. This is followed by "Breaking Point", which was co-written Marty Grebb, the former keyboardist of the 1960s group The Buckinghams.
"Lead Me On" is the real highlight of the latter part of the album. It was written by Cecil and Linda Womack (of the group Lomack   Lomack) and features fine performances by both on this song. Linda provides co-lead vocals while Cecil plays acoustic guitar to accompany the nice electric piano and subtle electric riffs. An overall production highlight, the song is a tad bit more upbeat at the very end and shows Clapton's versatility to enter different genres. The album concludes with "Before You Accuse Me", a pure blue-eyed blues rendition of a 1957 Bo Diddley classic. This version is great sounding and catchy, while not very original overall.
Clapton claims Journeyman is one of his favorite albums and, while it only reached number 16 on the Billboard charts, it went double platinum, a first in his long career. However, this new found commercial success was dampened by the horrific tragedy of Clapton's four-year-old son dying after a fall from a window of a New York City apartment in 1991. Clapton's grief was later captured in the song "Tears in Heaven".
~

Part of Classic Rock Review's celebration of 1989 albums.