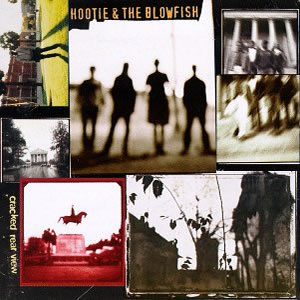 Cracked Rear View was a debut album that found phenomenal commercial success for Hootie & the Blowfish. Released in 1994, it went on to be the highest selling album of 1995 and tallied over ten million total copies sold over the next two decades. While the material isn't all that innovative, the simple and direct songs with memorable hooks and easy, bright melodies struck a chord with the garden variety audience of the mid nineties. Almost as a backlash to the grunge and neo-punk movements, the group found a "common man's" niche. As a review in AMG stated, "At their core, Hootie & the Blowfish are a bar band, but they managed to convince listeners that they were the local bar band…"
Eight years prior to the release of Cracked Rear View, Hootie & the Blowfish was formed in South Carolina after guitarist Mark Bryan heard his freshman dorm-mate Darius Rucker singing in the shower and invited him to start a group. They began playing cover tunes and eventually bassist Dean Felber and drummer Jim Sonefeld signed on. After independently releasing two cassette demos in the early 1990s along with a self-released EP, Kootchypop, the group gained interest from major labels.
After signing with Atlantic Records, the group teamed up with producer Don Gehman and headed to Southern California to record their full-length debut.

Cracked Rear View

by

Hootie & the Blowfish
Released: July 5, 1994 (Atlantic)
Produced by: Don Gehman
Recorded: N.R.G. Recording Services, North Hollywood, CA, 1994
Track Listing
Group Musicians
Hannah Jane
Hold My Hand
Let Her Cry
Only Wanna Be With You
Running From an Angel
I'm Goin' Home
Drowning
Time
Look Away
Not Even the Trees
Goodbye
Darius Rucker – Lead Vocals, Guitars
Mark Bryan – Guitars, Mandolin
Dean Felber – Bass, Keyboards, Vocals
Jim Sonefeld – Drums, Percussion, Vocals
The album starts strong with the driving and upbeat "Hannah Jane", highlighted by vocal variations, musical rudiments, and well-placed bass phrases by Felber. This is followed by the album's first single and the group's first Top Ten single, "Hold My Hand",a song which starts off very melodic and catchy but quickly gets repetitive. Written in 1990 and originally released on the group's first cassette demo, this song features David Crosby.
The second single from the album was "Let Her Cry", which nearly topped the charts, peaking at #2. This ballad also went on to win the 1996 Grammy Award for Best Pop Performance by a Duo or Group with Vocals. Completing the trifecta of Top Ten hits is "Only Wanna Be with You", a song which got the band an all-star sports cast for their MTV video as well as a lawsuit by Bob Dylan for quoting his lyrics. As for the song itself, this acoustic driven tune is not a terrible listen, but the corny video takes away any musical dignity that may have existed.
Getting beyond the radio-saturated tracks, Cracked Rear View contains a handful of decent tracks. "Running from an Angel" is a sonic treat, with a violin riff by guest Lili Haydn and great percussion by Sonefeld. There is also more natural drama in Rucker's voice than the overly melodramatic tracks that precede this track. "I'm Goin' Home" starts with a jazzy acoustic accented by fine electric riffs from Bryan, and some soaring Hammond organ by session man John Nau, who also later contributes some piano to the track. "Drowning" has an interesting time signature in the rhythm and a quasi-rap rhythm in the melody, all with strong rock guitars, while "Time" contains a dramatic intro with slowly picked electric riff during the first verse, giving way to a full band arrangement starting with the second. Later in this song is a short but pretty interesting lead by Bryan and alternating call and return vocals by Rucker and the other group members.
Unfortunately, the album closes with three less than inspiring songs. After Haydn returns for the short track "Look Away", the basic ballad "Not Even the Trees" does include some interesting sonic elements provided by the acoustic and bass guitars. The closer "Goodbye" is a melancholy piano ballad which never really goes anywhere sonically, save for the short hidden rendition of "Motherless Child" at the very end of the album.
The success of Cracked Rear View won Hootie & the Blowfish the "Best New Artist" Grammy and gave them enough momentum that their second album, 1996's Fairweather Johnson, quicky topped the charts. However, sales of that album soon waned and the group's next three releases hardly made a ripple at all, making this debut a true shooting star situation.
~

Part of Classic Rock Review's celebration of 1994 albums.